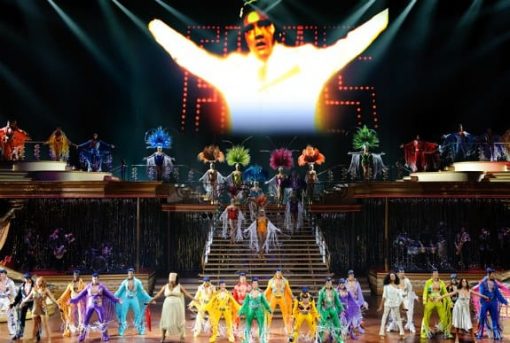 34 years after his death in 1977, Las Vegas is still paying homage to Elvis.  In 1963, Elvis Aron Presley spent several weeks in Las Vegas filming the movie "Viva Las Vegas," and was well on his way to having his name synonymous with the city.
A fitting tribute, Viva Elvis, has been playing at Aria Resort & Casino at CityCenter for almost two years now (roughly 900 performances).  The 90-minute production from Cirque du Soleil provides a mostly chronological summary of Presley's life, from his humble start in Tupelo, Mississippi to his days as a headliner along the Las Vegas strip.  The show takes place in Aria's 1,800-seat custom theater, which boasts a conventional opera-house layout and comfortably plush seating.  The upholstery pattern on the facility's chairs appropriately features images of old-style vinyl records, also known as 45's, to match what is imprinted on the main stage curtains.
The performance incorporates Elvis photos and video footage, acrobats and of course, music.  The high-energy production features a lot of dancing – but Elvis purists be warned, some of the King's music has been altered in order to provide a modern-day representation of him.  Costuming used during the show is bright and flamboyant, but guests should not expect to see a typical acrobat-heavy Cirque du Soleil presentation either.  Viva ELVIS is mostly a musical tribute to The King and it almost takes on a concert atmosphere at times.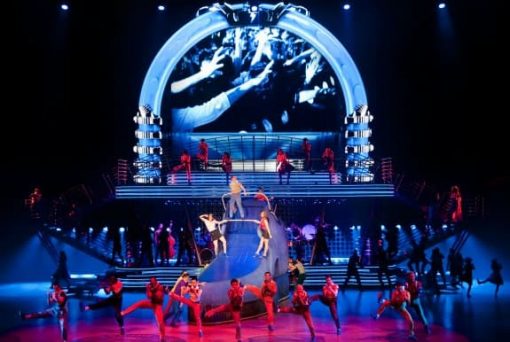 Here's a glimpse at what to expect:
During a performance of "Jail House Rock," costumed inmates stage a jail break; a predictable interpretation.
However, "One Night," is interestingly performed as a ballad. During this tune, a pair of men climb and move about on a guitar-shaped prop that hangs above the stage. To understand the symbolism of this particular segment, you must know that Elvis had a twin brother, Jesse, who died at birth. With that knowledge, you'll better understand why one of the acrobats falls from the guitar at a certain point while the other climbs safely to the top of the instrument's neck.
As they listen to "Are You Lonesome Tonight," guests can expect to see performers gracefully soar overhead.
In what was probably my favorite part of Viva ELVIS, I thoroughly enjoyed an impressive trampoline routine during "Got a Lot o' Livin' to Do." During this action-packed segment, costumed superheroes bounce around an amusement park setting in an attempt to remind the audience that Elvis loved comic book characters.
Of course, there's also an Elvis-themed gift shop in the facility's main lobby area.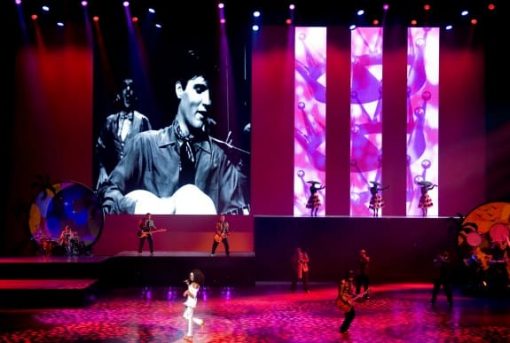 I enjoyed the show and recommend it but also strongly advise traditional fans of Elvis and Cirque du Soleil, for that matter, to leave their collective pre-conceived expectations for the production in the nearby Aria casino.  Those who don't may ultimately end up being of the opinion that Elvis NEEDS to leave the building.
In that regard, MGM Resorts recently asked Cirque du Soleil to replace Viva ELVIS so if you're interested in seeing the show, do so soon. It is expected to be discontinued by the end of 2012.
Production Details
For the final scene of the show, almost all the artists are wearing a variation of the famous Elvis jumpsuit. There are approximately 50 of them, using a total of 250 yards of fabric in a fiery kaleidoscope of colors. Each is decorated with embroidered images that evoke the world of Elvis – objects, food, animals, personal effects and so on.
Urethane foam wigs recreate the Elvis hairstyle in a Japanese manga comic strip interpretation.
The showgirls' costumes are decorated with colorful feathers printed on transparent acetate to create the illusion of a plume of crystal feathers.
The costumes are ornamented with some 100,000 crystals.
The show calls for more than 450 pairs of shoes and 150 custom wigs.
There is a total of nearly 400 Viva ELVIS costumes, employing some 1,500 components such as shoes, wigs and dresses.
Location: ARIA Resort & Casino, Las Vegas
Show Times:  7 p.m. and 9:30 p.m. nightly, Tuesday through Saturday – the show runs 90 minutes with no intermission.  Show times and ticket prices may vary and should be confirmed through the theater box office.
Tickets:  Ticket prices range from $69 to $175, excluding live entertainment and ticket service taxes.  You may be able to find discount tickets available.
Photo Credit:  Courtesy of  Cirque du Soleil, Julie Aucoin photographer

Indianapolis-based Greg Seiter is a 22-year freelance veteran who specializes in family travel. While embracing a background in athletics, the travel enthusiast has written for the Associated Press and various NCAA Championships publications in addition to AAA and Resort Condominiums International. Greg's top three travel destinations are Orlando, Fla., Pigeon Forge, Tenn. and Myrtle Beach, S.C.