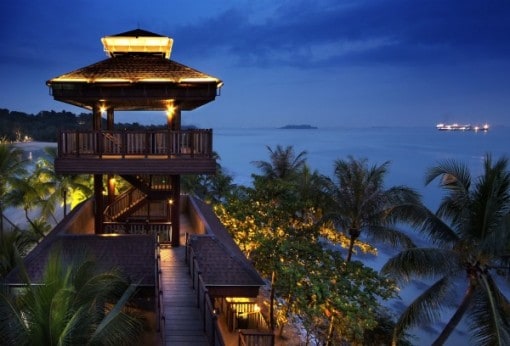 Now one of the most prosperous countries in the world, the garden island of Singapore began as a British trading port in 1819. Overcoming economic and political devastation, Singapore transformed itself within the past 40 years, offering low taxes for investors, creating a first-class infrastructure; all with a focus on stable government and multi-cultural acceptance.  A surprisingly contemporary and progressive country, Singapore has one of the fastest growing economies in the world, one of the most efficient healthcare systems, the fifth busiest port, and the fourth leading financial centre. It has become an increasingly popular business and cultural destination, with some not-to-be-missed attractions:
Clarke Quay
An especially great spot for a romantic evening, "CQ" has an abundance of delectable cuisine and unique shopping finds. Very popular with the locals as well as tourists, CQ is a beautiful and friendly place on the Singapore River. You can experience everything from boat tours to a microbrewery, and bungee jumping to belly dancers.
Southern Ridges Walk
This 5.5 mile walk meanders through four parks and a sprinkling of unique bridges, with spectacular views of jungles, skyscrapers and the sea beyond. Not only is it one of the most beautiful strolls you will ever take, but along the way you are treated to picnic areas, a war museum, botanical gardens, a terrace garden with a 360 degree view of Singapore, the famous Henderson Waves pedestrian bridge (a wavy caterpillar sculpted from wood and steel), and the Jewel Box cable car system (to Sentosa). Nestled in the landscape are restaurants and public facilities for your comfort and convenience. The walk is purely pedestrian.
Sentosa
This charming island resort and retreat from the bustling city, boasts some of Singapore's finest beaches and outdoor activities (canoeing, cycling, in-line skating, horseback rides, and luge cart rides). Siloso Beach is a local hot spot for volleyball, sand castle sculpting, and holiday celebrations. Enjoy lush gardens, golf courses, nature trails, and don't miss Underwater World's walk-through aquarium (includes endangered sea creatures) and swim with the rare pink humpback dolphins at Dolphin Lagoon.
Esplanade
Theatres on the Bay A true "world of the arts," the Esplanade's schedule of events is an ongoing whirlwind of celebrity concerts and symphonies, art exhibitions, plays and musicals, art festivals and recitals. Created in 2002, Singapore's crowned jewel Concert Hall is one of only six in the world with such state-of-the-art acoustics. Set on the bay, its giant adjustable acoustic canopies are designed as sound reflectors. The Esplanade's other venues include an opera house theatre, recital hall, theatre studio, drama centre and black box theatre, the Jendela exhibition room for visual arts, art library, the Edge (waterfront events) and many more unique artistic spaces.
Singapore Zoo
This world-class attraction, frequented by National Geographic, is a natural rain forest that allows close up views of its inhabitants. Its open-air environment allows the animals a natural and inviting habitat. The orangutan population is quite famous for their antics, and they have free range throughout the park. The facilities are clean, well maintained, and the animals are well cared for. Plan on spending a full day to take in all the best of this zoo has to offer.
A Pilot's "Flight Experience"
Hop into the Captain's seat and strap yourself in for the "ride" of your life! This Boeing 737 flight simulator is similar to those used in training commercial pilots. Let the HD virtual reality, high-fidelity audio system, realistic seat vibration and 180 degree wraparound cockpit take you on a one-of-a-kind adventure. With a personal instructor by your side you will "taxi" down the runway (after Air Traffic Control gives you the go-ahead), take off and climb 2000 feet, bank away from the airport, adjust your air speed, maintain a flight pattern, and eventually "land" at your chosen destination (selected from over 20,000 local and international airports). Custom packages are 30 minutes to 1-1/2 hours in length.
Photo credit: William Cho via flickr (CC)
This is a guest post from Mable Hunter, an ex-pat currently living in Vietnam with her husband of 23 years. When not writing articles about traveling, she's busying giving Vietnam tours to Americans who want to visit, in her words, "the most beautiful country in the world."  Her top three travel spots are:  Vietnam (where she now resides). the island of Haikou, Hainan, China and Chiang Mai, Thailand.
Mary Jo Manzanares is a founder and the editor-in-chief of The Traveler's Way, an online travel magazine proving informational and inspirational travel recommendations for curious Baby Boomer travelers. She has been a speaker at various industry events and has a personal travel blog at Traveling with MJ. When she's not traveling, Mary Jo likes lingering over a cup of coffee, wandering in a museum, sipping wine at a cafe, and sharing it all with friends and readers. Mary Jo's top travel destinations are Italy, Portugal, and the Caribbean.