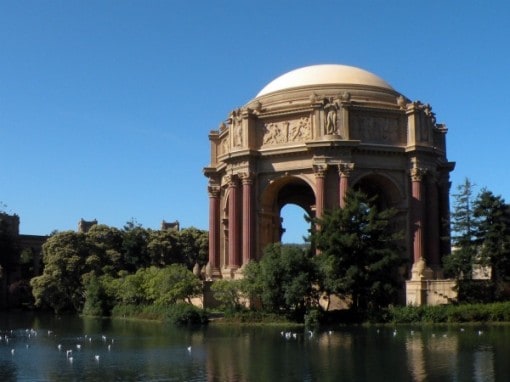 In the middle of San Francisco's Walter S. Johnson Park, sits the Palace of Fine Arts, an easily recognizable piece of San Francisco architecture.  The Palace was designed as part of the 1915 Panama Pacific Exposition which celebrated the completion of the Panama Canal.  It was also a chance for San Francisco to shake off the troubles of the 1906 earthquake and fire, and positions itself as a cosmopolitan city.
The Roman-themed, Greek-styled Palace of Fine Arts was set in an area that is now known as the Marina District.  It was built as a temporary exhibit, as most exposition exhibits are, and was made with collapsible materials.  However the popularity of the Palace resulted in fund raising efforts to duplicate and preserve it with lasting permanent materials, and it eventually became part of the San Francisco City Park system.  From exposition until today the Palace has had a number of lives, including serving as an Army motor pool during WWII.  It eventually feel into disuse and was declared a public hazard before fund raising saved it.
Today the Palace of Fine Arts today features a performing theater, and has been the site of many televised events, including the 1976 Presidential Debate, as well as a variety of concerts, lectures, and corporate events.  The Rotunda, shown in the pictures here, is available for wedding and special events.  This is also home to the Exploratorium, a museum founded by Dr. Frank Oppenheimer of the Manhattan Project.  This museum of science, art, and human perceptions hosts  hands-on exhibits focusing on science, nature, art, and technology, and is a great stop for kids of all ages.
The Palace of Fine Arts and its grounds could still use a little tender loving care, but it has a certain grandeur about it.  It's a popular San Francisco spot to visit, and is a wonderful way to spend a sunny afternoon.  Bring your camera and take advantage of the numerous photo opportunities it offers.  If the weather turns bad, you can just pop into the Exploratorium.
Location:  3301 Lyon Street, Walter S. Johnson Park, in the Marina District of San Francisco.
Hours:  The Exploratorium is open Tuesday – Sunday, 10 am-5 pm.
Admission:  FREE to the park, $10-15 for the Exploratorium.
Getting there:  If you're using public transportation, the easiest way is on the #30 Stockton bus from Fisherman's Wharf, and a number of Muni Buses and Golden Gate Transit buses stop nearby the park.  There is freedom is driving to the park, but parking can be difficult and expensive.
Photo credit: Byron Hetrick via flickr

Mary Jo Manzanares is a founder and the editor-in-chief of The Traveler's Way, an online travel magazine proving informational and inspirational travel recommendations for curious Baby Boomer travelers. She has been a speaker at various industry events and has a personal travel blog at Traveling with MJ. When she's not traveling, Mary Jo likes lingering over a cup of coffee, wandering in a museum, sipping wine at a cafe, and sharing it all with friends and readers. Mary Jo's top travel destinations are Italy, Portugal, and the Caribbean.