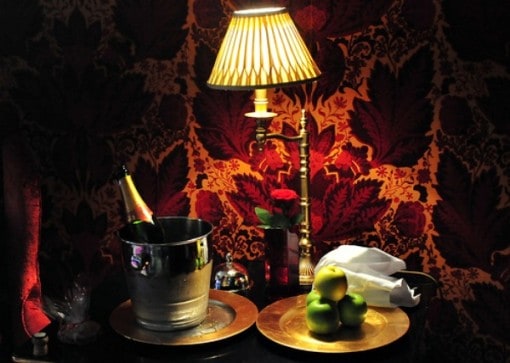 Listening to the blaring sounds of the kilt shops and noisy main streets of Edinburgh, you might not think the city is a relaxing destination.   But Scotland's cultural capital has you covered with plenty of options for relaxation.  Here is a suggested weekend itinerary that will leave you feeling refreshed and also give you an opportunity to enjoy a few of the city's attractions as well.
Friday Night Relaxation
My suggestion for spa seekers here in Edinburgh is to choose a hotel in the New Town area.  There are many options, such as the famed Caledonian Hilton or Balmoral Hotel, but also plenty of smaller hotels like the classy Roxburghe on Charlotte Square.
Once you've checked into your hotel, if you've got some daylight left, I suggest getting some fresh air and enjoy a stroll through Princes Street Gardens.  Despite being front-and-center, it is less crowded than Princes Street or the Royal Mile, the views are enjoyable, and there are plenty of benches to sit and just chill.
For the evening festivities, start with cocktails at the Bramble Bar (16A Queen Street).  It gets crowded late at night, but earlier in the evening you can grab a seat in one of the various quirky nooks and crannies while enjoying some of the city's best cocktails in a very unique environment.
There are plenty of dining options in this area; I might suggest some tapas on the rooftop deck of Oloroso (33 Castle Street) – though booking ahead is recommended.  Also around this area are plenty of bars and clubs open late – if you want to retire early, go for it, or if you want to make a statement on your first night, that's ok too.
Saturday Spruce Up
Start off Saturday on the right foot – with a traditional cream tea!  I love a morning lingering over fabulous tea and scones with jam and cream at eTeaket (41 Frederick Street).  The owner prides herself on quality sourced tea and a great café experience – complete with the old fashioned cups and plates!
Once you've settled, head to one of the most fun spa experiences in Edinburgh – One Spa, at the Edinburgh Sheraton (8 Conference Square).  The spa is has something for everybody, including a gym, indoor/outdoor pools, hydrotherapy, hot/dry sauna rooms, spa treatments, and relaxation areas.  There's a lot to enjoy, so be sure to spare plenty of time to make the most of it; the spa has several packages that bundle entrance with multiple treatments which range from £170-£225 for the day; trust me, it is worth the splurge.
Sunday in Stockbridge
Sundays in Edinburgh are distinctively more casual – the shops aren't as bustling, many folks head out of town for hiking trips, and the restaurants swell for Sunday brunch and drinks.
My tip is for you to take the short 15 minute walk down into Stockbridge, just west of New Town.  This is one of my favorite areas of Edinburgh, known for good food and a very "neighborhood-y" charm.  Once you get into Stockbridge, hang a left onto the path marked the Water of Leith (this is just before you go over the river).  This river path runs along some historic spots in the neighborhood and is very tranquil with the water just there next to you.  There's not a good crossing point, so once you're feeling hungry, double-back on the path to head back into Stockbridge.
For brunch/lunch, you've got options.  I like Avoca Bar and Grill for the ambiance, but check out Sprio Café for the Italian style coffee.  Most of the pubs offer traditional British breakfast on the cheap, if you're on a budget and your venue of choice is packed.
After a snack, there is time for one last spa treatment.  In Stockbridge is the rather unique Edinburgh Floatarium (29 North West Circus Place).  They're known for their flotation pods, which is a great way to totally de-fatigue your entire body.  If you're claustrophobic, this is NOT a great choice – I'd suggest one of their many other treatments instead, such as a hot stone massage.
Afterwards, finish off the Stockbridge experience with a cuppa at Café Plum (96 Raeburn Place), the best coffeehouse in the neighborhood.  It will leave you charged back up and ready for your onward journey home or to your next destination.
Photo credit:  Kamal H. via flickr
Guest author bio:  Andy Hayes is the author of the #1 iPhone app for Edinburgh, Edinburgh Secrets.  For more Scotland tips, follow him on Twitter, @TourEdinburgh.
The Travelers Way occasionally accepts guest posts from fellow travel bloggers, friends within the travel industry, and as advertorial content.