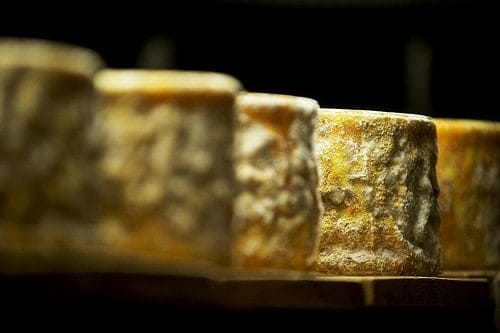 Vermont may be a small, unpopulated state (only Wyoming is less populated), but it offers big adventure, whether your adventure takes place out of doors, at a table, or at any of the wonderful spots around the state.
What makes the state worth a visit? Let's take a look.
The Big Apple to Vermont in a New York Minute
OK, not quite. But Vermont is only a few hours drive or train ride from the city that never sleeps, so do as the New Yorkers do and head upstate for a little down time, exploring the quaint towns and villages of Vermont.
With an abundance of beautiful antique and bookstores, wonderful galleries, fantastic craft fairs and artisan local produce eateries, Vermont offers a breath of fresh air and a perfectly contrasting addition to a big city getaway. Top typically Vermont sites to see include the Vermont Teddy Bear Company, Ben & Jerry's HQ and factory, the Cabot Cheese creamery and Magic Hat Brewery.
Fun Fact: Did you know that Vermont's Capital, Montpelier, is the smallest State capital with a population under 9,000 people. It's also the only capital city not to have a McDonalds!
Unbe-leaf-able Tree Top Adventures & Scenery
With more than three-quarters of the State covered in forest, some of the best views can be found above the canopy. Vermont's outdoors centres and ski resorts have some of the best zip lining, treetop adventure courses, climbing and even tree house glamping in New England. Fantastic for action packed family holidays, monkeying around is fast becoming one of the most popular summer activities in Vermont – but the fun doesn't stop here; there's loads more mountain adventures to be had, including quad biking, Segway tours, hiking and even mountain coaster theme parks! Vermont's trees are truly spectacular – head to Green Mountain State in the Fall where rolling hills burst in to color for as far as the eye can see – exquisite and unusual purple and pink shades from maple trees, accompanied by vibrant yellows and oranges create mind-blowing scenery, second to none.
[tweetthis]Big Adventure in a Small State – Vermont. (@VermontTourism)[/tweetthis]
Stream If You Want To Go Faster
Vermont has hundreds of miles of beautiful streams and rivers – perfect for wild swimming! From empty quarries, to beautiful waterfalls, there's plenty of places to stop for a quick dip (or kayak) in the spring / summer months. Vermont is also home to hundreds of beautiful lakes – in fact Lake Champlain used to be one of the US's 'Great Lakes' – water babies will be in their element with paddle boarding, water-skiing, jet skiing, sailing, white water rafting, wakeboarding, parasailing and even wreck diving.
Fun Fact: Lake Champlain is said to have it's very own Loch Ness Monster, legends and "eyewitness accounts" date back to the 80s – so keep your eyes peeled!
Another Cheesy Food Trail?
Did you know, the world's best cheddar comes from Vermont? From world-famous brands such as Cabot Cheese to the traditional, low-tech creameries such as Green Mountain Blue Cheese and Frog City Cheese, Vermont produces over 150 award-winning varieties. The Vermont Cheese Council have created a dedicated cheese map that creates a trail of the State's creameries, making it nice and easy for visitors to visit (and sample the goods) at artisan creameries state-wide.
And what about the drink?
We're glad you asked; Vermont has the most microbreweries per capita in the whole of the USA. With a thriving craft beer culture, you're never too far from a pukka pint. Also making waves in Vermont is the up and coming cocktail scene: the Green Mountain State offers plenty of distilleries, producing award-winning spirits. Take a tour of local bars, meet some friendly mixologists, and drink in the beautiful scenery.
One for the kids (and big kids), visit the Ben & Jerry's HQ – their past flavors graveyard, factory tour (and of course, tasting) is fun for the whole family.
Fun fact: did you know, Ben and Jerry's give their waste ice-cream to local farmers to feed their hogs! Vermont is also home to over, 500 organic farms and has the highest dairy cows per person ratio in the US.
Biking With A Big Fat Difference
Ever heard of fat biking? Championing the newest craze in winter cycling, many of Vermont's ski resorts are now offering guests the chance to glide across snowy terrains on state-of-the-art Fat Bikes. With wider tires and a comfy ride guaranteed, fat biking is a new way to explore the beautiful snow capped Green Mountains at your own pace – stopping off at local breweries and eateries along the way.
For mountain bikers and road cyclists, there's plenty on offer throughout the summer:  Most of Vermont's ski resorts run lifts year-round so you can easily reach the highest peaks; for some of the most extreme and picturesque trails in the U.S. Wide open roads, non-motorized routes, and scenic byways are a great way to explore the State – with plenty of tour companies available if you don't want to to do it on your own.
Fun Fact: Vermont is the healthiest State in the U.S. – and statistically one of the happiest!
Photo credit: Breville USA
Mary Jo Manzanares is a founder and the editor-in-chief of The Traveler's Way, an online travel magazine proving informational and inspirational travel recommendations for curious Baby Boomer travelers. She has been a speaker at various industry events and has a personal travel blog at Traveling with MJ. When she's not traveling, Mary Jo likes lingering over a cup of coffee, wandering in a museum, sipping wine at a cafe, and sharing it all with friends and readers. Mary Jo's top travel destinations are Italy, Portugal, and the Caribbean.