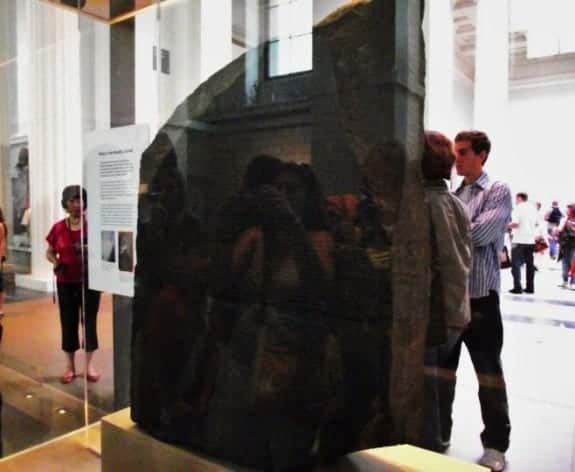 Located in the refined, quiet district of Bloomsbury, the British Museum is in a prime location for lovers of culture. With independent bookshops, tranquil gardens and intellectual venues hosting a range of exhibits and events, Bloomsbury feels like a world away from the brash and busy streets which surround it. At its heart is the British Museum, a rather misleading name given that it is devoted to world history and culture.
I remember the first time I visited the British Museum. I had a rare day off, so I decided to go and do something cultural with a friend. We ended up on the steps of this grand building, with little idea of what we would find inside. We went in and stood for a moment under the sweeping glass roof of the Great Court, taking in its majesty. Then we consulted the map we had picked up and made the unanimous decision to make Ancient Egypt our first stop.
There's something about the Ancient World that absolutely captivates me and this certainly didn't disappoint. Huge pharaoh busts tower above the visitors, while great winged beasts – part man, part bird, part horse – guard entrance ways to imaginary palaces. We wandered among the statues, marveling at the hieroglyphs intricately carved into stones, the delicate paintings of quite incredible skill, showing scenes from daily life.  Slightly macabre open coffins were beautifully and intricately decorated, covered in pictures and spells from the Book of the Dead, protected now by glass.
Then I noticed a group of people clustering around a small glassed-in exhibit that I'd walked right past before and I wondered what the fuss was about. I went over to take a look, and after a minute or two, I realized the lump of rock I was staring at was the Rosetta Stone (in photo above). The key to ancient languages, it is covered in tiny writing, in several scripts. This is what allowed us to make sense of the Ancient Egyptian world. As a linguist, this Stone is a thing of wonder and fascination for me and my friend had to practically drag me away.
From Egypt, we went to Ancient Greece, where an almost-perfect Parthenon stands, flanked by statues of Gods and Goddesses, the stone carved to look like flowing robes. We sat for a minute, admiring the artistry and magnificence of it, before crossing the Great Court again and going into Asia. So we continued, for a good two hours, moving from the golden-age of the orient to the dark ages of Europe and then to the pre-colonial empires of the Americas. Somewhere between Mexico and Canada, we were tired.  Though Enlightenment Europe and Modern Africa were still to be visited, we resisted their call, deciding to save them for another day.
Since then, I've been back to the British Museum at almost every opportunity, usually just when I have a bit of free time and it's raining outside.  I try to visit a different area each time I go. The museum has a real magnetism for me – perhaps because a huge scope of World History is brought to life here like nowhere else I've been.
The best thing of all? Entry, as for many London museums, is free. There is a suggested donation of $6, but this is up to you.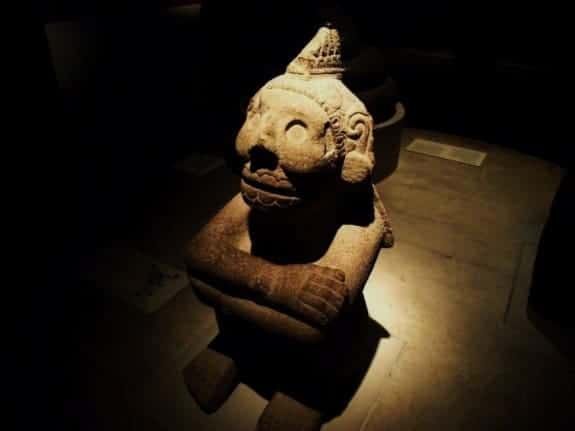 Special Exhibitions
A program of extraordinary temporary exhibitions runs year-round, with each one staying for about four months. With a focus upon a particular area of a culture, these exhibitions are generally held in the central reading room and you do have to pay for these: generally $18 without concessions. It's definitely worth booking in advance as spaces are limited. I'd say these exhibitions are worth the money if world history and culture is your thing: I went to see the Egyptian Book of the Dead when that was on display and I could not believe that I was seeing it. The huge papyrus pages lined the walls, hundreds of them, so unfathomably ancient and magical. The museum certainly knows how to present an exhibition.
Refreshments
There are two cafes located in the central hall, under the glorious sweeping glass roof, which are good if you need a quick coffee between exhibits. Alternatively, you could stop for a meal at the Court Restaurant, which offers an a la carte lunch menu and an exhibition dinner menu on Fridays, serving up modern European cuisine. Prices on the a la carte menu are slightly higher than average – $22-33 for a main course – but you do get an exceptionally atmospheric location.
Planning your visit
This is a huge museum with more than you could possibly see in a single visit, so it's worth planning your visit before you go.  You will find floor plans and guides to current events and exhibitions on the museum's website, so it's easy to get a feel for what you'd like to see before you get there. It can be a little overwhelming otherwise.
The Museum is open from 10 am to 5:30 pm every day and certain galleries stay open late on Fridays, generally until 8:30 pm.
Getting there
The British Museum is centrally-located and there are 4 subway stops all within a five-minute walk of the museum – the closest is Holborn. It is also just a short walk from Oxford Street.
Photo Credit: All photos are Katy's own.
Katy is a writer with wanderlust. Originally from the UK, she has lived in France, danced in Argentina and stargazed in Chile. She writes for numerous travel sites and you can always find her at www.starryeyedtravels.com.