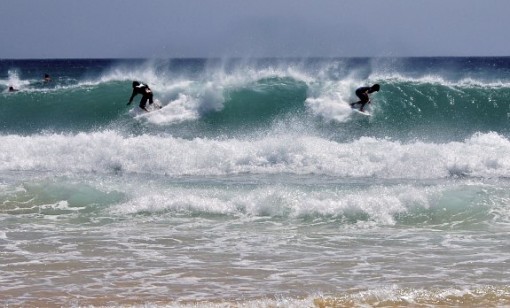 With white and black sand beaches, year round sunshine, and ridiculously warm weather, Fuerteventura, Spain offers visitors terrific year-round surfing, sailing, diving, sport fishing, and all sorts of adventure both on land and water.  Fuerteventura is one of the Canary Islands, owned by Spain and located about 63 miles off the coast of Africa.
There are over 150 beaches on the island ranging from fine, white sand to black volcanic rock from volcanic activity ranging back thousands of years.  Generally speaking, the beaches on the north part of the island have expansive sand dunes, and the beaches in the south tend to be a bit more remote.  For North American visitors, accustomed to a little more conservative regulations at the beach, be advised that many (most?) of the beaches permit clothing optional sun bathing, and clothing optional is deemed as family friendly.
How do you select the best beach for you?  Or maybe it's the best best for today, with a list of others for the days to come?  There's plenty to choose from, but here are some highlights of some of the main beaches to get you thinking:
Ajuy – This fine black sand beach isn't suitable for swimming, but it's still a popular attraction for visitors to Fuerteventura.  Walk up the paved trail to the top of a nearby cliff and enjoy the view of Mother Nature at her finest.
Caleta de Fuste – Light-colored fine sand and calm water make this a great beach for families with young children.  Located close to many hotels, the beach is popular with tourists for swimming, wading, and other water activities.  You can even ride a camel on the beach!
Cofete – This rather desolate beach has waves and wind that make it unsuitable for swimming, yet it has an unexplainable appeal.  It's worth exploring to find some solitude and to appreciate nature, and is a great spot for photography.
Corralejo Dunes – This fine sand beach is part of the National Park system, and is popular with families for sunning, swimming and other water activities.  The beach is clothing optional, so leave any prudish attitude in the car.
Corralejo Town – There are several small bays offering beaches that are enjoyed by tourists and locals alike.  The family friendly spots are perfect for sunbathing, swimming, and all water activities.  You'll also find a surf school.  Bars and pubs are located right on the beach.
Costa Calma – This beach is popular with families as the waves are calm, the sand fine, and hotels very close nearby.  Clothing optional is permitted.
El Cotillo – Several bays, separated by lava rocks, make up this beach area that is removed from the tourist areas.  The water is very shallow, making it a great spot for families with young children, and the fine sand makes for great sunbathing.  Clothing optional is permitted.
El Salmo – Another quiet beach that is frequently overlooked by visitors since no hotels are located nearby.  The sand is fine, but there are lots of lava rocks scattered about, so sunbathing may be difficult.  Still, if you want to escape the crowds, it's a solid choice.
Esquinzoi – This small beach has fine sand with larger lava rocks that you an easily work around.  Family friendly, with a town located right nearby, this is a very popular beach.  Clothing optional is permitted.
Giniginamar – This remote beach on a pebbly bay is more of a local favorite than a tourist one.  Fishing boats and limited visitors make it a rather romantic beach spot.  Sit and talk, have a picnic, and enjoy having very few people around you.
Gran Tarajal – The beach on a large bay has fine sand that makes it perfect for sunbathing, although it's more popular with locals than with tourists.  Enjoy swimming and sunning, or find a pick up game of beach football (there are goals on the beach).
Jandia – 13 miles of sandy beach make this a popular spot for beach lovers.  It's divided into four sections, each with its own special personality, and offers something for everyone.  Clothing optional is permitted.
La Lajita – This small beach on a quiet bay is primarily a fishing area, so you'll find more locals than tourists.  The sand is dark and fine near the water, becoming more rocky as you move away.
La Pared – Rough surf and a strong current make this beach unsuitable for swimming, but it is a beautiful look at nature.  If you're happy just to sunbathe with the sound of crashing surf, this beach is for you.
Las Playitas – This fine, dark sand beach is a local favorite.  It has no public access and you must go through hotel gardens to get to the beach.  There is a sailing school, and kayaks and surfboards are available for rent.
Mal Nombre – Calm, shallow waters and a fine sand make this a great beach for families.  Get there early and snag one of the small black sand castles, perfect for laying on the beach in privacy.  Clothing optional is permitted.
Playa de Garcey – This spot is the former resting place of the American Star which sunk in water right in front of the beach.  It's now been removed.  Getting to the beach is a real effort, and will take you through scenic country, but strong currents and dangerous jellyfish make this unsuitable for swimming.
Puerto de la Cruz – Predominantly locals visit these rocky beaches on small bays.  The nearby town is the most southern part of the island, and is full of sights worth seeing.  Combine a visit to the beach with a visit to the town for a great day trip.
Sotavento – This beach is quite windy, making it popular with surfers, wind surfers and kite boarders, but not so much with sun bathers – unless you fancy lots of sand in your face.  There are some protected areas to lay so get there early to nab one.  The water is shallow, and good for small children, but you will need to watch out for lots of water activity.  Clothing optional is permitted.
Tarajalejo – A little off the beaten bath, this dark sand beach is full of rocks and pebbles, but makes an easy stop off if you're walking the promenade that goes alongside it.  Lots of services are available in the area.
Whether you're looking for a beach full of fun and activities, or something remote and quiet, Fuerteventura has the right beach for you!
Getting there:  Flights from cities across Europe serve El Mattoral Airport, making Fuerteventura easy to get to.
Photo credit:  Alf Altendor via flickr (surfers); Art Mitchell via flickr (Corraljo Dunes); Thierry via flickr (lounger chairs on Jandia)

NOTE:  This article originally appeared on Traveling with MJ.  It is edited and reprinted here with permission.
Mary Jo Manzanares is a founder and the editor-in-chief of The Traveler's Way, an online travel magazine proving informational and inspirational travel recommendations for curious Baby Boomer travelers. She has been a speaker at various industry events and has a personal travel blog at Traveling with MJ. When she's not traveling, Mary Jo likes lingering over a cup of coffee, wandering in a museum, sipping wine at a cafe, and sharing it all with friends and readers. Mary Jo's top travel destinations are Italy, Portugal, and the Caribbean.