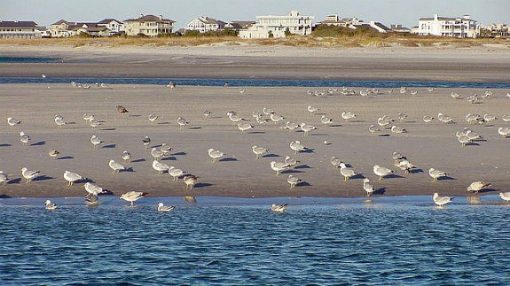 Charlotte, North Carolina is situated within the state nearly equal distance from the mountains to the West and the beaches to the East. I was proud to call it home for a number of years, and enjoyed many wonderful adventures there. While the mountains provide scenic wonder, my heart is firmly planted in the sand of the Atlantic coast beaches of North Carolina.
The beaches of North Carolina are divided into four main areas beginning with the Outer Banks to the north, Crystal Coast and New Hanover beaches in mid-state, followed by the Brunswick beaches just a hop away from some of the best seafood in Myrtle Beach, South Carolina.  I have always felt that there was a level of  liveliness that followed down the coast, with the Outer Banks being more stately and reserved and the beaches to the south seeming to pick up the pace with a more party atmosphere.  I am happiest in the middle, on the New Hanover beaches, and most particularly, Wrightsville Beach.
Though the surf can be somewhat rough, the town of Wrightsville Beach is perfect for relaxing in the sun and sand. The beach is clean and accessible to the public by way of numerous well marked walk-ways. While my family and I have always rented a home within walking distance of the beach, there is adequate parking along the street and in a few public lots. Part of the charm of Wrightsville is the limited number of hotels, instead offering an abundance of rental properties.
TIP: Beachfront rentals book nearly 12 months in advance, so allow plenty of time to investigate your options and make reservations.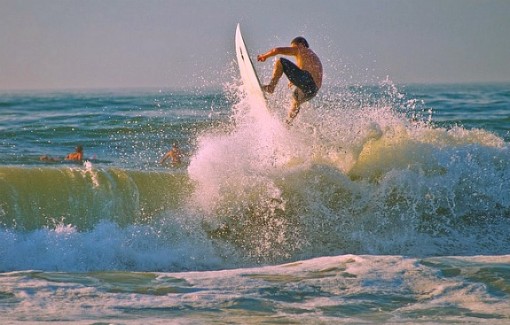 Loaded down with beach chairs, sand toys and a cooler full of refreshments we are ready for a day of fun and sun. Once our belongings are situated, I have a standing ritual of heading out for a long walk along the beach. I love to walk on the uncrowded shoreline, collect a few shells, laugh at the antics of the sea birds and marvel at the stunts of the occasional surfer.
After working up an appetite, we often head to the Oceanic for lunch. Offering seafood specialties and the only restaurant situated on the right on the waterfront, I love sitting out on the pier enjoying the sunshine and sound of the waves. Providing both indoor and outdoor seating, the Oceanic takes on a different personality at night and offers romantic dining with an amazing sunset for a backdrop.
Wrightsville Beach is home to other notable restaurants including the understated South Beach Grill serving regional foods and an eclectic menu making it a favorite with the locals. While I am hard pressed to say what is my favorite dish here, sharing the Seafood Nachos Platter for Two paired with a crisp glass of wine is a delicious end to a day at the beach.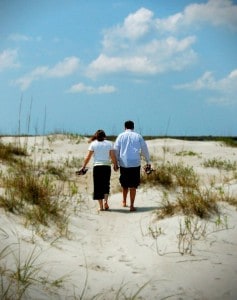 No visit to Wrightsville Beach would be complete without a visit to the Trolley Stop. A lunchtime mecca, this tiny hot dog stand has customers lining up before it is even open daily for business. If you've forgotten anything, or are just looking for a shopping spot, try Redix. Loaded with everything from bait to souvenir trinkets to designer clothing, if they don't have it at Redix, they probably don't make it!
For an unforgettable adventure, head to Masonboro Island, part of the North Carolina Coastal Reserve. Masonboro is a 8.4 mile long island encompassing over 5,000 acres of uninhabited, undisturbed area, accessible only by boat. The majority of the island is covered by marsh and tidal flats, yet the ocean beach and sand dunes are incredibly inviting. The dunes provide a nesting ground for Loggerhead and green sea turtles and walking along this stretch of beach, I find myself totally at peace.
Boat access to the island is available through private craft or an island ferry making daily scheduled runs. While we watched a dramatic off-shore thunderstorm and enjoyed a sunset picnic here, it is important to remember that as a protected area, anything "packed in" must also be removed and visitors must be careful not to interfere with or damage the natural surroundings.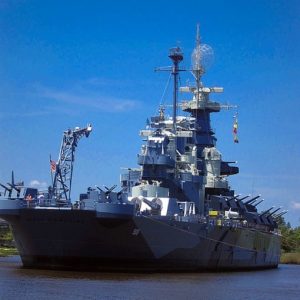 For a day away from the beach, hop over to nearby Wilmington, for a look at the Battleship North Carolina. As you walk the decks and peer into the living quarters you can envision the crew who proudly served in the Pacific aboard the vessel during WWII. A floating museum with photographs and mementos on display, I'd recommend planning for a couple of hours to explore and experience the Battleship. A calendar lists numerous special events scheduled throughout the year including the moving Memorial Day service, fabulous 4th of July fireworks display and haunted Ghost Ship tours in October.
Wilmington is also home Screen Gem's 50-acre production lot where a large number of movies and television productions are filmed. Public walking tours are held each Saturday at noon and 2 pm, with additional tours on Sunday during the summer months. The one hour tour includes a visit to the set of the popular WB Network show "One Tree Hill". You can purchase tickets for the tour or, if you prefer to explore on their own stop by the Wilmington Visitors Center to pick up a self-guided map for film locations used in over 350 productions.
Photo Credits: All from flickr seabirds , surfer, couple, Battleship North Carolina
Having been transplanted numerous times, I have learned to explore the sites around our new found hometown, uncovering hidden gems and attractions. When vacation time rolls around, I enjoy traveling with my family and the occasional weekend escape with my husband, coming home to share our travel experiences with others. You can follow me on Twitter @JAIngersoll. My top three destinations are Walt Disney World Resort, the Midwest and any beach I can walk along.