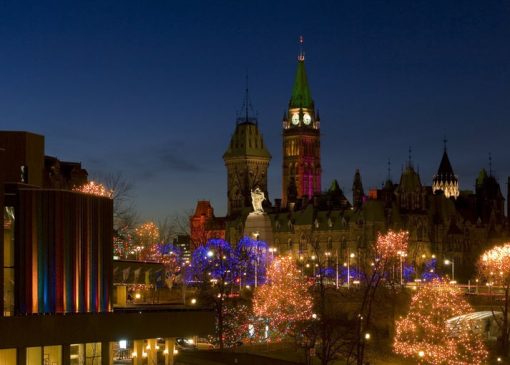 Each year Canada's capital city hosts countless festivals, concerts and shows that celebrate everything from food and drink to sports, music and heritage. 2016 is no exception and is already shaping up be a year to remember.
Here's a list of what we think are the 10 best.
1. Winterlude – January 29-February 15.
Canada's capital region will be transformed into a festival of all things snowy and frozen as the 38th edition of Winterlude takes place. Ottawa is expected to welcome 600,000 revellers with celebrations centered in and around three downtown locations. Visitors can look forward to pyrotechnics, ice skating, ice-carving competitions, and live music on an epic scale.
2. Ottawa Comiccon – May 13-15.
The city's EY Centre will become a mecca for sci-fi and fantasy. It will be the ultimate celebration of pop culture and entertainment featuring celebrities, personalities, fans and exhibitors from the worlds of comic books, movies, TV, toys, anime, gaming and more. Expect expert panels, photo ops, collectables, and shopping.
3. Canadian Tulip Festival – May 13-23.
The 64th edition of this much loved festival will transform the city into an oasis of color. The event is the largest of its kind in the world, celebrating the beginning of spring and international friendship with the Netherlands. Over one million tulips in 50 dazzling varieties will wow half a million visitors as they blossom in public spaces across the capital – including 300,000 in one park alone.
4. ScotiaBank Ottawa Marathon – May 29.
One of only two IAAF Gold Label marathon events in Canada, the race attracts the country's largest marathon field (7,000 participants) as well as a world-class contingent of elite athletes. The course will take in many of Ottawa's much loved landmarks and will draw hundreds of thousands of spectators. The Ottawa Race Weekend (May 28 – 29) will see 50,000 runners compete in 2K, 5K, 10K, half-marathon and marathon races.
[tweetthis]A year of great festivals from @Ottawa_Tourism[/tweetthis]
5. Canada Day – July 1.
Ottawa plays center stage for the national celebrations marking the 149th anniversary of the formation of modern Canada. The day kicks off early with official proceedings taking place on Parliament Hill before concerts, fireworks, and partying in the streets become the order of the day.
6. Ottawa Chamberfest – July 21-August 4.
This is the largest chamber music festival in the world, with more than 100 shows featuring around 450 musicians including world-renowned Canadian and international artists. Performances will take place in a variety of stunning venues throughout Ottawa including historic churches and theatres.
7. RBC Royal Bank Bluesfest – July 6-17
Bluesfest is one of the largest international music events (not just the blues) in North America and, according to Billboard Magazine, is one of the top 10 most successful music festivals in the world. Last year's event attracted more than 300,000 music lovers and featured wide-ranging talent including superstar rapper Kanye West, old favorites Lynyrd Skynyrd, country star Keith Urban, and rock legends Deep Purple.
8. Gatineau Hot Air Balloon Festival – September 1-5
Few countries allow hot air balloons to fly directly over their Parliament, but in Canada it's encouraged at the Gatineau Hot Air Balloon Festival, known to locals as the Festival de Montgolfières de Gatineau. A stunning array of colorful balloons will pepper the skies above the Ottawa River, while vast crowds of spectators below look on in awe.
9. Ottawa Wine and Food Festival – October (dates to be announced)
This three-day gourmet celebration will take place in mid-autumn at the Shaw Centre in downtown Ottawa, showcasing all that is great and good in the capital's food and drink scene, with cooking stations, live demos and gastronomic talks aplenty. It is the largest event of its kind in Eastern Canada and enjoys a stellar reputation for innovation and excellence from its acclaimed annual 'Wine Challenge' to special events such as the ever-popular 'Tasting Alley' to its vibrant 'Main Tasting Floor' where exhibitors showcase the latest culinary trends in food, wine, craft beer and spirits.
10. Christmas Lights Across Canada (December)
Taking place throughout the festive season each year, this is a national program of stunning Christmas illuminations that light up cities throughout Canada. During the festival, Ottawa and neighbouring Gatineau glow each evening as hundreds of thousands of multi-coloured lights create a fairy-tale like scene.
Photo credit:  Ottowa Tourism
Anthony has found travel provides a healthy balance to his day job as a criminal defense attorney. Living on the periphery of blogging for years, he's now decided to flex his creative muscles with a little writing and photography of his own. Anthony's favorite travel destinations are the Caribbean, Italy, and Ireland.