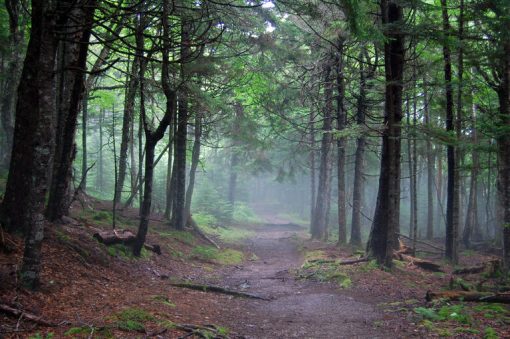 Canada is a magnificent country with an incredible landscape that's definitely worth exploring. So you can leave behind the buzzing tumult of the cities and find a secluded environment that's bound to bring you the desired tranquility and inspire your soul with boundless beauty. But since hiking in Canada this fall offers endless possibilities, here's our top 5 to help you decide faster:
1. Fundy Trail, New Brunswick
In the southern part of New Brunswick, you'll find this spectacular feral wonder that's well worth your time. Stretching between Florida and Labrador, you'll marvel at an unspoiled coastal landscape, which is well worth your time.
You can find a lot of peace here since there aren't many tourists at all, but you'll also get enough trail for yourself on the 10 miles of wilderness beauty. The best part is that this is very close to Saint John by car, so you'll get there in no time. It's also very close to Saint Martin's, another location that's worth exploring.
Once you get to Fundy Trail, there's nothing stopping you to hike at your own pace, or even grab a bike to explore all the paths that wax and wane around the coast. You'll fall in awe with the reddish sandy beaches that look like a piece of orange cake, providing an appealing contrast to the cerulean sky and sea.
The hidden waterfalls along the way are heart-throbbing, just like the abrupt cliffs and high tides you can see in the Fundy Bay. You might even catch a glimpse of the majestic Right Whales if you spend enough time on the shore.
2. La Cloche Silhouette Trail, Killarney Provincial Park
This is definitely the place where you can roam through miles and miles of trails near granite colossi and quartzite hills so white you'll be amazed something like this can actually exist.
Near the North Wes Georgian Bay, the Killarney park has spectacular views that will make you fall in love with autumn even more. The La Cloche Silhouette trail, in particular, gives you a view of the incredibly tall mountains throughout a 10-day long journey. You'll roam through a multi-colored deciduous forest that brings the autumn foliage experience to the next level.
Wandering through valleys and hills, climbing up and descending on a challenging route, you'll definitely feel part of the magnificent experience offered by Mother Nature.The crystal lakes along the way are true oases of beauty seeing as you'll mostly navigate steep inclines which burn thousands of calories daily so you'll get the perfect silhouette both literally and figuratively.
3. High Pines Trail, Bon Echo Provincial Park
This amazing park is located in southeastern Ontario where you can fall in love with the most picturesque views you have ever seen. Hailed as a driving force of loss as well as beauty, autumn barely leaves its mark on the incredibly tall pine trees you'll see along the way. But the air is definitely fresher, colder and has a distinct aroma, and the cerulean sky above the hemlock groves whisper that winter is on its way.
The forest ponds along the way are like secluded little blue eyes surrounded by tree groves with painted leaves that shine in the cunning glow of the fall sun. It's no wonder that this is the main destination for outdoor photographers and painters, and you'll understand even better if you go there.
The trail isn't that long, it covers just about one mile, but you'll see a variety of landforms that seem cut out of a book. The granite rock faces are abrupt and seem quite dangerous to tackle, hovering above the deep Mazinaw Lake with its sandy beaches and harboring hundreds of pictographs made by the Algonquins of Pikwakanagan First Nation.
4. Johnston Canyon
This 2-mile long trail is one of the easiest to tackle though it crosses a limestone canyon. But looking up you'll feel completely minuscule in the face of what Mother Nature has created.
The deciduous trees highlight the autumn's might since their leaves are gaining new tints of warm orange, yellow and brown, and the creek you'll pass through has a cold water, though still crystal-clear. The overhanging catwalks on the canyon are usually swarming with people, but they might be less populated in the fall especially if you avoid the rush hours. Some would argue that hiking Johnston Canyon in the winter may be better yet.
The staircases set in the cliff wall will take you to the Lower Falls waterfall first, which offers a thundering spectacle of immense beauty if you're to admire it from inside the actual canyon. Afterward, you'll continue your journey to the Upper Falls that stands at 100 feet tall.
You can end your trip here, climbing on top of this waterfall to admire its tumultuous rumbling down or hike another 2 miles to the mineral springs of Ink Pots. You'll get the chance to admire the canyon more, cross the autumn-stained meadows and finally wonder at the quicksand basins of these springs.
5. The Skoki Circuit, Banff National Park
If you want to end your Canada hiking tour in full force and admire plenty of natural beauties along the way, the Skoki Circuit is the glorious finish your trip deserves. This 4-day trip through the Canadian Rockies will see you through a breathtaking alpine landscape that will sweep you off your feet.
The steep, snow-stained mountain ridges in the far away are only surpassed in beauty by the crystal-blue alpine lakes, while the valleys harbor large meadows overflowing with delicate wildflowers. Hidden Lake will be your first pitstop, a one-of-a-kind stretch of pristine water overshadowed by Mount Richardson.
The Merlin Meadows is your second stop and the road here will take you through tall passes and forested valleys, enjoying an alpine landscape that shines in the autumnal sun. The other two days will take you through other meadows guarded by ridges and peaks, having you rest on the quiet shores of the alpine lakes you encounter.
With so many wonderfully rich beauties Canada has to offer, we're eager to hear which trail you'll choose and what made you decide? And once you come back home, stop by here again and tell us all about your trip.
Author Bio:  Rebecca lives in the United States, but loves hiking all over the world. Her favorite is the Everest Base Camp Trek in Nepal. It usually takes 16 days, but she likes to slow down, enjoy mountains, the company of other adventurers, and take more pictures, so it took her 28 days last time. Another of her passion is the ocean, so all short and long hikes along the ocean shore bring a lot of joy. She also writes for hikingmastery.com.
The Travelers Way occasionally accepts guest posts from fellow travel bloggers, friends within the travel industry, and as advertorial content.