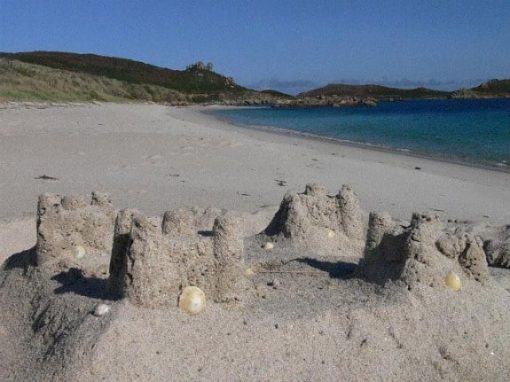 With Summer just around the corner, it's time to grab your bucket and spade and re-discover some of Britain's best beaches!  Here we've rounded up 10 of the best our shores have to offer.
Bournemouth beach in Dorset is commonly regarded as the best in England. Its 7 miles of clean, well maintained golden beaches are the most popular tourist destination for miles, perhaps also due to the fact that the county boasts some of best weather in the country.
Great Bay in St Martin's, Isles of Scilly (in photo) would surely be the most popular beach in the country if not for its relative difficulty in reaching. As the southernmost beach in the UK bordering a small island it has an unmistakable tropical appearance. With pure white sand, sapphire blue shores and tropical flora it is surprisingly beautiful and completely unique among Britain's coasts.
Porthcurno in Cornwall has some of the nicest sand in the country and fantastic teal blue shores. Craggy cliffs surround the beach and taper out like the mouth of a river. The beach is utterly beautiful although the limited size perhaps thankfully holds it back from greater popularity.  Visitors to this beach are highly recommended to look into the unique Minnack Theatre that performs along the cliffs during the Summer.
Blackpool in Lancashire was once the main beach in England. Although that may no longer be the case, it still remains a major family resort with many tourist attractions along the shoreline. But forget the tack – Blackpool's beach is probably its most overlooked asset and is often relatively deserted at the expense of other the town's other attractions.
Holkham in Norfolk is one of the longest and widest beaches in the country and makes a fantastic walking destination because of its varied coastline and natural surroundings. Although probably less suited to sun bathing the beach never gets very crowded, and is a fantastic destination for sports, activities and sight seeing.
West Wittering in West Sussex is as close as you can get to an ideal family beach, featuring a wide environment of gentle shallow water with safe bathing, rockpools, a large variety of flora, and bright white sand.
Croyde Bay in North Devon is one of the most popular, if not the best surfing destination in the country. It offers large natural waves, and many nearby facilities catering for the sport. And there's still enough sand for everyone else to enjoy the beach, too.
Abereiddi Blue Lagoon in Pembrokeshire features a nearby pebble beach although the main attraction is the lagoon. This is a deep circular pool sheltered by vertical cliffs and filled with green blue water, giving it a slightly tropical, yet still familiar appearance. The environment provides a great opportunity for cliff jumping, although less adventurous visitors may simply enjoy it as a point of beauty.
Holy Island in Northumberland provides one of the most isolated and most scenic destinations available. It is not as well maintained as other frequent tourist beaches, although this only adds to the raw and untouched beauty of the destination.
Sinclair's Bay in Caithness is one of the most northerly beaches in Britain and so you might not always be blessed with the warmest of weather. However the remoteness makes it not impossible that you will have the entire three miles of beach to yourself, and Caithness has a ruggedly beautiful coastline with a great deal to see.
Photo credit:  © Copyright John Davey and licensed for reuse under this Creative Commons License
Dr. Paul Johnson is responsible for the effective online marketing of many travel businesses, including the very popular UKseries.com suite of UK travel websites.  He blogs about luxury travel at A Luxury Travel Blog.
The Travelers Way occasionally accepts guest posts from fellow travel bloggers, friends within the travel industry, and as advertorial content.