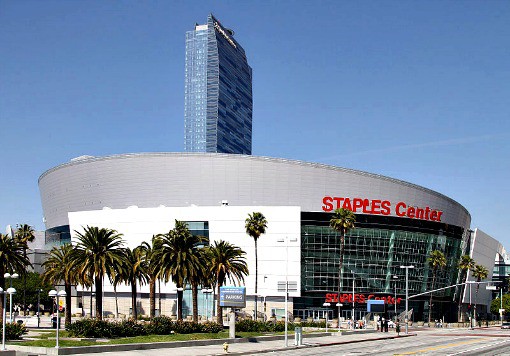 As the second largest city in the United States, Los Angeles gets it fair share of visitors attracted by the ocean beaches and sunny days.  Home to Hollywood, theme parks, museums and beaches galore, LA is as distinctively west coast as New York City is east coast. Los Angeles is also a major city for sports, having hosted two Olympic Games.  Sports are also big business in LA, attracting millions of visitors each year who come for both spectator and participatory athletics.
If you're a sports fan, here is your LA sports guide for planning a sports-related getaway to Los Angeles.
Basketball (fall to early summer):  The LA Lakers and the LA Clippers both play at Staples Center.  It's not unusual to see television and film celebrities sitting court side cheering on their team.  Dyan Cannon, Denzel Washington, and Jack Nicholson are big Laker fans, and Billy Crystal, Penny Marshall, and Frankie Muniz are big Clipper fans.  The LA Sparks, two-time WNBA league champions, play at the same location, with a season running May to August.
Football (fall):  It's hard to imagine, but LA has no professional football team.  Both the Rams and the Raiders left town in 1995, leaving LA the largest city in the country without an NFL team.  Their working on getting professional football back to the city.  Until then, though, they are passionate about two very successful college teams – the USC Trojans, who play at the Memorial Coliseum, and the UCLA Bruins, who play at the Rose Bowl.  Both schools are part of the Pacific 12 Conference.
Hockey (October to April): The NHL's LA Kings take to the ice at Staples Center.  They had some tough years, but this past season was a good one.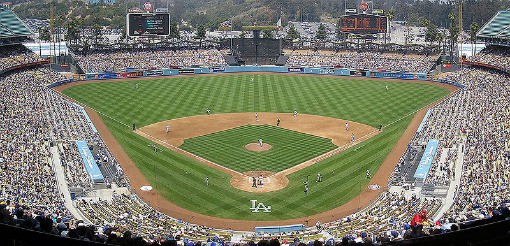 Baseball (April to October):  The boys of summer load up the bases at Dodger Stadium after landing in LA from Brooklyn.  The Dodgers have won eight National League championships and five World Series.  If you want to expand to the greater LA Area, you can head to Anaheim Stadium to watch the Angels (American League).
Soccer:  David Beckham leads the LA Galaxy, a major force in the MLS.  They play at Home Depot Center.  LA has also hosted soccer's international World Cup, contributing to the sport's growing popularity in the area.
Golf:  Another year round sport, golf attracts spectators from around the world for prestigious events while amateurs flock to numerous private and public courses around the area.  The courses are too numerous to mention, but Golf California keeps pretty current on courses, reservations, and prices, or you can just to a google search.
Tennis: Tennis is played year round on public and private courts around the area.  Professional and collegiate tournaments are held on the UCLA campus at the Tennis Center.  Tennis great Arthur Ashe was an alumni of UCLA.
Running:  The 27th running of the LA Marathon was last weekend.  This top-tier event attracts over 25,000 runners and over a million spectators, and is one of the premiere running events in the country.  The wheelchair division of the marathon is the top event of its kind in the world.  Los Angeles has dozens of shorter running events, and thousands of miles of running trails, making the area popular with both competitive and social runners.
Auto Racing:  If you want your speed on wheels, Auto Club Speedway in Fontana features IndyCar and NASCAR racing.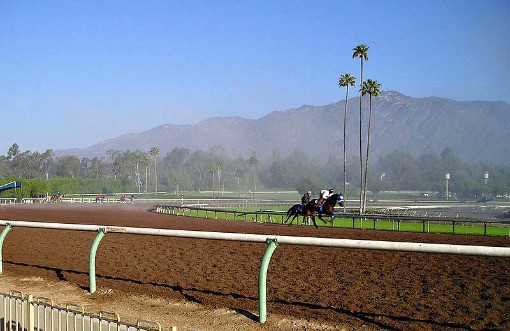 Horse Racing:  Two racetracks host the Sport of Kings, Santa Anita with a season running Christmas through mid-April, and its Oak Tree Meet in the fall, and Hollywood Park with a season mid-April to July, and an autumn meet in early November through mid-December.  Alternating meets means that you can catch horse racing year round.  Satellite wagering is available at both tracks.
Roller Derby:  Full-contact roller derby is back, and the LA Derby Dolls are gaining in popularity.  The Dolls take to the track at the Doll Factory, and feature quirky entertainment that includes halftime music and a vendor village featuring art and jewelry.  The 20-bout season is on Saturday nights throughout the year.
Polo (April through October):  Polo has a rather famous history dating back to the 1930's when Will Rogers cleared the field in front of his home so his celebrity friends could play a friendly match.  Thus began the Will Rogers Polo Club.  There was once over 25 polo clubs in the LA area, but today this is the only one that remains.  Matches are held on weekends, and despite a sense of elitism that accompanies the sport, the matches are informal and fun.
Beach Volleyball:  If you find a beach, you'll find a game of beach volleyball.  Some are casual pick up games while others are fiercely competitive at a near professional level.  You can take your chances on a pick up game or check out Beach Volleyball Meetup to connect with people on a  more scheduled basis.
Surfing:  With miles of ocean beaches, sometimes you just have to hit the waves.  From Venice, Topanga, and Zuma beaches for beginners to Manhattan, Hermosa, and Malibu for more experienced boarders, there are plenty of beaches to catch a wave.
With so many athletic activities to choose from, it's no wonder that sports enthusiasts make Los Angeles their vacation choice!  What's your favorite?
Photo credit:  jjron via wikimedia (Staples Center); Jake N. via wikimedia (Dodger Stadium); Ellen Levy Finch (Santa Anita); 
Mary Jo Manzanares is a founder and the editor-in-chief of The Traveler's Way, an online travel magazine proving informational and inspirational travel recommendations for curious Baby Boomer travelers. She has been a speaker at various industry events and has a personal travel blog at Traveling with MJ. When she's not traveling, Mary Jo likes lingering over a cup of coffee, wandering in a museum, sipping wine at a cafe, and sharing it all with friends and readers. Mary Jo's top travel destinations are Italy, Portugal, and the Caribbean.