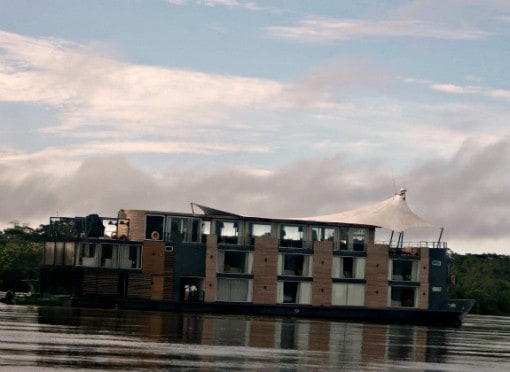 Forget about trekking to the Amazon and roughing – unless you just want to do that.  Instead, check out the M/V Aria who just launched their five-star floating hotel offering cruises to the northern part of the Amazon River in Peru.
Cruising is an Amazon experience in every sense of the word because it's still all about the river, the jungle and visiting several of the local tribes.  And on a ship you can do it in style without missing a thing.  Even better, you will gain a real understanding of this particular part of the Amazon with four highly qualified naturalists on board to share information and answer questions.  Each naturalist takes a turn highlighting what they specialize in – from birds, to trees to piranha fishing.
The Boat and Experience Onboard
I was more than pleased with the size of the M/V Aria, it's not just your run-of-the-mill cruise ship since it's compact, but has everything.  It is 147-feet long and called a "luxury expedition vessel." It is also one of the first to take guests into the world's last unexplored wilderness in this kind of luxurious surroundings.
There are 12 large suites and each one has a huge picture window looking out at the scenery day and night. They were comfortable and even though I'm prone to motion sickness, I didn't have a problem being in the room.  The Amazon River is not a rough ride anyway, but I could hardly tell I was even on a boat other than when I was looking out the window at the view from my room.
When you leave your room, you'll find plenty of other things to see and do onboard.  There is the hot tub in the rear of the boat, which is where my new Amazon traveling companions and I spent our evenings looking at the moon and admiring the Milky Way.  A small boutique offers local crafts and runs the gamut of selling what you might have forgotten to bring with you. There is a small exercise room if you wish or you may find that you are getting your exercise on the boat and out trekking around during low water season.  What is called the living room offers all sort of goodies with comfortable chairs, reading materials and a bar that was open as long as my friends and I were ordering drinks.
The Food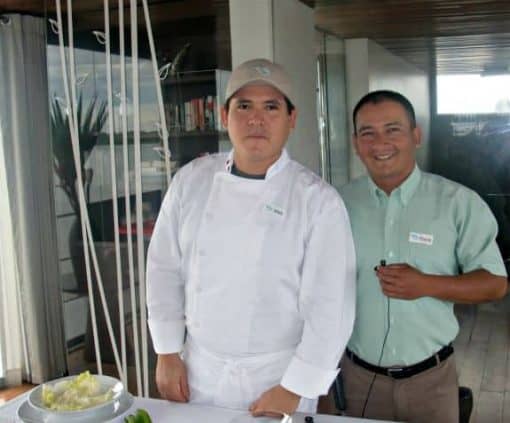 Executive Chef, Pedro Miguel Schiaffino of Lima's infamous Malabar restaurant helms the gourmet kitchen on the boat and I was not disappointed.  Drawing inspiration from the  local surroundings he uses fresh fruit and bakes his bread daily to complement the cuisine. A menu as diverse as fresh hearts of palm tofu, tiger catfish, deep fried yucca with aguaje ice cream, or a blend of unusual petit fours with flavors like charapita chili pepper marshmallows are the norm.
The dining room offers great views of the Amazon and it seemed that no matter where I was on the boat the river was in view.
The Activities
Day excursions include sightings of Amazon monkeys, three-toed sloths, a variety of reptiles and pink or gray dolphins tucked in out-of-the-way corners like Pacaya Samiria National Park or along the smaller Ucayali or Yarapa rivers.  Short trips to small local villages or fishing for piranha and spotting dozens of different species of birds is all in a typical morning, accompanied by the four naturalists who guide the activities and keep you in the know about what you're seeing.
A pink dolphin sighting is on many traveler's short list.  Pink dolphins are solitary as opposed to the social bottle-nosed dolphin.  Although you'll see both types of dolphins sighting a pink one is a real treat.  One night as we were coming back to the boat from our skiff we had a pink dolphin swimming beside us and jumping in and out of the water. It was one of those moments that you know all is right with the world.  It was the most special moment of the trip for me and it seemed like a sign of good luck too.
Piranha fishing was also high on my to-do list and I caught several. While the fish were not as big as I had expected those teeth are mighty sharp.  Our fishing was catch-and-release and there were a few times the piranha teeth cut into our naturalist's fingers drawing blood.
Another of my highlights was a stop at a village where local youngsters sang to us.  In addition to the music, I had the village shaman bless me in a local ceremony that has roots dating back hundreds of years.
When to Go
It's a toss up to decide whether to go during the high water season from December to May or the low water season from June to November.  Each season offers a different Amazon experience.  No matter when you visit there will be a few rainy days, probably more during the high water season.  Still, I didn't find the rain too much to deal with and it makes things come alive in the forest.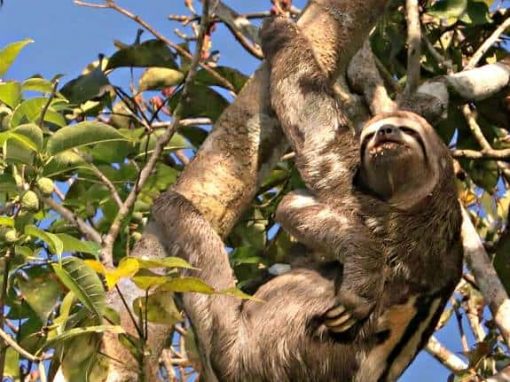 Basically, the high water season means cooler and wetter and the streams are about 23-feet higher making every creek, lake and stream easy to navigate. With the water higher visitors are also much closer to the jungle canopy.  This means you are more likely to see the sloths, monkeys and birds.
During low water season the average temperature is about 98 degrees.  You can walk along the trails and jungle paths at this time and there are fewer mosquitoes as well. Fishing is also 100% guaranteed during low water season so if you are an angler this is the time for you to go.  As well, migratory birds are more prevalent too.
How to Do It 
I flew into Lima and from there took a flight to Iquitos.  Once in Iquitos transport to and from the boat is included with your cruise.
Three night cruises start at $2,400 including meals, beverages (also wine and beer), excursions, and transfers to and from the vessel.  Four and seven night cruises are also available.  The minimum age for children is seven years old.
Photo Credit: Rita Cook
NOTE:  This cruise was complimentary and hosted by M/V Aria, but the glorious recommendation to experience this cruise is strictly upon advice of the writer and the experiences she had onboard.   
Rita Cook is a writer/editor with over 1000 articles. She can be heard on Insider Mag Radio at KPRO 1570 am and she also reviews cars for the Washington Times Communities (Behind the Wheel). Her most recent published books include "A Brief History of Fort Worth" as well as two haunted books on Dallas and Fort Worth to be published in the fall 2011. Rita's favorite travel destinations are Italy, India and Kenya.