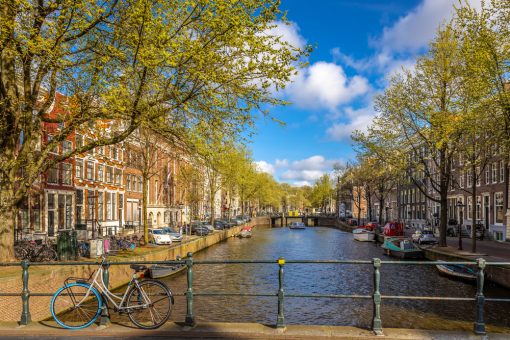 If you're looking for a bikeable destination, look no further than Amsterdam!
Whether you're an experienced biker or a beginner, you can enjoy biking in Amsterdam. In fact, many tourists choose to bike around Amsterdam because it is such a fun, practical, and inexpensive mode of travel.
The best part is, you can bike to or around most places you would want to see in Amsterdam. 
How to Rent Bikes
The first step to having an amazing biking experience in Amsterdam is to find a reputable place to rent or buy a bike.
You'll want to find a bike shop, which will have "fiet" in the store name. You can find some near Central Station, Leidseplein (especially near Vondelpark), or Dam Square.
Next, you'll need to decide if you want to rent or buy a bike (which you could resell when you leave).
Renting a bike costs about €8-10 for all day, and you must rent it for a minimum of three hours. When you rent, you should be prepared to put down a deposit of about ​​€20. The deposit will be returned to you when you return the bike.
Alternatively, you can buy a new bike, which costs about 159€. If you're going to be biking around Amsterdam for twenty days or more, buying would be more cost-effective than renting.
Be wary of people selling second-hand bikes or offering bike rentals on the street. Bike theft is common, so you may be buying a stolen bike.
Bike Safety: Rules and Tips
Since there are so many bicyclists in Amsterdam, you'll need to be aware of the biking norms and rules of the road. Here's a list of some of the most important ones:
Use the bicycle lane
The bicycle lane will be on the right side of the road, with white bike symbols. Using these lanes is for your safety as well as for motorists and pedestrians.
Obey traffic lights and signs
Some signs you should know include:
On "no entrance" signs it may say uitgezondered fiets, which is "except people on bicycles."
At traffic lights, rechtsaf voor fietsers vrij means "right turn free for bikers," meaning you can turn right on red.
Let op! uitrit bouwverkeer means "watch out for construction traffic."
Pedestrian zebras means "pedestrians first."
Use hand signals
Always signal with your hand before making a turn to avoid an accident. Similarly, you should signal to pull off the road and do so before stopping, as there are most likely many bicyclists behind you.
Use lights
A front and back light are required by law for bikers at night.
Park in designated areas
Only park your bike in designated areas (on a rack when outdoors or in the indoor area for bikes) or it might end up in the Bicycle Depot.
Lock up your bike
Bike theft is common. To avoid it, always lock up your bike.
Pull over to use your phone or look at your map
Stopping or swerving can cause an accident.
Watch out for others
There will be many other bicyclists. You will need to watch out for and keep up with them. You should also watch for pedestrians and trams.
Don't ride under the influence
This is actually a law in Amsterdam and you can be written up for a BUI (Bicycling Under the Influence).
Use your bell
When you're coming up behind someone and want to get around them, use your bell. They should give you space to pass.
Only wear a helmet if you feel you need one
Wearing a bike helmet is not required and will make you stand out as a tourist. You can wear one if it makes you feel safer, but it's best not to if you don't need it. You don't want to be a target for crime, as tourists often are.
Where to Bike Around Amsterdam
Amsterdam is a busy city, full of interesting museums, restaurants, and sites to see. There's always something exciting happening, whether it's a live performance or a unique festival such as the Holland Festival or Amsterdam Light Festival.
Here are some of the best places to bike to have the best tourist experience:
Canal Ring (Grachtengordel)
The canal ring dates back to the 17th Century. This historic site is made of three semicircular canals that offer stunning views. The roads by the canals are perfect for biking.
Jordaan
The Jordaan neighborhood has narrow canals and streets perfect for biking past its many small boutiques and museums. You'll have a great view of the local shops and goods including clothing, jewelry, antiques, and food.
Vondelpark
Vondelpark is the largest park in Amsterdam. It offers 120 acres of lush greenery overlooking the water and has winding paths for a leisurely and serene bike ride.
Ijburg
Ijburg is a great place to bike along the canal. There are many narrow brick streets in between buildings and shops which are great for biking.
Oosterdok
In Oosterdok, you can bike across the walking bridges for a magnificent view of the water. Along the river you'll find brick bike paths too, lined with shops.
Amsterdamse Bos
Amsterdamse Bos is close to the city and has many different parks, including a cherry blossom park (Kersenbloesempark). Many of these are biker-friendly.
Westerpark
Westerpark is a bustling neighborhood in Amsterdam. It used to have a gas factory and has retained some old and architecturally beautiful buildings while offering fun festivals and events, and great places to eat. It's a great place to bike because it has beautiful, winding walking paths through lush green trees.
Amstelpark
You can bike along the beautiful Amstel river in Amstelpark. This scenic area has a statue of Rembrandt, as it inspired many of his paintings. You can bike past the fields and windmill, but will have to leave your bike behind to explore the peaceful gardens that have over 140 kinds of plants!
Amsterdam is a great place for bikers and tourists alike! If you want to find out more about sights to see and places to eat, you should check out local advice at Crowdsourcedexplorer!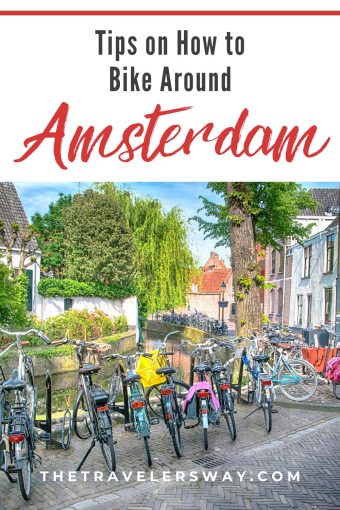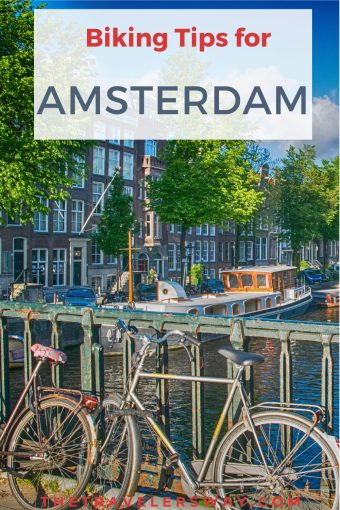 Author Bio: Born during the pandemic when no one could travel, CrowdsourcedExplorer.com provides advice, tips, recommendations, and more from true experts: locals. Discover what people from all over the world think you should know before moving to or visiting their cities—whether you're planning an adventure or a move.
The Travelers Way occasionally accepts guest posts from fellow travel bloggers, friends within the travel industry, and as advertorial content.