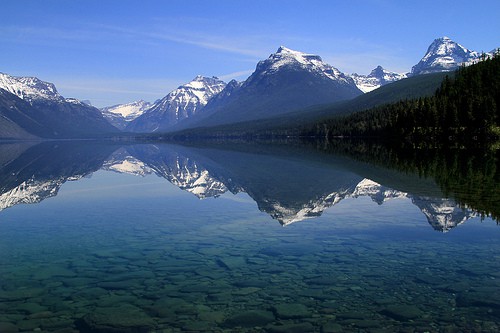 Located in the western United States, Montana's name comes from the Spanish word for mountain (montana). Most of us know it today as Big Sky Country, or, to those who live there, The Last Best Place.What makes Montana so special? From its year round outdoor activities to the Native American culture, from historical landmarks to rugged natural beauty, here are 10 things worth setting aside time to see and do in Montana.
1.  Glacier National Park (northwestern Montana)
Glacier National Park itself is one of the largest intact ecosystems in the continental United States, meaning wildlife including mountain goats, bighorn sheep, moose, grizzly bears and more, thrive within the park's borders.  There are more than 26 glaciers here and more than 700 miles of trails leading through cedar groves and rugged backcountry vistas. Be sure to travel the historic Going-to-the-Sun Road, 50 miles of scenic roadway that takes you through the park.  If you don't want to drive or hike, try a tour bus, take a guided horseback ride or climb aboard a scenic boat tour.
2. National Bison Range (Moise)
Take a self-guided auto tour of this national treasure that protects one of the most important remaining herds of American bison.  The refuge is home to about 350 to 500 of these majestic animals along with scenic vistas of snowcapped peaks, rolling hills and forested streams.  Other wildlife found at the range include elk, white-tailed and mule deer, antelope, bighorn sheep and black bears.
3.  Lewis & Clark National Historic Trails Interpretive Center (Great Falls)
The center focuses on the Lewis and Clark expedition, the relations between the Corps of Discovery and the many Indian tribes they met over their 2 year journey and the month-long portage around the five waterfalls on the Missouri River near Great Falls.
4.  Virginia City and Nevada City (southwestern Montana)
It's been over 150 years since gold was struck in Alder Gulch, in the very much alive Victorian ghost town of Virginia City, located just 90 miles from Yellowstone National Park.  It's a true Montana gem set in an incredibly rich area of beauty, recreation and history.  Nevada City, an open air museum a mile and half away, offers more than 100 buildings, a museum, restaurant, gift shop, music hall, hotel, cabins, train rides and weekend living history programs that are sure to put you into another era.
[tweetthis]10 ways to enjoy the beauty of Montana @VisitMontana [/tweetthis]
5. Lewis and Clark Caverns State Park (Whitehall)
Montana's first and best-known state park features one of the largest known limestone caverns in the Northwest.  Naturally air conditioned, these spectacular caves are lined with stalactites, stalagmites, columns and helictites.  Guided tours are conducted daily between May and September.  The park, minutes off I-90, has a visitor center, interpretive displays and evening programs presented during the summer months, and hiking and mountain biking trails (outside the caverns) available year-round.
6.  Little Bighorn Battlefield National Monument (Crow Agency)
The site of the Battle of the Little Bighorn which took place on June 25 and 26, 1876, between Lt. Col. George Armstrong Custer and the Sioux and Cheyenne tribes under the spiritual leadership of Sitting Bull. The museum features exhibits of the history of the battle, Plains Indian life and much more.  The monument provides both a driving tour and walking tour. Each June, Custer's Last Stand Re-enactment relives the events that led up to the battle in nearby Hardin.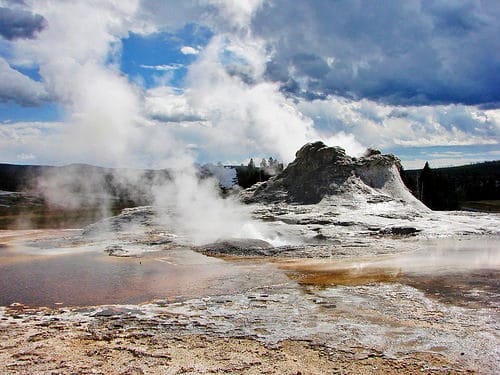 7.  Yellowstone National Park
Wyoming, Montana and Idaho can each claim access to the park, and Montana grants access via its three entrances into Yellowstone National Park – the North, the Northeast and the West Entrances are all located within Montana.  The North Entrance, leading from Red Lodge to Cooke City, is over the Beartooth All-American Road, considered one of the most scenic drives in America and is listed on the National Register of Historic Places. Each summer, the road features sweeping views of more than 20 peaks reaching over 12,000 feet in elevation.  While the drive is a windy, sometimes narrow 65 miles, it takes a minimum of two to three hours and is best enjoyed as at least a day trip with time to pull off at scenic points and enjoy a hike or a picnic lunch.
Gardiner and its North Entrance designation, is the original and the only year-round, drive-in entrance to Yellowstone National Park. It is the location of the original Roosevelt Arch, with its iconic statement "For the benefit and enjoyment of the people."  The town's backyard is the Paradise Valley, home to the Yellowstone River and paralleled by two mountain ranges. The West Entrance at West Yellowstone offers summer and winter activities in and outside of the park, including the Grizzly and Wolf Discovery Center, the Yellowstone Giant Screen Theatre and the "snowmobile capital of the world" designation.
8.  Winter in Montana (Big Sky and Whitefish)
Montana is home to 15 ski areas, including two destinations – Big Sky Resort and Whitefish Mountain Resort.  In southwest Montana, enjoy the "Biggest Skiing in America" at Big Sky Resort with 5,750 acres of snow, 4,350 vertical feet and over 250 named ski runs to explore. Also throw in proximity to Yellowstone National Park and a winter excursion in an area being known for snowmobiling and xc skiing, makes this a wonderful winter experience.
In northwest Montana, Whitefish Mountain Resort sits on top of Big Mountain. And yes, Whitefish Mountain Resort is BIG. Its 3,000 acres allows winter (and summer) recreation on all four sides of the mountain. Whitefish Mountain Resort offers huge amounts of terrain for every level of skier or boarder – via its 14 lifts, 98 named trails and six terrain parks.
9.  Indian Nations
Montana's Indian reservations are rich strongholds Native American heritage, with seven reservations in Montana, representing eleven tribes. They are places where Indian culture can be experienced in the sacred landscapes and at annual gatherings – where traditional dress is worn and tribal customs are carried out and passed down as they have been for thousands of years. Remarkable art and crafts reflect a unique connection between Montana Indians and the natural world. Each features a wealth of cultural institutions such as the Museum of the Plains Indian in Browning, Chief Plenty Coups State Park in Pryor, the Fort Peck Assiniboine and Sioux Culture Center and Museum in Poplar and The People's Center in Pablo.
10.  Wildlife viewing
Montana is a place to walk with the animals; more than 100 mammal species call the Big Sky Country home. Buffalo freely roam Yellowstone National Park and the National Bison Range. Grizzly bears explore the wild backcountry of Glacier National Park and wilderness areas. Bighorn sheep and mountain goats scale the craggy peaks of the Continental Divide. Elk bugle during the fall "rut" at the Slippery Ann Wildlife Viewing Area on the CM Russell National Wildlife Refuge and its prairie grasslands. Trumpeter swans, golden eagles, meadowlarks and over 250 bird species call Montana home. With the ecosystems surrounding Yellowstone and Glacier national parks, Montana is one of the most biologically diverse regions in the United States.
Photo credit: GlacierNPS  (top)
Photo credit: inkknife_2000 (3.5 million + views)  (bottom)
Mary Jo Manzanares is a founder and the editor-in-chief of The Traveler's Way, an online travel magazine proving informational and inspirational travel recommendations for curious Baby Boomer travelers. She has been a speaker at various industry events and has a personal travel blog at Traveling with MJ. When she's not traveling, Mary Jo likes lingering over a cup of coffee, wandering in a museum, sipping wine at a cafe, and sharing it all with friends and readers. Mary Jo's top travel destinations are Italy, Portugal, and the Caribbean.