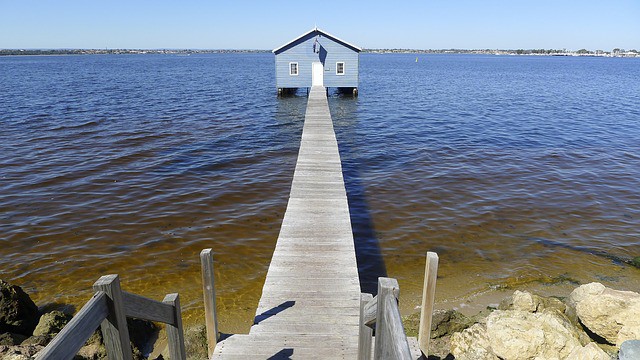 Western Australia is the largest state in Australia by geography and is often what travelers think of when they think of the Australian outback. The capital city of Perth is located in the southwest and is also home to some fine wineries. (You can learn more about Perth in this podcast). But beyond Perth and wine, you might not know much about this state, but it's full of outdoor thrills for the curious, the bold, and the daring.
Why not try one of these escapades in Western Australia?
Swim with Wild Sea Life
Western Australia is home to UNESCO World Heritage site, Ningaloo Reef, one of the most spectacular dive spots in the world. Ningaloo Reef is the largest fringing coral reef in the world, meaning it can be accessed just footsteps from the beach – something very few coral reefs offer. Travelers can experience adrenaline-pumping, up-close encounters with giant whale sharks, playful dolphins, and friendly manta rays. Or go bigger and follow the spectacular migration of humpback and southern right whales. Even bigger? Hop off the boat and take a dip with a humpback whale on a specialty tour that gets you up close and personal.
Another option is a visit to a second UNESCO World Heritage Site, Shark Bay. Here you'll find the largest and oldest living fossils on the planet and the world's largest population of dugongs, nature's only vegetarian sea mammal.
For those with an affinity for greater depths and historical intrigue, grab some fins and dive into some of Western Australia's mysterious shipwrecks.
Jet Boating at Horizontal Falls
As intriguing as it is stunning, Horizontal Falls in Talbot Bay is a natural phenomenon formed by fast-moving tidal currents squeezing through narrow gorges to create the world's only horizontal waterfall. Yes, it really is a horizontal waterfall. This classic Western Australia experience acknowledges the need for speed with an electrifying jet boat ride through the sea spray straight to the heart of this powerful wonder.
Scenic Flights
If you prefer the excitement of a bird's eye view, try a scenic flight over the iconic beehive domes of the Bungle Bungle Range in the UNESCO listed Purnululu National Park. Or, try the soaring over the 122 Abrolhos Island, recently named a Mission Blue Hope Spot. For an added rush, visitors can also experience a water landing in a float plane on the turquoise sea near the Buccaneer Archipelago.
Trek It
Adventurers that want to channel their inner bushwhacker will enjoy the challenge of the Cape to Cape Track, an 84-mile coastal trek featuring spectacular ocean and forest views; fascinating geology of cliffs, caves, headlands, and rock formations; and an ever-changing display of vegetation and wildflowers. Trekkers can opt for a solo venture, or try a guided excursion that combines the best of the Cape to Cape Track with a once in a lifetime food and wine experience and ultra-luxury accommodations in the acclaimed Margaret River region.
Explore the Kimberley and Pilbara Outback
The vast and rugged outback landscapes of the Kimberley and Pilbara regions in Australia's North West provide a dramatic backdrop for an unforgettable wilderness adventure. Expansive landscapes and warm climate welcome campers and caravanners for an invigorating experience in this untouched region. For travelers craving a local's perspective, rural homestead and cattle station stays provide an authentic taste of Aussie heritage.
Truffle Hunting
Fearless foodies can venture out on a picturesque pursuit with highly-trained truffle dogs and try their hand at unearthing these rare delicacies. These exclusive hunts are held during Australia's truffle season each year from June-late August. Tour participation is extremely limited, and only a very select number of people each year participate in the rare truffle hunting experience.
Kimberley Expedition Cruises
For adventurers that crave a front-row seat, there is no better way to take in the Kimberley region's ancient, rugged wilderness, vibrant panoramic views, and spectacular natural wonders than an expedition cruise. Purpose-built to go where other vessels cannot, these luxury adventure cruise ships provide intimate access to the region's natural features such as King George Falls, Mitchell Plateau, Prince Regent River, and Montgomery Reef. For an added layer of excitement, cruisers also have the option to partake in sunrise helicopter flights, waterfall treks, fishing expeditions, and exploration of the oldest rock art known to man.
Walk in the Steps of Dinosaurs
Create your own [amazon_textlink asin='B008YI91HS' text='Jurassic Park' template='ProductLink' store='thetravelersway-20′ marketplace='US' link_id='d9dcf2b8-cf3d-11e7-b333-6143918af3d7′] experience and take a step back in time in Western Australia's Kimberley region. At Gantheaume Point, during low tide on Cable Beach in Broome, travelers can walk in the footsteps of 130-million-year-old dinosaur footprints marveling at the five prehistoric creatures that once wandered this Earth. Fair warning, sturdy shoes required!
Four-Wheel Drive Expeditions
Test your trailblazing grit on a thrilling and scenic four-wheel drive excursion through the humbling natural beauty of Karijini National Park, or across the Nullarbor Plain, the world's largest limestone karst. It's a chance to explore vast sacred lands, ancient gorge country, and rich Aboriginal history of Australia's last frontier.
Or, embark on a riveting expedition down the Kimberley's 410-mile Gibb River Road, an ultimate Australian four-wheel drive adventure through one of the last true wilderness areas on the earth. The epic adventure explores the Kimberley's magnificent gorges, authentic outback cattle stations, ancient Aboriginal culture and captivating pioneering history. Check out the freshwater crocodiles at Windjana Gorge; swim beneath a 328-foot waterfall near Bell Gorge; hike up to a ridgetop and watch fields of cattle grazing, and camp under the vast sea of stars (or opt for some glamping) on the one-million-acre El Questro Wilderness Park. It's an unforgettable journey.
Discover 60,000 Years of Aboriginal History
What could be more exciting or enriching than tracing the footsteps of one of the oldest surviving cultures on Earth? History buffs, amateur anthropologists, and pioneering spirits will appreciate the authentic Aboriginal experiences of Australia's last frontier. Meeting and learning about Australia's aboriginal people is a great family event.  Take part in a traditional smoking ceremony of the Whadjuk people, trek theAboriginal Heritage Trail to learn the myths and legends of its original inhabitants, enjoy a didgeridoo cave performance at twilight, and stand in awe of the 20,000 Aboriginal engravings on the Burrup Peninsula.
Which Western Australia experience is calling you?
Anthony has found travel provides a healthy balance to his day job as a criminal defense attorney. Living on the periphery of blogging for years, he's now decided to flex his creative muscles with a little writing and photography of his own. Anthony's favorite travel destinations are the Caribbean, Italy, and Ireland.