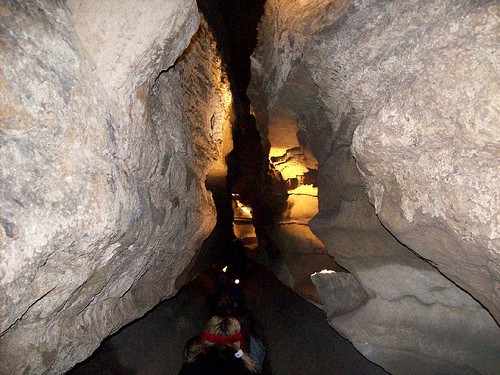 The Show-Me State is home to more than 6,400 recorded caves. Although most are not open to the general public, the Missouri Division of Tourism highlights several "show caves" to visit in Missouri.
Marvel Cave, a Registered Natural Landmark, is deep beneath the Silver Dollar City theme park in Branson. It is the deepest show cave in Missouri and has the largest tour-cave entrance room – 204 feet high, 225 feet wide and 411 feet long – in the U.S.
In Ridgedale (just south of Branson) don't miss Lost Canyon Cave, which is part of the stunning Top of the Rock complex near Big Cedar Lodge. Lost Canyon Cave is a highlight of the Lost Canyon Nature Trail Tour at Top of the Rock, and the four-story cave has waterfalls and natural rock formations.
Fantastic Caverns in Springfield is America's only ride-thru cave. Visitors take the mile-long, 55-minute tour in a Jeep-drawn tram which follows the path of an ancient underground river.
Several show caves are found within Missouri's State Park system.
[tweetthis]Discover caves & caverns in the Show Me State @VisitMO[/tweetthis]
Operated by the National Park Service, Round Spring Cavern, 16 miles north of Eminence, is a star attraction within the Ozark National Scenic Riverways National Park. Park rangers conduct two-hour tours by lantern-light.
The largest commercial show cave in Missouri, Meramec Caverns, three miles south of Stanton, is reputed to have been used as a hideout by Jesse James and his gang. Regularly scheduled guided tours are conducted along well-lighted walkways – special tours lighted only by hand-held lanterns are offered by reservation.
Scuba enthusiasts have a great opportunity at Roubidoux Spring Cave in Waynesville. The spring's average daily flow is 37 million gallons, with water temperatures ranging from the upper 40s to the low 60s. Roubidoux Spring is open to certified cave divers.
Smallin Civil War Cave's regular guided tour lasts one hour, traveling one-half mile on trails that are wheelchair and stroller friendly. Smallin Cave also offers wild cave tours, by reservation. Lit only by the headlamp on your helmet, these treks pass through 54-degree water at least two feet deep and traverse rugged terrain.
How about tying the knot inside Bridal Cave? More than 2,200 couples from around the world have exchanged their wedding vows in this stalactite-adorned, natural chapel (advanced planning is required). Regular cave tours are conducted over lighted, concrete pathways. The cave, four miles north of Camdenton, is reachable by road and by water at the Lake of the Ozarks.
Two miles south of Hannibal, the Mark Twain Cave Complex houses the cave author Mark Twain described in five of his books, plus Cameron Cave, which visitors tour by lantern light.
Bluff Dwellers Cavern (in photo above) and Browning Museum, two miles south of Noel, was discovered in 1925, and the cave has been open for tours every day since 1927. Substantial artifacts were discovered, including arrowheads, grinding stones, tools made of bone and skeletal remains of the early inhabitants, including American Indians.
Other underground palaces in Missouri include Current River Cavern at Cave Spring Park, three miles southwest of Van Buren; Fantasy World Caverns, five miles south of Eldon; Jacob's Cave, eight miles south of Versailles; Miller Cave at Fort Leonard Wood; and Talking Rocks Cavern, two miles south of Branson.
Photo credit: Wm Chamberlain
Mary Jo Manzanares is a founder and the editor-in-chief of The Traveler's Way, an online travel magazine proving informational and inspirational travel recommendations for curious Baby Boomer travelers. She has been a speaker at various industry events and has a personal travel blog at Traveling with MJ. When she's not traveling, Mary Jo likes lingering over a cup of coffee, wandering in a museum, sipping wine at a cafe, and sharing it all with friends and readers. Mary Jo's top travel destinations are Italy, Portugal, and the Caribbean.