For the adventurous traveler, Bolivia is an unrivaled destination. This land-locked country is bursting with unforgettable places: the Salt Flats of Uyuni, the world's highest capital city, untouched areas of rainforest, former gold-rush colonial towns, and the desert where Butch Cassidy and the Sundance Kid met their demise.
Travel in Bolivia certainly provides more than its fair share of thrills, but everyone, even the most intrepid of travelers, needs a break sometimes. The high-altitude living for which Bolivia is famous can get tiresome, with its vast, empty plains and lack of oxygen. The town of Coroico provides the perfect retreat. Just three hours from La Paz – the administrative capital – it's at a much lower altitude, nestled within a glorious area of mountainous cloud-forest.
Getting There
Until very recently, the only way to get to Coroico was by way of the World's Most Dangerous Road, which connected it with La Paz. This meant it was only really an option for the extremely brave or extremely foolhardy, willing to risk a drive down the road with the highest number of fatal accidents in the world. Now, Coroico is still only accessible from one road linking it to La Paz, but the new road is significantly safer. It is paved (in most places) and there are a reassuring number of safety barriers, so tourism to the town is slowly developing.
If you're the kind of traveler who greets this news with dismay because a trip down 'Death Road' sounded like fun, fear not. The old road is still open, but only to cyclists. When you arrive in La Paz, you will find a host of tour agencies offering mountain-bike trips to Coroico and although it's still not an entirely risk-free choice, as long as you choose the company carefully and ride safely, the perils are minimal. Do not go with the cheapest option: you should expect to pay at least $70 if you want to ensure fully-functioning brakes. The company with the best track record is Gravity-Assisted Biking.
I have to admit that hurtling down an unpaved mountain road didn't really appeal to me; I thought that the fear would probably outweigh the thrill, so I decided to travel to Coroico by along the new, safe road. It took a lot of fruitless internet searches and asking a lot of Bolivians to find out that public transport to Coroico leaves from just outside the main cemetery in La Paz, known as 'Terminal Cementerio'. I took a cab there from downtown, which cost about $1, and found a line of waiting minivans, which cost $3, and more comfortable-looking shared cabs, costing $5. I  opted to go by minivan because I noticed that they filled up far more quickly, so there wasn't a long wait to get going. There are no fixed schedules; the cars and vans simply leave when they're full.
Where to Stay
Although Coroico can easily be visited on a day trip from La Paz, the verdant landscape and oxygen-rich air are attractive reasons to spend a little longer here. Guesthouses and small hotels abound, most offering outdoor pools and simple but pleasant rooms.  I was looking for a quiet retreat for a day or two after a period of hectic traveling, so I opted for the Matusi Eco-Lodge on the hill above the town. It is possible to walk there from the center, but on the first occasion I took a cab, costing $2, and on another occasion, the owner gave me a ride on the back of his motorbike! I paid $9 a night; most accommodation here costs between $8 and $15 a night.
The tourist industry in Coroico – and in Bolivia in general – is still in its very early stages and really hasn't got far with its online resources.  You can find accommodation and information with a good guidebook – or try to find a website that offers information as well as an online booking facility.  It is often less problematic to phone the hotel directly.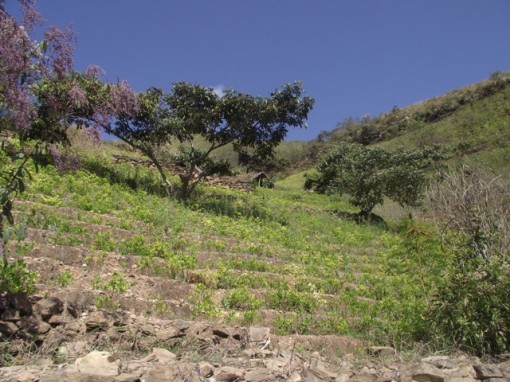 Places to Visit
It would be very easy to do nothing in Coroico except sit on a terrace with a glass of wine, gazing at the view. Now, that's a perfectly valid use of time, especially after the frenzy of La Paz, but in the event that you feel like stirring from your seat, there is no shortage of things to do.
There is a very pleasant and fairly undemanding hike which leads you to a series of pretty waterfalls; it takes about two and a half hours to reach them from Coroico. The path takes you around the edge of a couple of mountains, offering more incredible views, where coca plantations and tiny hamlets dot the endless green forest. The route is very secluded and peaceful; at most you might see a farmer chewing on some coca leaves and tending to the crops.
A bit further afield is the Senda Verde, an Animal Sanctuary and Eco-resort, offering accommodation and a restaurant as well as the chance to meet its many animal inhabitants, the most famous of which are the highly sociable monkeys. It is located within a pristine area of forest, but it's only about 4 1/2 miles away from Coroico and easy to get to, making it a great option for a unique lunch or dinner experience, or for longer stay.
If you are interested in Bolivia's culture and history, then consider a trip to the nearby village of Tocaña. It is home to one of the country's few Afro-Bolivian communities and it operates as a syndicate with a very collective spirit. The best time to go is at the weekends, when there are huge parties, full of music and dancing, which fuse African and Bolivian traditions. The villagers are very welcoming to visitors because they place great importance on achieving better intercultural understanding. To understand more about the village and its people, there is a beautifully-designed cultural center, or you can visit the home of a local artisan who will be happy to show you a video and answer any questions you have.
You can go with an organized group, but for a less touristy experience, just hop in a cab. Most will take you there and back for 100 bolivianos – roughly $14. My cab driver doubled as a wonderful guide – he knew everyone in the village and introduced me to various people. He waited patiently in various places for me to take photos, explained all about the local region – from the multicultural history to the names of plants we saw – he even shared a bag of satsumas with me. I think that's a pretty good service for $14.
Coroico may be small, but it certainly makes an impression. If you're planning to visit Bolivia, make sure to spend a bit of time here between your more high-octane adventures. The sign at the bus station says: 'Welcome to Paradise' – and it doesn't exaggerate.
Photo Credit: Photos are Katy's own.
Katy is a writer with wanderlust. Originally from the UK, she has lived in France, danced in Argentina and stargazed in Chile. She writes for numerous travel sites and you can always find her at www.starryeyedtravels.com.