Toronto is Canada's largest city and as diverse as any I've seen. With it's ethnic neighborhoods, impressive architecture, charming shops and markets, and interesting history – combined with its easily accessible international airport  and plenty of flights to Canada– make it a perfect weekend getaway for couples looking for an urban experience.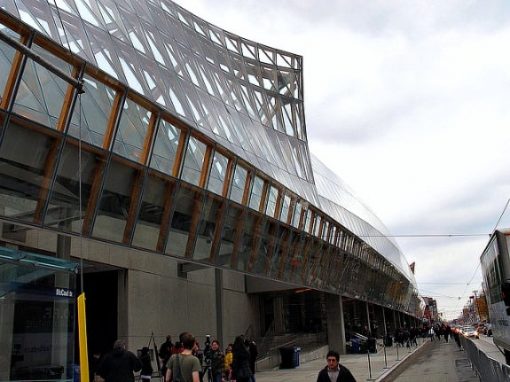 My weekend getaways usually include at least one or two museums, so here are 10 museums in Toronto worth a visit:
Art Gallery of Ontario (AGO) – The Frank Gehry building has 100 separate galleries and over 4,000 works of art on display, yet despite its size, still manages to create an intimate experience. Take a look at the dramatic glass and wood façade on Dundas Street – it's modeled after the shape of an overturned canoe. If you need a respite, grab a coffee or bite to eat at the Frank, the museum's restaurant.
Royal Ontario Museum – This family friendly museum features over 40 galleries, featuring over 6 million natural history and world culture objects exhibited on four floors.  During summer time there's often a line up, as families enjoy a day of educational and culturally enriching fun. Check out the impressive dinosaur collection, it's a visitor favorite.
Hockey Hall of Fame – Combining both a hall of fame and a hockey museum, this is the sport for sports fan and lovers of Canada's national past time. The museum houses exhibits about the NHL, its teams and players in 15 exhibit areas. Be sure to get a look at the impressive Stanley Cup.
Gardiner Museum – The specialty museum features a 3,ooo-piece collection of ceramic art that dates back 11,000 years. From European perfume bottles to contemporary teapots, it's a look at how every day items can be curated with appeal. Take a look at the Canadian teapots. And then head off for an afternoon tea.
Bata Shoe Museum – For a bit of the eccentric, a stop off at the Bata Shoe Museum will give you a look at history through shoe fashion and the people that wore them. The permanent collection spans 4,500 years, from Egyptian sandals to modern footwear. Don't miss the pumps worn by Marilyn Monroe.
Spadina Museum House and Historic Garden – Step back in history to the 19th century at this historic home of Canadian financier James Austin. This 50-room mansion was home to four generations of Austins, and it still contains original Art Deco furnishings and decorations. Tours are offered.
Museum of Inuit Art & MIA Gallery – Devoted to ancient as well as contemporary Inuit art, the museum has the city's largest whale-bone sculpture. After learning more about this First Nation's art, stop by the adjoining gallery to look at (and perhaps buy) something from one of the many featured emerging Inuit artists.
Ontario Science Center – With more than 800 interactive science exhibits, this museum charms adults and well as children, proving that education and learning really can be fun. If your home town has a science museum, it may offer reciprocal admission as part of the membership package.
Casa Loma – This castle was once the home of financier Sir Henry Pellatt, until a reversal of financial fortune forced him to abandon it. Today it's a children's attraction and museum that celebrates the the age of knights and ladies. It features impressive architecture, but I leave it to you whether it's fabulous or touristy.
Museum of Contemporary Canadian Art – Located in Queen West, the museum promotes innovative contemporary art with notable artists and quirky themes. The group show on street culture and food was a big hit in a city that's proud of its rich culinary heritage.
And a bonus recommendation:
Toronto Sculpture Gardens – Who said museums had to be indoors? This small urban park, across from St. James Cathedral, features an ever-changing look at contemporary sculpture installations. While perhaps not technically a museum, I like to think that nature provides the equivalent of brick and mortar.
Photo credit: ocad123 via flickr

Mary Jo Manzanares is a founder and the editor-in-chief of The Traveler's Way, an online travel magazine proving informational and inspirational travel recommendations for curious Baby Boomer travelers. She has been a speaker at various industry events and has a personal travel blog at Traveling with MJ. When she's not traveling, Mary Jo likes lingering over a cup of coffee, wandering in a museum, sipping wine at a cafe, and sharing it all with friends and readers. Mary Jo's top travel destinations are Italy, Portugal, and the Caribbean.