Think of Europe and what springs to mind is the continent's incredible history, art, architecture, and food. But Europe also boasts a huge variety of magical beaches. With white sand and crystal-clear water, many rival beaches in the Maldives, Seychelles, and the Caribbean.
The best include the out-of-this-world Navagio beach on the Greek island of
Zakynthos, and exceptionally pretty Zlatni Rat on the island of Brač in Croatia.
If you're planning to spend time at the beach on a trip to Europe, remember, these super-popular beaches can get busy with tourists. To avoid the crowds, visit early or late in the day and avoid the peak months of July and August. Not all European beaches are sandy, so always take a pair of water shoes with you so you can go exploring.
Here's our list of what we consider the best beaches in Europe.
1. La Concha Beach, San Sebastián, Spain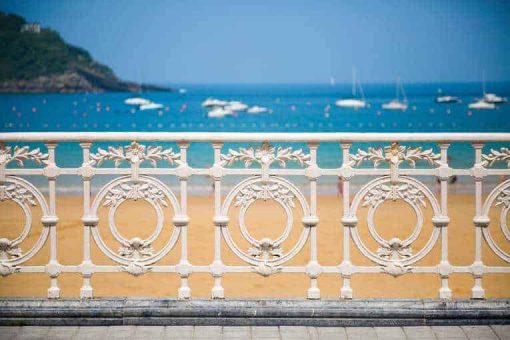 San Sebastián's famous beach is just seconds from the city's excellent restaurants and pintxo bars. Almost a kilometer long and backed by a beautiful Belle Epoque promenade, it can accommodate everyone from swimmers and surfers to locals and people watchers.
In summer you can swim or paddle around the tranquil La Concha bay and visit the Santa Clara island where there is a tiny restaurant.
Earlier this year, La Concha beach was voted Europe's best beach by millions of travelers in TripAdvisor's Travelers' Choice Awards.
2. Zlatni Rat, Brač, Croatia
On the Croatian island of Brač, Zlatni Rat is a spit – a stretch of beach extending out into the sea, shaped by the tides and currents. Surrounded by pine forests and mountains, the water is famously crystal-clear.
Try windsurfing or kitesurfing or enjoy some street food from one of the shacks hidden among the pines. A-two-kilometre-long promenade links the beach to the historic town of Bol, where there is a pretty restaurant-filled marina as well as several old churches and a monastery.
Earlier this year, Zlatni Rat was voted the best beach in the world by readers of the travel website, Big Seven Travel.
3. Falésia Beach, Algarve, Portugal
Praia de Falésia in the Algarve stretches for six kilometers from the town of Olhos de Água to the resort of Vilamoura. This beach is backed by stunning orange-hued sandstone cliffs that glow in the evening sun. Wooden steps lead down to miles of sand, where you can stroll along a boardwalk, stopping at beach cafes along the way. A safe beach for children, there are lifeguards and sun loungers and umbrellas available for hire.
At the eastern end, the traditional fishing town of Olhos de Água has plenty of restaurants, bars, and a golf course. At the western end near Vilamoura, watersports and activities are on offer including diving, paragliding, and surfing.
4. Saleccia Beach, La Balagne, Corsica
In a remote corner of Northern Corsica, Saleccia is perfect for those who like their beaches undeveloped. Surrounded by a natural wilderness of dunes, scrubland, and forest, the beach is accessed by water taxi or off-road vehicle (and you'll need to bring water and beach umbrellas to provide shade).
An idyllic kilometer-long stretch of white sand with Caribbean-blue water, it is a wonderful place to snorkel and swim to nearby deserted coves. The surrounding area is a desert, so there's very little to do, except perhaps hike to Cabane du Lodu, an idyllic, out-of-the-way beach bar.
5. San Fruttuoso Beach, Liguria, Italy
35 kilometers east of Genoa, the tiny San Fruttuoso beach can only be reached by ferry from Portofino or from a challenging two-hour hike. In a secluded, rocky bay, with the Romanesque Abbey of San Fruttuoso as a backdrop, this has to be one of the most unique and beautiful settings of any beach in the world.

You can swim, sunbathe, take in the views, and explore the monastery, which contains the remains of a bishop martyred in AD259. As expected, San Fruttuoso gets crowded in the summer and you will need to book in advance if you want a table at one of the seafood restaurants overlooking the beach.
6. Pampelonne Beach, Saint Tropez, France
Pampelonne is a three-mile-long expanse of golden sand near Saint Tropez and is one of the most iconic and glamorous beaches in the South of France. This is where to come to channel your inner Brigitte Bardot. Superyachts anchor in the bay and celebrities frequent the Michelin-starred restaurants.
Bag a sun lounger or table in one of the hip beach clubs, and kick back with an expensive cocktail. Or – as Pampelonne is a public beach – you can find a spot on the sand instead. Pampelonne has good facilities and watersports, including windsurfing, paddleboarding, and kayaking are also available. The nearby village of Ramatuelle is a pretty place to explore, with outdoor cafes, winding streets, and bougainvillea-covered houses.
7. Navagio, Zakynthos, Greece
A bright white semi-circle of beach surrounded by 200-meter-high cliffs in a brilliant blue sea, Navagio is surely the most enticing travel destination in the Greek Islands. Swim in the stunning bay and explore nearby sea caves.
Or, check out the famous rusted wreck of a freighter that ran aground during a journey from Kefalonia to Albania, and now sits right in the middle of the beach. Navagio is reached by boat from Porto Vromi, Zakynthos Town, Cape Skinari, or Agios Nikolaos.
In a Flight Network poll, 1200 journalists, editors, bloggers, and travel agencies named Navagio as their best beach in the world. Avoid the crowds by visiting at the beginning or end of the day and take some water shoes, as the sand is actually broken shells and coral.
8. Las Salinas Beach, Ibiza
While some people come to the beach to relax, others want to watch the sunset with a drink in hand and then dance the night away. There's no better place to do this than Las Salinas on Ibiza, the famous hang-out of the island's party set.
A crescent-shaped beach in a sheltered bay, Las Salinas is lined with beach bars and restaurants where resident DJs play Balearic beats throughout the day and night. If you prefer some more traditional beach activities, you can swim, snorkel, SUP or kayak in the bay which is very sheltered and is great for kids.
The beach is only ten minutes' drive from Ibiza Town, with its historic old quarter, restaurants, and buzzing nightlife.
As you can see, Europe has plenty of fabulous beaches. Whether you love swimming, water sports, partying or just relaxing, there's one that is just right for you, as well as many still waiting to be discovered.
If you're planning a vacation to Europe, why not add some of these idyllic sandy shores to your itinerary?
Anthony has found travel provides a healthy balance to his day job as a criminal defense attorney. Living on the periphery of blogging for years, he's now decided to flex his creative muscles with a little writing and photography of his own. Anthony's favorite travel destinations are the Caribbean, Italy, and Ireland.