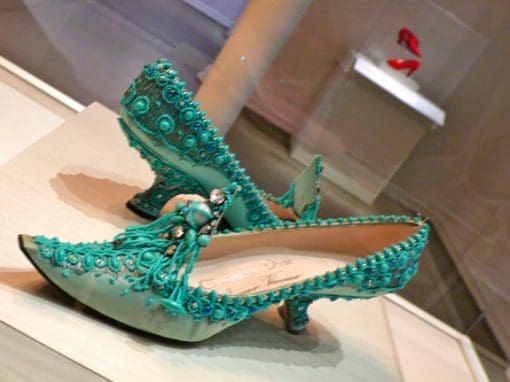 Diamonds may be Marilyn Monroe's best friend, but shoes are most girls' BFF. It certainly was true of the footwear fanatic Mrs. Sonja Bata who founded the Bata Shoe Museum in Toronto, Canada.
Her passion is well-founded as she fell in love and married Thomas J. Bata who made the The Bata Shoe Organization, founded in Czechoslovakia in 1894, into the world's largest manufacturer and retailer of footwear.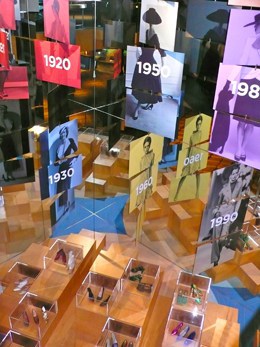 Since the 1940's, her footwear fanaticism drove her to scour the world over for shoes of all types. From ancient Native American moccasins to modern Manolos, the Bata Shoe Museum is a fascinating collection with over 12,500 artifacts. There are so many pieces, not everything can even be displayed.
Since its opening in 1995, the 39,000 square foot building, designed by Moriyama and Teshima Architects, remains the world's largest, most comprehensive collection of shoes and footwear-related items.
Start in the basement to stroll through the History of Shoes exhibit with items like Ancient Roman sandals, tiny, ornate shoes Chinese women wore when small feet were a woman's most beautiful asset and .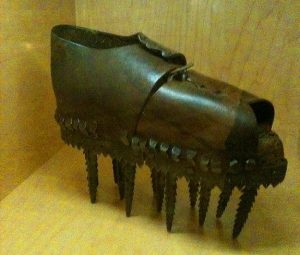 One of my favorite pairs of shoes on this floor for its surprise factor is the medieval-looking torture shoes with soles covered in 3-inch metal spikes. Come to find out these menacing shoes are no more harmful than a farmer's overalls. They were used in Ardeche, France in the 17th century as chestnut crackers.
The second floor holds celebrity shoes in the Footprints on the World Stage exhibition on display until 2013. In one case, a pair of silver monogrammed go-go boots belonging to Elton John sits next to one of Madonna's sky-high pair of heels next to a pair of Michael Jackson's dress shoes.  For the younger generation, a squeal may be heard when they come to a pair of Justin Beber's high top tennis shoes. The Bata Shoe Museum is tribute to the heart and "soles" of music.
Speaking of famous people, it is said that the Bata Shoe Museum received a box of worn cowboy boots one day with no return address. Stuffed in one of the boots was a note from Robert Redford. The boots were worn off-set by Mr. Redford during the filming of Out of Africa. You can see these boots on display in the Footprints on the World Stage exhibit.
If you're a sports fan, to see Shaquille O'Neal's size 20 triple E basketball shoes or Roger Federer's Nike tennis shoes is a thrill.
If you came for the glamorous, high-fashion shoes, the Bata Shoe Museum does not trip up.  In the Roaring 20's exhibit, intricately designed shoes with work-intensive patterns are on display. It made my head spin to think about all the hours it took to make one pair of gorgeous shoes for some lucky flapper of the time.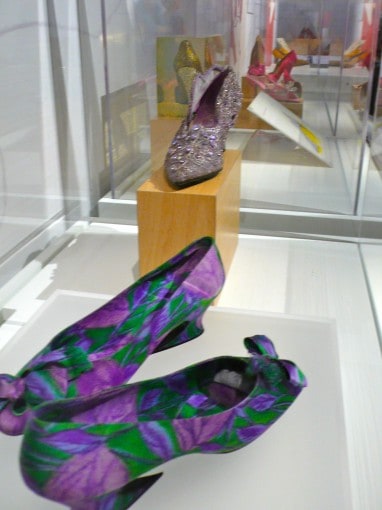 Little did I know these shoes would soon be topped with the next exhibit. Even thought I'm not a high fashion aficionado, my favorite exhibit, next to the History of Shoes, was the third floor Roger Vivier: Process to Perfection exhibit (the shoes featured in headline photo are designed by Vivier).  Roger Vivier became an established shoe designer in the 1950s when he worked for Christian Dior. His mission to making the most dazzling shoes can be explained by his saying: " To wear dreams on one's feet is to begin to give a reality to one's dream."
And this quote is exactly what you experience in the Bata Shoe Museum's exhibit dedicated to his whimsical designs.
Roger Vivier's shoes make you feel like a little girl, staring at your mother's shoe closet, trying to decide which pair you'll wear for your princess tea time play date.  His designs are elegant, with jeweled accents, vibrant silken colors and wild heel shapes like the needle, choc and comma.
Even though I am not shoe-smitten like most women, the Bata Shoe Museum was one of my favorite topic-specific museums I've been to. It really is worth stepping in to when in Toronto, Canada.
Like the old saying goes, don't judge a man or (woman) until you've walked in their shoes. The Bata Shoe Museum gives you the opportunity to do just this over 4,500 years of human history.
Other Recommended Toronto Museums
Other notable Toronto Museums to visit include the Royal Ontario Museum (just blocks from the Bata Shoe Museum). Don't miss the First Peoples exhibit on the first floor, absolutely stunning craftsmanship on view of Indian beadwork, canoes, and leatherworking.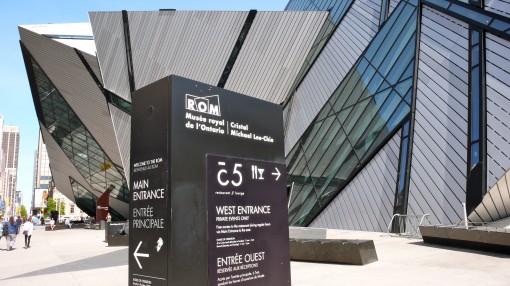 For contemporary art, visit Art Gallery of Ontario (AGO) or take a stroll down Queens Street, chock full of galleries, to get a sense of Toronto's local burgeoning art scene.
Art-Centric Hotel
For the art hound, Gladstone Hotel is the spot. Each of the 37 rooms are designed by a different artist. On the second floor of the Victorian-era building turned mod-squad hotel, a sleek gallery is open daily featuring modern photography and paintings. At night, Melody Bar on the ground floor features local indie bands and even a daily "Crappy" Hour with drink/food specials and an open mic to air your gripes of the day. The rooms are small, like in most historic hotels, but the rates are very affordable for the trendy neighborhood of Queens. If you love fun fur, I highly recommend the room designed by artist Allyson Mitchell (pictured below).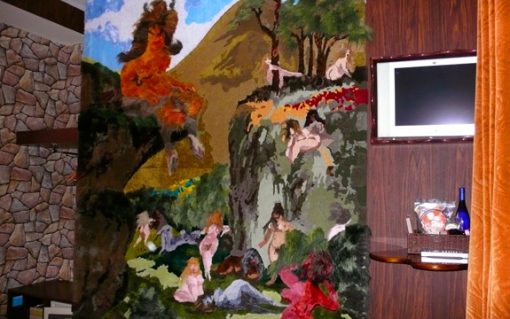 Photo credit:  All courtesy of the author; used with permission.
NOTE:  This trip was hosted by Toronto Tourism; opinions expressed are those of the author.
Lanee Lee is a Los Angeles based writer who uses her craft to pursue her passions – travel, artisanal food/spirits and maximizing quality of life. Lanee has traveled extensively – always in search of those golden moments of bliss. When she's not gallivanting the globe, she enjoys learning cooking tips from her French boyfriend and emulating Grace Kelly style. You can follow her latest adventures: www.laneelee.com, @wanderlushdiary on twitter.