In January of 2007 I posted the globalization index, a partnership between Foreign Policy magazine and A.T. Kearney. At the time the report listed the most globalized countries, led by Singapore, Switzerland and the United States. A few weeks ago I decided to once again fine tune the editorial line of this blog by dedicating more time to cover urban issues and the role of cities in the shaping of our global culture. So finding the Foreign Policy's 2008 Global Cities Index serves to reinforce the recent spirit of this blog.
The methodology to rank the cities includes 24 metrics in five dimensions:
The first is business activity: including the value of its capital markets, the number of Fortune Global 500 firms headquartered there, and the volume of the goods that pass through the city. The second dimension measures human capital, or how well the city acts as a magnet for diverse groups of people and talent. This includes the size of a city's immigrant population, the number of international schools, and the percentage of residents with university degrees. The third dimension is information exchange—how well news and information is dispersed about and to the rest of the world. The number of international news bureaus, the amount of international news in the leading local papers, and the number of broadband subscribers round out that dimension.

The final two areas of analysis are unusual for most rankings of globalized cities or states. The fourth is cultural experience, or the level of diverse attractions for international residents and travelers. That includes everything from how many major sporting events a city hosts to the number of performing arts venues it boasts. The final dimension— political engagement—measures the degree to which a city influences global policymaking and dialogue. How? By examining the number of embassies and consulates, major think tanks, international organizations, sister city relationships, and political conferences a city hosts.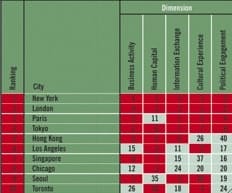 The complete ranking breaks down the position of each city in each dimension, but here is a preview of the overall winners:
New York – London – Paris – Tokyo – Hong Kong – Los Angeles – Singapore – Chicago – Seoul – Toronto – Washington – Beijing – Brussels – Madrid – San Francisco
The index, a collaboration between Foreign Policiy, A.T. Kearney and The Chicago Council on Global Affairs, includes a few other features such as how to be a global city, the placement of the 19 megacities in the index, the massive role of Chinese cities, an unexpected relationship between most global and cleanest urban centres and more.