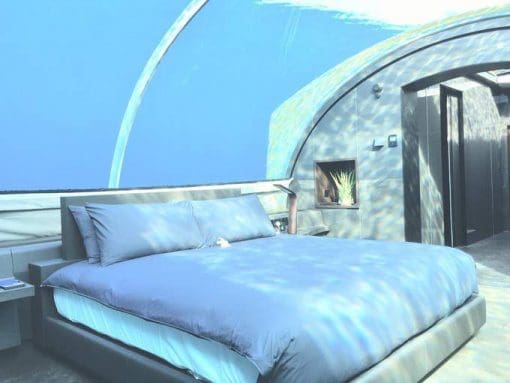 Sleeping beneath the waves may seem dreamy for some, claustrophobic for others. As the third person to sleep underwater at THE MURAKA at Conrad Maldives Rangali Island after it first opened, for me, it was none of the above. It's hard to sleep with all the excitement of such a new-found environment, and the amount of light and space is incredible.
Here is what my experience was like.
THE MURAKA is not entirely underwater
First things first, only one of the bedrooms is underwater. The majority of this three-bedroom and immense private villa is above water. It comes with private butler and chef service that are at your beck and call.
The personalized service begins before you arrive with emailed questions about the type of experience you would like. This includes everything from the activities you wish to do at the resort to spa or dining reservations.
Some guests, celebrities and corporate big wigs, may prefer to spend all of their time in the privacy of THE MURAKA (the official name of this stand-alone villa is well-deserving of its all-caps spelling). This means all of the activities can come to you from motorized watersports to spa therapists (daily spa treatments are part of the overall price). The bar can be stocked to your liking, and the chef knows no limits when it comes to what can be sourced for your menu. It can all be prepared and served whenever
you like.
In addition to a private gym, there are multiple bedrooms, each with a private bathroom with impressive view. The common areas have walls of glass that can slide open to create an enormous indoor-outdoor gathering space. Or you can keep them closed for maximum air conditioning (if you have been to the Maldives, you'll be glad to have the option).
An infinity-edge plunge pool is a treat, but it's hard to resist climbing down the ladder to reach the crystal-clear water for a swim in the Indian Ocean.
If you want to visit other parts of the resort, you can always call a golf cart to transfer you across the raised walkways that connect the multi-island property. It's much more fun, however, to call the private speed boat that is ready and willing to take you where you need to go.
This resort sprawls across different interconnected islands with a spa, various dining outlets (including the world's first underwater restaurant, Ithaa), and individual accommodation options from over-water bungalows to beach villas).
Of course, arriving at the resort from the international airport on Male requires a seaplane transfer. But, for guests of THE MURAKA, the option to reserve a private air transfer that can drop you at the front entrance of your villa (instead of the resort's main seaplane dock) is unique.
Sleeping underwater at THE MURAKA
This is the first full, underwater residence of its kind in the world. The entire pre-fabricated unit was sunk 16 feet below the ocean's and secured via ten concrete piles so that it would not move with the waves or tide. To assure environmental protection, the resort worked with a team of marine biologists to make sure the coral and sea life was protected.
Sleeping beneath the water's surface was not claustrophobic for me, and I often feel discomfort in cramped spaces. This is the most common question that people have asked. You can hear the sound of the lapping waves on the sea's surface and can always see passing clouds and sunlight piercing through the water.
At times it can almost be too bright; for those worried about feeling cramped, believe me, it's not a concern.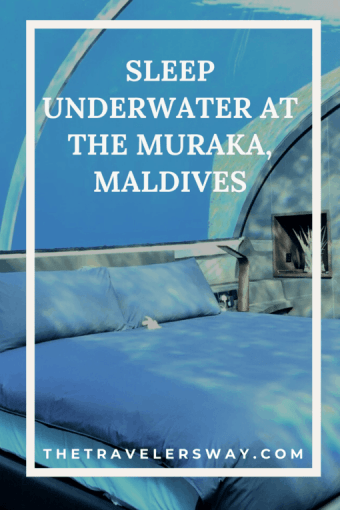 In the bedroom, an acrylic ceiling stretches from side to side, and a similar curved window continues in the living area. One touch of a button sets into motion electric shades to block out the sunlight. During the evening hours, spotlights illuminate the sea life and neighboring coral for guests to enjoy. At a certain time, however, the lights are extinguished so as not to damage or disturb the sea environment.
There's a vast array of marine life passing by at any time from small sharks to manta ray. Schools of fish wiggle, often peering into the window curiously. Who knows if they can see me getting dressed or just their own reflection? A sea cucumber fascinated me as it writhed up the edge of window. Often times, small pecking sounds would lead me to look up only to find fish biting away at algae that had grown on the acrylic covering.
To connect the overwater villa with the underwater residence, guests take a spiral staircase or elevator down below the water's surface for the most prized bedroom at the resort (perhaps in the Maldives).
A sliding door reveals the walk-in closet with fish swimming by to silently judge your packing skills. The bathroom has floor-to-ceiling windows to the underwater fantasy world with marine life watching your every move (from toilet to shower). Even as you brush your teeth and wash your face with amply sized bottles of Aesop beauty products, the sea life action does not stop. It's simply breathtaking and hard to comprehend at times.
If you're wondering about the average nightly rate at THE MURAKA, there isn't one. Everything is structured around the types of food and drink you want to enjoy ensuite and the activities you design as part of your stay. The price tag could start at around $50,000 per night and inch higher from there. Find more information about THE MURAKA at Conrad Maldives Rangali Island here.
Luckily, Hilton Honors Diamond status, the loyalty program's highest (Conrad is one of Hilton Hotels and Resorts' many brands), is a take-home gift (among others) that you can continue to enjoy for another year as a valued souvenir.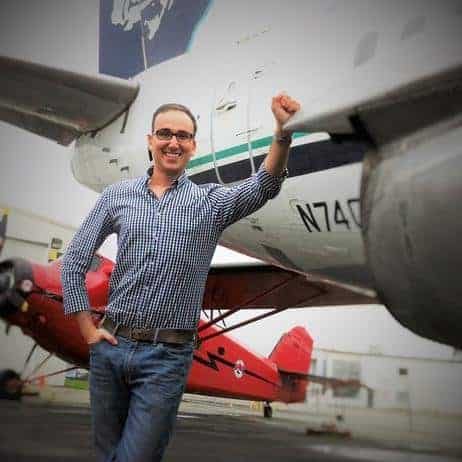 Author bio: Ramsey Qubein is a travel journalist who covers everything from the aviation and hotel industries to cruising and business executive profiles. His writing has appeared in numerous online and print outlets including AFAR, Conde Nast Traveler, BBC, USA Today, Robb Report, CNBC, Readers Digest, Business Traveler, and Four Seasons magazine among many others. He flies around 450,000 miles per year and has visited 166 countries, 50 states, and seven continents. You can read all about his travels at RamseyQ.com or follow along on Twitter and Instagram.
Disclosure: The author received a complimentary stay at THE MURAKA.
The Travelers Way occasionally accepts guest posts from fellow travel bloggers, friends within the travel industry, and as advertorial content.