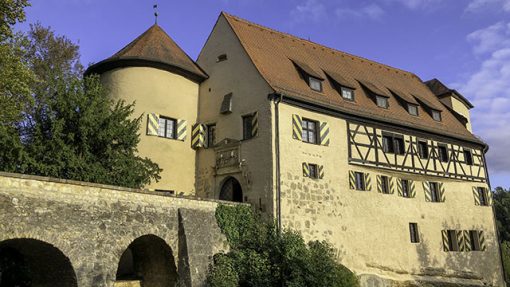 Have you ever wondered what it would be like to spend the night in a Bavarian castle? Or relished the thought of telling your friends that you lay your head where royalty once slept? Perhaps you've dreamed of strolling the castle grounds while imagining you rode up on horseback as they would have back in the medieval days.
I wondered about all of these things and more, so I decided to make it happen. I stayed in a castle hotel and I'm here to tell you all about it.
Escaping to the Bavarian Countryside
After spending five days in the hustle-and-bustle of Oktoberfest in Munich, it was definitely time for some R & R (rest and relaxation).
The 2.5-hour drive to the castle hotel began on the high-speed autobahn where my Audi handled exceptionally well. Guided by my GPS, I took the exit for the castle and enjoyed the endless rolling hills of the scenic Bavarian countryside. With my window rolled down, my hair blew in the fresh, warm country wind.
Quiet and serene, I began navigating the frighteningly narrow roads. With barely enough room for another car to pass, I was thankful for my small hatchback rental. After taking one wrong turn down a farm road, and playing chicken with a tractor, my car crept down a gravel pathway, rocks crunching beneath its tires, and the castle slowly began to appear from between the trees. I had finally arrived at Burg Rabenstein (booking and rate information here), my castle hotel for the night.
Castle History: Burg Rabenstein
Burg Rabenstein is located within the Franconian Switzerland-Veldenstein Forest Nature Park in North Bavaria. It sits atop a rocky hill spur with spanning views of the valley below.
The castle is a former high medieval aristocratic castle originally built in the 12th century. After being destroyed in 1450, it was rebuilt in 1489.
Today, it is a cozy boutique hotel with 22 guest rooms. There are no TVs or minibars in any of the rooms. The castle owners prefer that you enjoy your complimentary wine while mingling with the other guests in the lounge, rather than staying in your room to watch television.
During summer months, guests can lounge at the outdoor beer tavern and patio.
Dreaming of Royalty
I gazed down the long gravel pathway, imaging what it must have been like to arrive in a horse-drawn carriage. Today, however, no carriage, valet, or bellhop appeared, so I carried my luggage over the uneven ground towards the entrance heralded by two very large and heavy wooden doors.
I had to lug my suitcase up several flights of stairs, there are no elevators in authentic castles, after all. I was beginning to think that perhaps castle life wasn't so glamorous after all. Then I saw the elaborate doorway entrance to my room. Gold and baby blue designs were artfully painted inside gold frames as if an artist had framed his artwork inside the window of the door. As I twisted the key in the ornate lock, and slowly swung open the door, I smile reassuringly, castle life is indeed very glamorous.
The suite was suitable for royalty, which for the evening, would be me. Through my fanciful doorway was a large sitting room, with a plaid couch and two matching chairs that sat atop a beige and gold fleur de lis patterned carpet. To the right was the master bedroom, complete with a fur-covered king-size bed. Sheer gold drapes flowed on either side of the bed, narrowly missing the wrought iron side tables. Finally, the bathroom, with its oversized bathtub immediately made my late-night plans crystal clear.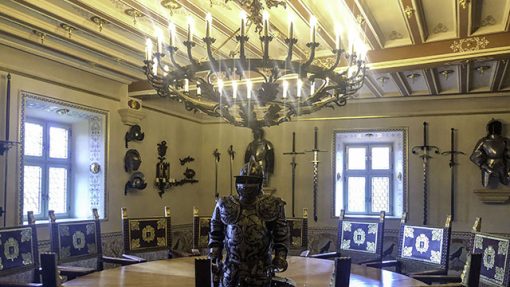 After sufficiently admiring my room, I was treated to a tour of the castle and grounds. The tour guide was dressed in a long, red, velvet robe adding a nod to the authenticity of the castle. He spoke German, with broken English, but I was happy to simply take in the sights and enjoy the architecture as I tried to understand his descriptions and stories.
After learning what castle life was like in the 13th century – dining in the castle's formal dining room, and sitting fireside on cold nights – I ventured outside to stroll the grounds.
Castle Falconry
Burg Rabenstein has a falconry program with over 80 species of birds of prey. I saw everything from a rare white-backed vulture, to falcons and a variety of owls.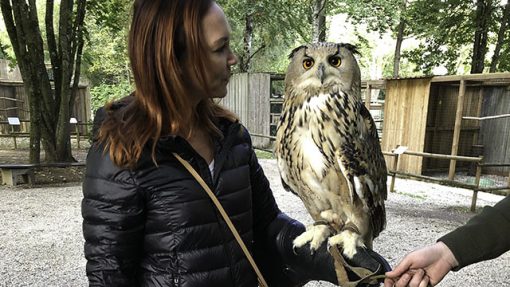 After gazing fondly at a staff member holding a Siberian Owl on his arm, he asked if I'd like to hold her. Would I?! Like a child on Christmas morning, I excitedly held out my arm for her. As she hopped on, I felt a surge of awe holding such a powerful creature on my arm. She even allowed me to stroke her belly.
A Castle Dinner Fit For a Queen
Burg Rabenstein is a fully-functioning castle with an on-site restaurant offering dinner at one timed seating. My delicious 3-course dinner included a rich and creamy lobster bisque soup, followed by a steak salad, and an entree of succulent venison accompanied by scalloped potatoes and cruciferous vegetables. It was a meal fit for a queen.
I selected a 2014 Saint-Emilion Grand Cru to accompany my meal, a good choice that worked for all the courses. I could get used to castle life.
After dinner, we were all ushered outside for evening entertainment, a dazzling and melodic fire show that included a dancer, swaying in harmony with her fiery props to the beat of the music. The show was both highly entertaining, and a pleasant interlude between our main course and dessert. Upon returning to the dining room, I dug into dessert, a decadent Pot du Crème.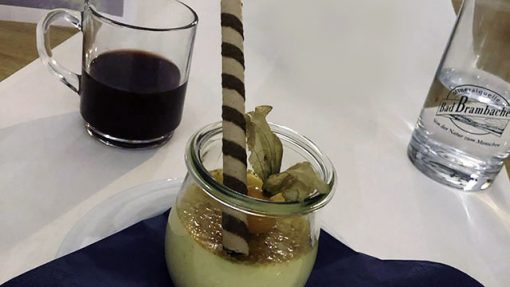 Utterly satisfied after my indulgent royal meal, the adventurous part of me wanted to wander the grounds. The front doors of the castles are locked in the evening, however, and I had no interest in scaling the castle walls to get back inside.
While I'm sure I could have arranged something, I opted instead to retreat to my room to immerse myself in a hot bubble bath and savor the last of my wine. Feeling fully relaxed after my soak, I stood at the open window, gazed out at complete darkness, and listened to the rare sound of nothingness. The silence was almost eerie, yet comforting at the same time.
As soon as my head hit the fluffy, cloud-like pillow I drifted off to a dreamlike sleep. Come morning, I didn't want to get out of bed and was roused only by the thought of a savory breakfast waiting for me in the dining hall. Next to my morning coffee, I found a note thanking me for my stay. It was a lovely and thoughtful touch, a perfect ending to my royal stay.
Departing Burg Rabenstein
Before departing the grounds entirely, I decided to take a stroll down the trail that led to the nearby caves. Sophie's Caves are a natural work of art and some of the more beautiful active flowstone caves in Germany. Full of stalagmites and flowstone draperies spanning up to five meters long, these caves are a marvel of mother nature.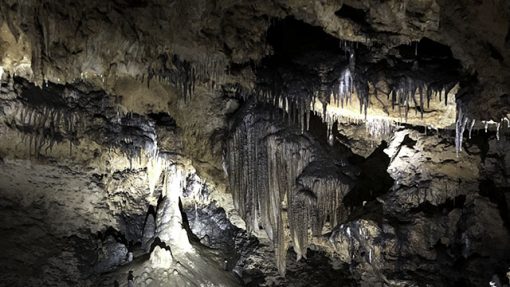 Serendipitously, I arrived at the exact time the next tour was to begin. The highlight of the tour was the finale – all of the lights are turned off for a musical light show in one of the large open caverns.
From beginning to end, spending the night in a Bavarian castle was a true fairytale.
Pin this to your favorite Pinterest travel boards for your next trip to Europe and spend the night in a Bavarian Castle.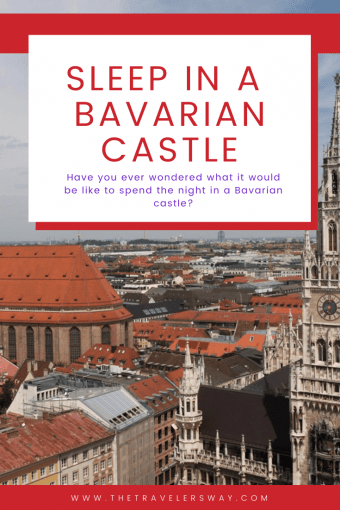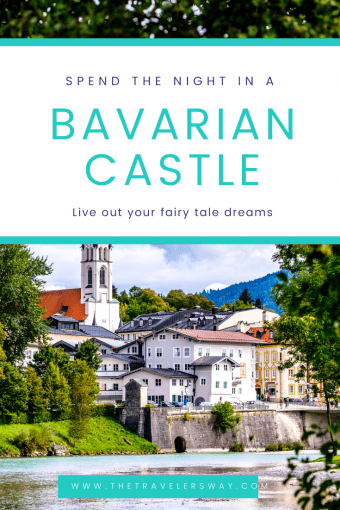 ---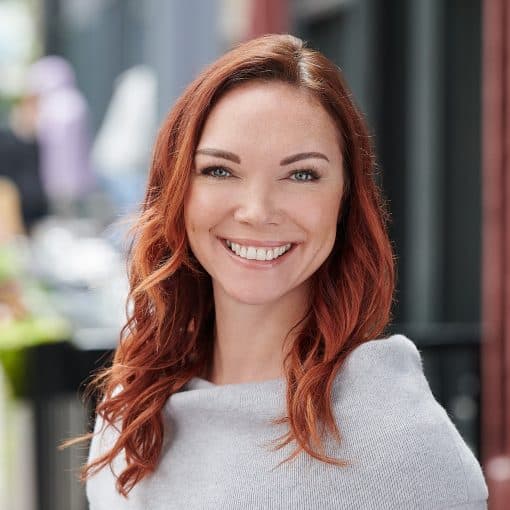 Guest author bio: Kathryn Anderson is a freelance health, wellness and travel writer and blogger whose mission is to inspire adventurous people to live their best life through travel and self-care. Based in Vancouver, BC she frequently travels the globe and has visited 21 countries on 5 continents. Follow Kathryn on Facebook, Instagram, and her travel blog Coffee and Mascara.
---
The Travelers Way occasionally accepts guest posts from fellow travel bloggers, friends within the travel industry, and as advertorial content.