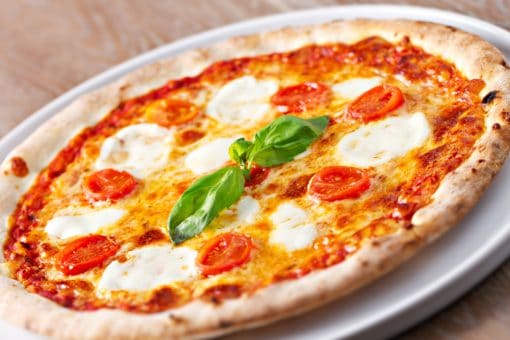 Some folks eat pizza once a week, once a month, or even once a day in some cases. These days with the smorgasbord of pizza options out there, the history of a good pizza often gets lost. However, the truly modern pizza we eat today begins with the infamous Margherita pizza straight from the pizza capital of the world, Naples, Italy.
You may have pizza in Italy many times. There are delicious choices in Rome, Milano, the Tuscan hill towns, and Florence, Italy. You may have had respectable offerings at your local pizza parlor or made your own personalized version at home. But there's nothing like having pizza in its birthplace, Naples.
No pizza history can be told without Italy being involved, even though the history does date back a bit further to the Greeks and the Romans who had their own type of pizza. Records show they were eating pizza back then that consisted of unleavened bread, topped with a variety of meats and vegetables, and then baked.
That was followed by what was called a "picea," a term coined around 1000 AD in what is now Italy. The picea was a description of a round piece of dough that was also topped with a variety of toppings before baking. Eventually, pizza came to Italy in the form of picea, and it began to evolve into what it is today. By the end of the 1700s, another pizza incarnation was created – a variation created by rolling the dough and stuffing it before baking.
For the most part, pizza was peasant food. In 1800s Naples it was sold in market stalls and eaten on the streets for breakfast, lunch and dinner. These pizzas were topped with a variety of goodies from mushrooms to anchovies. Eventually, the market stalls gave way to open-air areas where residents could meet to eat, drink, and gossip.
The first pizza restaurant was called Port'Alba. The owners used a form of what is today called a brick oven, fired by rocks from nearby Mount Vesuvius. The oven was able to reach high temperatures that produced the best pizza in town.
Enter the creation of the Margherita pizza.
But let's not forget the Bourbon Queen Maria Carolina who, in the 1500s, blazed a trail for pizza-loving royals long before Queen Margherita Teresa Giovanni came onto the scene. Queen Maria Carolina favored pizzas that highlighted cheese, tomato, and other vegetables. It is rumored that she loved her pizza so much that she had her husband King Ferdinand IV allow pizza to be made for her in the royal court – even though before that time it was strictly considered food for peasants.
It wasn't until 1889 that the Pizza Margherita was created, a result of a trip to Naples by Queen Margherita Teresa Giovanni. The queen became quite interested in the food she saw the peasants eating, a large flat bread. She tried it herself and loved it eating it every chance she got during her travels, even though, as in the case of Queen Maria Carolina, it was not appropriate for a queen to eat this type of peasant food.
Nevertheless, she was determined to enjoy this new, tasty discovery, and ordered a local chef to make her a selection of pizzas to enjoy. In honor of the Queen, Esposito made three pizzas for her to choose from. Although the Queen liked all three, her favorite pizza was one topped with tomatoes, Mozzarella cheese, and fresh basil. She felt this pizza represented Italy well with its colors the same as those of the Italian flag (red, white, and green).
Thus the Pizza Margherita was born, immediately setting the standard that pizza is judged by even today.
Six places to find the best pizza in Naples, Italy:
Da Michele on Via Sersale – Don't expect fancy at Da Michele, but you will find authentic Italian (in photo). No reservations are allowed so be prepared to wait in line. When you do get a seat the menu is easy since there are only two items – the pizza margherita and pizza marinara. The pizzeria has been in business since 1870 and it's not only tourists who frequent this place, locals love it too.
Brandi on Salita S.Anna di Palazzo – Near Naples' Chiaia neighborhood, Brandi is rumored to be where the infamous pizza margherita originated. The original chef is said to have worked at this place which dates back to 1780. This pizzeria has a high-end atmosphere and also offers a variety of additional traditional Napoletano side dishes as well as excellent white and red wines.
Di Matteo on Via dei Tribunali – Founded in 1936, for many years Di Matteo was run by what is called in Italian the "scugnizzi pizzaioli" (translation: the street urchin pizzaioli kids). Today, Di Matteo is known for its pizza fritta, which is a deep-fried pizza with ricotta cheese, provola cheese, tomato sauce and lard.
Pizzeria Trianon da Ciro on Via P. Colletta – Three floors make this pizzeria unusual since you might be able to find a seat without waiting too long. The real standout, other than easy seating, is the fresh daily-made buffalo milk mozzarella. There are 29 pizzas on the menu, although the specialty is the salsiccia or Italian sausage and friarielli, a kind of broccoli grown locally.
Lombardi on via Foria – Lombardi is near the archeological museum of Naples and was established at the end of the 1800s by Enrico Lombardi who sold pizza in Brazil before coming to Naples. The pizzeria is still in the family. In addition to some unusual dishes on the menu you can also order a pizza. The house specialty is one topped with smoked provola cheese.
Antica Pizzeria Port'Alba on Via Port'Alba – This is the oldest pizzeria in not only Naples but in Italy. Antica Pizzeria Port' Alba was founded in 1738 and sold street food pizza, before becoming a restaurant in 1830. The owner, Vincenzo Luciano, is a fifth-generation pizza family man.
Rita Cook is a writer/editor with over 1000 articles. She can be heard on Insider Mag Radio at KPRO 1570 am and she also reviews cars for the Washington Times Communities (Behind the Wheel). Her most recent published books include "A Brief History of Fort Worth" as well as two haunted books on Dallas and Fort Worth to be published in the fall 2011. Rita's favorite travel destinations are Italy, India and Kenya.