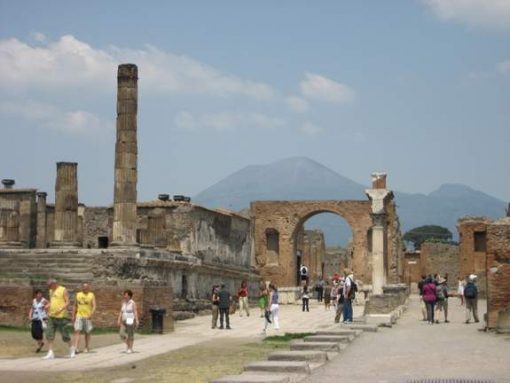 From Tragedy to Tourist Attraction
One of the world's most famous natural disasters created one of Italy's most famous tourist attractions, when in August of 79 A.D. the explosion of Mt. Vesuvius buried the town of Pompeii under a deadly layer of cinders, pumice and ash. No one expected the mountain to erupt, so its citizens were caught completely unaware. Due to its abrupt demise, the city became a historical time capsule from which we can observe what life was like two millennia ago.
Excavation and Preservation
Early explorations of Pompeii caused a lot of damage because they were little more than looting expeditions carried out by treasure hunters. It wasn't until 1861, when Giuseppe Fiorelli began a methodical approach of digging and cataloging artifacts that people gave any thought towards preserving this historical site.
Even now, the impact of over two million tourists traipsing through the city each year, coupled with Mother Nature's wear and tear, takes its toll. In November of 2010, for instance, heavy floods caused Pompeii's Schola Armaturarum, a building where gladiators once trained, to collapse. Several weeks later, severe rain caused a large section of wall to crumble. The resulting public outcry prompted private investors as well as the European Union to offer funding to restore and maintain Pompeii.
While the money is there, making correct use of it is another matter. The combination of Italy's complex bureaucracy and rampant corruption could prove to be more destructive than weather and tourists combined. Even though Pompeii is the largest archeological site in the world, it could lose its status as a UNESCO World Heritage site if things do not shape up.
Is Pompeii Safe for Visitors?
Despite these ongoing issues, I felt perfectly safe on my visit to Pompeii last spring. According to my husband, who has visited Pompeii since he was a little boy, the biggest change over the decades is accessibility. Years ago, people could climb all over everything. These days, fragile and/or dangerous sections are cordoned off to keep visitors at a safe distance.
Tips for Visiting Pompeii
First off, you may wonder why some signs read, "Pompeii" while others read, "Pompei." This is no typo. Signs with two i's refer to the archeological site, while signs with one i refer to the modern day city. Signs saying, "Pompeii Scavi" are for the archeological site, too, since scavi means "excavation."
Be sure to wear good walking shoes because there is a lot of ground to cover, and a lot of uneven surfaces along the way. Shade is at a premium here, so wear a sunhat and sunscreen. There is an air-conditioned cafeteria with clean restrooms, but I still suggest bringing some water, even if you do stop there for a snack.
Don't bother paying for the audio guide, either. It's basically a recording of the same information you get on the free map you receive with your ticket. If they don't hand you a free map when you pay, head over to the information booth and ask for one. I like the Porta Marina entrance because it is near the forum, which makes a good starting point for your explorations.
Highlights of Pompeii
I had been told that three hours was plenty of time to see Pompeii, but I strongly disagree. I spent an entire afternoon there and still didn't have enough time to take it all in. Here are a few highlights to consider when planning your trip:
The Forum: This was the political and commercial hub of Pompeii. It is also the oldest part of town, dating back to the second century B.C.
The Roman Theaters: The Teatro Grande and the Teatro Piccolo are where locals gathered to watch gladiator style shows. The bigger one holds a crowd of up to 5,000 people.
Via dell'Abbondanza: This is Pompeii's main drag. Lined with shops, inns and private houses, it also leads to the public baths and brothel.
House of the Mysteries This is a bit of a walk, but well worth it, because here you will find the best-preserved frescoes in Pompeii. These ancient paintings depict the tale of a young bride's initiation into the cult of Dionysus.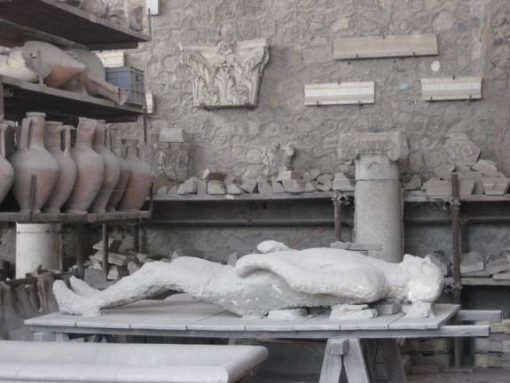 Avoiding Crowds
I visited Pompeii in May at the height of tourist season. Because of this, the most popular sections, such as the tiny brothel, were quite crowded. I actually enjoyed all the people milling about the forum, however, because it helped me imagine what the city might have felt like with its citizens going about their daily business. At one point, my husband and I wandered down a deserted side road and – suddenly – we had Pompeii all to ourselves.
Stray Dogs in Pompeii
While the Roman Colisseum is known for its feral cat population, Pompeii is known for its stray dogs. On the day I visited, I saw at least half a dozen dozing in shady areas throughout the site, and since my earliest memory of Pompeii involved seeing the famous Cave Canem (beware of dog) mosaic on TV, their presence made sense to me. In recent years, the aptly named (C)ave Canem Project has created a successful adoption program for these strays. The dogs come with ancient Roman names such as Diomedes, Vesonius and Plautus and the website features creative stories for each one.
The Secret Cabinet and Erotic Frescoes
Spending one day at the archeological site and another at the Naples National Archeological Museum (MANN) will give you the fullest sense of what life was like in this ancient town since many of Pompeii's famous and/or fragile artifacts now reside there. At the MANN you will also find the infamous Gabinetto Segreto (secret cabinet) where sexually explicit items from Pompeii were sequestered in 1861, presumably to keep them from offending anyone. Even as late as the 1960's, some of the erotic frescoes at the site itself were covered by locked metal cases. For a small fee, men (not women!) could pay to see what was inside.
The ancient Romans had a different attitude towards sexual expression than we do in the 21st century. In Pompeii, it was no big deal for common household items such as vases and oil lamps, for instance, to be shaped like a penis. Being a product of my era, however, I got a kick out of the street signs I saw in Pompeii with stone phalluses pointing the way to the local brothel.
Planning your visit
Hours:  The hours of admission to Pompeii vary. From November to March the site is open from 8:30 a.m. – 5:00 p.m. (with final entry at 3:30 p.m.), and from April through October the site is open from 8:30 a.m. – 7:30 p.m. (with final entry at 6:00 p.m.) Please note that Pompeii is closed three days each year: January 1st, May 1st and December 25th.
Admission price:  As of this writing, tickets to Pompeii are €11 for a single day. Three day passes are €20 and grant entrance to five different sites (Pompeii, Herculaneum, Oplonti, Stabia and Boscoreale.)
Getting there:  To get to Pompeii from Naples by train, take the Napoli-Sorrento line of the Circumvesuviana railway and get off at the Pompei Villa die Misteri stop. By car, take the Autostrada south from Naples and exit at Pompeii. Taking the SITA bus from Via Pisanelli is another option. On the day of my visit, there was a public transportation strike, so my husband and I negotiated a trip by taxi.
Photos: Courtesy of the author
Tui Snider is passionate about exploring the world, and loves sharing what she finds at home and beyond in her travel writing and photos. You can find her online at Discovering-Dallas-Fort-Worth.com, mentalmosaic.com/blog and on Twitter @mentalmosaic. Her top three travel destinations are Italy, London and anywhere a cruise ship will take her.