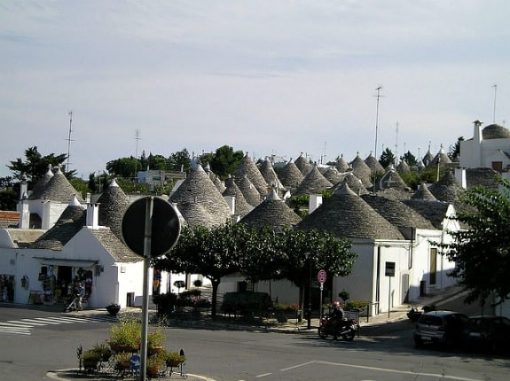 If you haven't traveled south in Italy to the Adriatic then you really are missing out by not visiting the "high heel on the boot" of Italy.  It is an alternative to Tuscany, perhaps, and a good one.  Don't visit the same old sights every time when you can head to Italy – head south to the Puglia region.
Divided into six provinces, Puglia is a long, narrow peninsula teeming with plains and hills.  The southern Apennine mountain chain is a big draw to this area, as well as the Gargano promontory with high cliffs overlooking breathtaking scenes below.  Once in Puglia you will find old villages set among vineyards and olive groves dating back hundreds of years. There is also a plethora of ruins, cathedrals and castles to visit. The food is a reflection of the diversity of this old region since the area has been defined over the centuries by the likes of the Greeks, Romans, Byzantines, Goths, Normans and the Spanish.
Here's a list of 10 of my favorite things to do in Puglia:
Learn about history in the town of Brindisi.  There's the Alfonsino Castle, Montenegro Palace, the Archaeological Museum, S. Paolo Church, San Giovanni al Sepolcro Church, S. Maria degli Angeli Church, Svevo Castle, and S. Maria del Casale Church. I suggest spending at least half a day here discovering the history.  It will be a good initiation into the history of the entire region.
Go white in nearby Ostuni, known as the "white city" due to its many whitewashed houses.  Visit Liberty Square, S. Francesco Church, Monacelle Convent and the Cathedral S. Biagio Grotto, all god options for a visit over several days.  As you traipse up and down the narrow streets there are finds at every turn.  The traditional clay whistles called fischietto come from here, and there are plenty of elegant restaurants and charming little corners to relax and take in the Italian landscape.  Look closes, as many are hidden.
Visit the little town of Alberobella (in photo above), a UNESCO World heritage site, that boasts a number of archaeological finds, castles and cathedrals. Also notice the small, Italian, white-washed "Trulli" houses, which make up the town, giving it a surreal otherworld feel.  The Museum of Egnazia offers a look at the city during Roman times and the town's Martina Franca is a good find for those who are looking for baroque architecture.
Experience old time traditions in Cegla Massapica, another town with ancient beginnings dating back to the 14th century.  Ceglia still offers those real traditions from earlier times, and it's not just for tourists, but for an authenticity of life that is still being lived in these parts.  There are festivals and time honored traditions that, if lucky, the traveler might by find and experience.
Visit Cisternino, which was ruined by the Goths before being rebuilt by Basilian Monks in the seventh century. These days, Cisternino is an real find with cobbled streets and plenty of shops without the tourist prices.  At night in the city center the macellerie (translation butcher) serves a traditional food of charcoaled skewered-meat in back rooms of the shops where everything from sausage to stuffed meat rolls are sold.
Enjoy the seaside in Otranto.  Sitting on the sea, the town was founded by the Greeks and was a seaside port of importance for many years until the Turks came in around 1480 and slaughtered all the townspeople who would not convert to Islam.  You can still see the cannon balls fired by the Turks during the attack, now used as town ornaments.  Here too you will find art sitting among the natural surroundings, both blending beautifully.  The eleventh century cathedral in Otranto has the biggest mosaic in Europe and the first European University College was founded in Otranto.
Walk the streets of Martina Franca, a find in Puglia's Itria Valley. It has the narrow streets, squares and old and an architectural history to go with it.  Martina Franca is famous for its traditional wine-cured ham called capocollo di Martina. There is also a cheese factory where you can buy a supply of the best mozzarella and burrata.
Buy gifts in the capital of pottery, Grottaglie.  The town has a number of traditional clay studios and stores in an area known as the ceramic quarter, and craftsmen of the trade live in this town and sell their wares.
Drink up in Locorotondo, a whitewashed and typical Italian town place precariously high on a hill overlooking the Itria Valley. Known for its white wine, Locorotondo is round in shape and the town is easy to get around.  It is an old fishing village full of charm.  Along with an inviting beach and fishing, there is also a castle, cathedral and an underground oil mill press to be discovered and enjoyed.  Of course, a dinner at a restaurant serving local fish might also be the best meal you have while visiting Italy.
Spend a night, or two, at Masseria San Domenico, a gem of a place with an Adriatic backdrop and a history dating back to the Knights of Malta who lived here at one time.  It's also home to some amazing centenarian olive groves.  There's plenty to do, or you can just relax at the beach during your stay.  The spa here is known as one of the best Thalassotherapy spas in Italy.  Using seawater and seaweed from the Adriatic, the Thalatherm treatment to improve blood circulation.  The restaurant features a healthy Mediterranean diet, with an emphasis on the olive oil to parallel with the groves on the grounds of the property.  The Mediterranean diet food model served here, which is under UNESCO's protection as a world intangible cultural heritage, has been successful in this region.
Photo credit:  Verity Cridland via flickr
Rita Cook is a writer/editor with over 1000 articles. She can be heard on Insider Mag Radio at KPRO 1570 am and she also reviews cars for the Washington Times Communities (Behind the Wheel). Her most recent published books include "A Brief History of Fort Worth" as well as two haunted books on Dallas and Fort Worth to be published in the fall 2011. Rita's favorite travel destinations are Italy, India and Kenya.