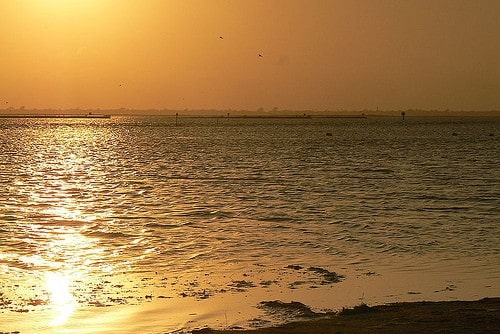 With more than 600 expansive miles of coastline, there's no better way to take in the Texas Gulf Coast than by water. Boating may be the conventional way to make the journey, but for those looking for an exhilarating adventure and an intimate encounter with the coast's natural treasures, nothing compares to a kayaking trip. Whether you prefer a leisurely float with incomparable scenery or a challenging trail that will take you off the beaten path, grab a paddle and get ready for a kayaking experience you'll never forget.
Formed three thousand years ago, the Laguna Madre in South Padre Island covers 130 miles of coast and is surrounded by the Lower Rio Grande Wildlife Refuge, the Laguna Atascosa National Wildlife Refuge, and the Padre Island National Seashore. You're bound to catch some incredible views and see wildlife roaming the shore, or get the catch of the day as the shallow waters are perfect for light spinning tackle.
Kayakers interested in exploring unique plant life should head up the coast to Galveston. While Galveston is primarily known for its pristine beaches and historic homes, it's also home to thousands of acres of healthy wetlands. With the largest seagrass habitat on the upper Texas coast, a number of trails are available to explore the beauty of the bay, including a 19-mile route that leads to more than 200 acres of seagrass. To make a day of it, take a break from your exploration and enjoy a picnic on the beach or take advantage of your surroundings and do some bird watching, as Galveston is one of the top birding destinations in the U.S. In fact, the Galveston Bay Estuary is the largest and most productive on the Texas coast with more than 500 species of birds residing, wintering, or migrating through southeast Texas.
For fishing enthusiasts, every anglers dream comes true in the popular Matagorda Bay. Most enthusiasts are familiar with the Matagorda Bay but may not have explored the bay in its entirety, as 35 miles of the shoreline is only accessible by boat. This virtually untapped area gives anglers the advantage and the element of surprise while sneaking up on redfish, trout and flounder.
With more than five different trails, the kayaking possibilities of Matagorda Bay are endless. For a guided tour, take part in the Matagorda Kayak Excursions offered by the Lower Colorado River Authority (LCRA) through the LCRA's Matagorda Bay Nature Park. Excursions are offered on Saturdays during the spring and summer seasons and accommodate all skill levels as well as paddling instructions for beginners. If you'd prefer to venture out on your own, rent a kayak from the LCRA and explore the 1,600 acres of the nature park. Some of the Bay's most popular trails include one that passes by the Lydia Ann, a historic lighthouse close to the wildlife refuge, and one that goes along the riverbanks the Karankawa Indians and early settlers called home.
For authentic trails that take you off the beaten path, look no further than Port O'Connor, a small fishing town and the "Best Kept Secret in Texas" located on Matagorda Bay. It offers several trails and islands marked by the locals. Be careful though, you'll get more trail recommendations than you have time to paddle!  One of the most popular trails goes through Saluria Bay, where it's common to see dolphins swimming and jumping through the deep waters. Another passes the Matagorda Island Lighthouse, which has been standing since 1852.
With so much history, wildlife and coastline to see, take your Gulf Coast adventure into your own hands and paddle away. Texas Parks and Wildlife offers a  comprehensive guide to kayaking in the Lone Star State with its paddling trails site.
Photo credit: eutrophication&hypoxia
Mary Jo Manzanares is a founder and the editor-in-chief of The Traveler's Way, an online travel magazine proving informational and inspirational travel recommendations for curious Baby Boomer travelers. She has been a speaker at various industry events and has a personal travel blog at Traveling with MJ. When she's not traveling, Mary Jo likes lingering over a cup of coffee, wandering in a museum, sipping wine at a cafe, and sharing it all with friends and readers. Mary Jo's top travel destinations are Italy, Portugal, and the Caribbean.