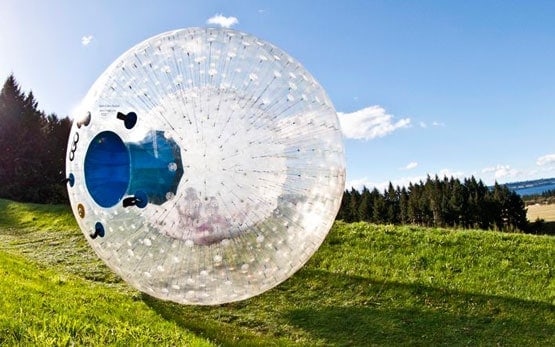 Pigeon Forge's newest attraction offers two wet and slippery attractions and one dry activity, and it plans to add two more adventures this summer.
It is Outdoor Gravity Park, a new business on the former Zorb site that features the New Zealand iconic OGO adventure and the spinning-in-place Fishpipe.
The OGO is a plastic sphere 11 feet in diameter, with a smaller sphere inside. One, two or three passengers make a Superman-like dive into the inner sphere, get doused with water (that's the slippery part) and then roll down a steep 1,000-foot-long hill. Slip! Slide! Get Wet! No tumbling!
Outdoor Gravity Park has carved five OGO routes down the hill. Two of the routes are straightaways, and three are zigzag routes. Riders wanting a completely different experience enter a special OGO with harness seating and take a revolving roll down the hill.
[tweetthis]Try the Fishpipe at @outdoor_gravity in @My_PigeonForge Tennessee.[/tweetthis]
The Fishpipe is a totally new attraction – a rotating barrel water slide. The barrel is made of plastic and is suspended in a steel frame. Passengers can go solo, duo or trio and Slip! Slide! Get Wet! You will cover more distance than any lateral water slide. An electric motor spins the barrel at up to 45 revolutions per minute. At a moderate speed, riders slide for three-fourths of a mile. At full speed, the ride is equivalent to a mile-long water slide. Slip! Slide! Get Wet! No tumbling!
Pigeon Forge, Tennessee, is located five miles north of the Great Smoky Mountains National Park, and is primarily known as a tourist destination. It is home to Dollywood theme park, numerous music theaters, and NASCAR speedpark. The Outdoor Gravity Park is just off the Parkway in Pigeon Forge at Traffic Light #1.
Photo credit:  Courtesy of My Pigeon Forge
Anthony has found travel provides a healthy balance to his day job as a criminal defense attorney. Living on the periphery of blogging for years, he's now decided to flex his creative muscles with a little writing and photography of his own. Anthony's favorite travel destinations are the Caribbean, Italy, and Ireland.