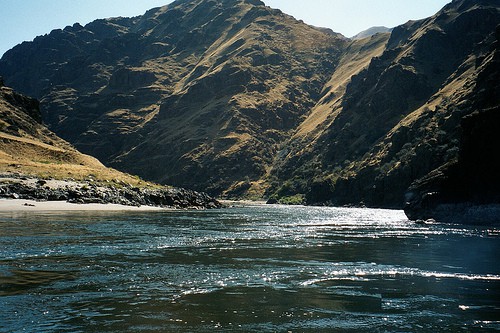 A jet boating trip in Idaho's Hells Canyon puts you right in the middle of one of the Northwest's most remote areas. This awesome experience begins even before you get to the boat, though, because the route you travel to the south entrance from Oregon, the Hells Canyon Scenic Byway, is listed as a Top Ten Scenic Drive in the Northern Rockies. Be sure to stop at the many viewpoints along the way to take in geologic formations and look for wildlife.
For the drive to the docks, start with a full tank of gas (a must!), pack some favorite snacks and drinks in the cooler, unplug from the electronic devices, and hit the road. Check with your jet boat operator for directions because GPS readings aren't always reliable in remote areas. Also, be aware that the departure times in the south canyon are listed in Pacific Time, although Idaho is in the Mountain Time Zone.
[tweetthis]Hells Canyon adventure in @visitidaho[/tweetthis]
At the south entrance, the canyon is over a mile and half deep – that's deeper than the Grand Canyon. Hells Canyon is a low-relief canyon, which means that you can't see the deepest point at all times while navigating through it. As you head north, you'll catch a glimpse of He Devil, the tallest peak in the Seven Devils range, rising 9,393 feet above sea level. Its terrain drops 7,913 feet to the mouth of Granite Creek, six miles away.
When you reach the dock below the visitor center at the base of Hells Canyon Dam, you'll board your boat for a thrilling trip along the wild and scenic Snake River. Trips range from a few hours to several days. The boat's enclosed sides make trips suitable for toddlers, grandmas, and everyone in between. Tours are typically narrated, with the crew sharing canyon lore about early homesteads and pointing out wildlife, significant historical sites, and pictographs along the way.
Bring your binoculars and keep an eye out for elk, mule deer, Rocky Mountain bighorn sheep, mountain goats, black bears, cougars, and coyotes. Songbirds and many species of owls, hawks, eagles, falcons, waterfowl, and upland game birds are common sights. Trips usually include refreshments or lunch at a beach or historical site.
Of course, a jet boat trip is really all about the rapids. The Snake River is renowned for big waves and powerful whitewater, including the biggest rapids of them all, Wild Sheep, Granite, Waterspout and Rush Creek, delivering all sorts of thrills and fun. Warm water and warn weather make for perfect swimming conditions on hot summer afternoons during June–August.
There are three lodging properties in the south canyon. The Hells Canyon Adventures Lodge is the closest to the launch site, a 30-minute drive. Idaho Power owns and maintains Woodhead Park, McCormick Park, Copperfield Park, and Hells Canyon Park. All offer full-service hookups, tent camping, restrooms and shower facilities as well as access to the Snake River for boating, fishing, swimming, or just relaxing.
Photo credit: theslowlane
Anthony has found travel provides a healthy balance to his day job as a criminal defense attorney. Living on the periphery of blogging for years, he's now decided to flex his creative muscles with a little writing and photography of his own. Anthony's favorite travel destinations are the Caribbean, Italy, and Ireland.