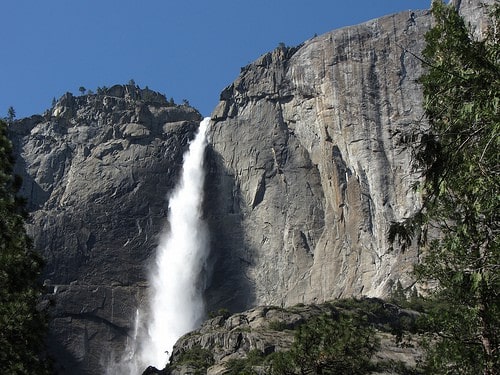 Spring is the best time to check out the many waterfalls in Tuolumne County's Yosemite Gold Country, located two and a half hours east of San Francisco and two hours south of Sacramento.  Over half of Yosemite National Park is located in Tuolumne County.  In addition to Yosemite, this is home to Gold Rush towns, two state parks, eclectic shopping, wine tasting, fun dining, four-season recreation and a variety of excellent lodging opportunities.
Tuolumne County boasts four traditional seasons and in the spring, it's game on for waterfalls.  Waterfalls can be found throughout the area.  Two local favorites are Leavitt Falls and Sardine Falls located about an hour east of Sonora, the County seat and hub of Tuolumne County.   From Sonora head east on Highway 108.  Leavitt Falls is at 7,800 feet in elevation and is located six miles east of the summit sign on Sonora Pass.  This waterfall pours 300 feet down three tiers into Leavitt Meadows below.  There is an overlook at the falls providing a panoramic view of the falls and high country.  Tables are provided for picnicking.
On the way to Leavitt Falls, at 8,800 feet in elevation is Sardine Falls. Cascading 70 feet into a meadow, it's an easy one mile walk to the base of the falls.
For another waterfall adventure head to Highway 120 south towards Yosemite National Park.  About ten minutes beyond the quaint town of Groveland at the South Fork of the Tuolumne River Bridge, is Rainbow Pool.  This easily accessible paradise is a favorite swimming hole, complete with waterfall, and is a perfect refresher on a summer day.
Continuing South on Highway 120 is Evergreen Road.  A 14-mile drive down Evergreen Road leads to spectacular waterfalls at the O'Shaughnessy Dam and Hetch Hetchy Reservoir.  The Reservoir was created to provide water to San Francisco when the O'Shaughnessy Dam was built in 1914.
It's an easy 1.7 mile hike to Tueeulala Falls where the water spills 900 feet off a high cliff in the spring.  Continue on the trail to Wapama Falls, a 4.6 mile round-trip hike.  Depending on water flow, hikers can cross the Falls Creek Bridge at Wapama Falls and feel the mist of the 1,300 foot cascading waterfall.  Later in the season, when the water flow is lighter, many hikers can be found underneath the bridge where there are perfect natural pools carved out of the granite from the waterfall – a great place to relax.
[tweetthis]Hiking the waterfalls of @TuolumneCounty[/tweetthis]
One more waterfall past Wapama Falls is called Rancheria Falls.  This is for the more adventurous as the trail to get there has a 1,200 foot elevation gain.
On the way to Hetch Hetchy, just off Highway 120, is Carlon Falls. It's an easy walk to this 30 foot waterfall.  During the summer, visitors enjoy cooling off in the picturesque swimming hole that Carlon Falls feeds into.  This is a great place for picnicking and relaxing.
Of course there are the well-known waterfalls of majestic Yosemite National Park.  One need not get out of their car to see these more famous falls, but the adventure is greater when visited on foot.  Yosemite Falls, Bridalveil Falls, Nevada Falls, Horsetail Falls and Vernal Falls are iconic must-see waterfalls.  Many outfitters offer waterfall photo tours and hikes.
Visiting Tip:   Generally waterfalls are flowing at their greatest volume in the springtime months, March through June, depending on rain and snowfall.  Often the falls are visible through summer, but may not have as much volume as they do in the spring.
Photo credit: rvr
Mary Jo Manzanares is a founder and the editor-in-chief of The Traveler's Way, an online travel magazine proving informational and inspirational travel recommendations for curious Baby Boomer travelers. She has been a speaker at various industry events and has a personal travel blog at Traveling with MJ. When she's not traveling, Mary Jo likes lingering over a cup of coffee, wandering in a museum, sipping wine at a cafe, and sharing it all with friends and readers. Mary Jo's top travel destinations are Italy, Portugal, and the Caribbean.