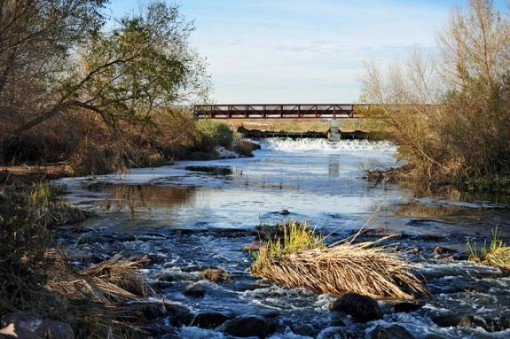 A visit to the Las Vegas strip can be overwhelming – nights filled with casinos and shows, days filled with shopping and walking around sightseeing. Sometimes it can be nice to get away from the lights and the action to get some fresh air in your lungs and some blood pumping through your legs. On your next trip to Sin City, consider exploring some of what Nevada's nature has to offer with one of these hikes. Even though Las Vegas is in the desert, you will be surprised what you might find!
Duck Creek Trail in the Wetlands Park
The Wetlands Park in Las Vegas is a great place for animal sightings – the 2,900 acre protected wildlife habitat is home to coyotes, quail, rabbits, and a variety of other species. The trail consists of two short, connected loops (Quail Run and Coyote) which you can combine for a 2 mile relaxing stroll.
Directions from the Strip:  From Las Vegas Blvd or I-15 Fwy., head East on Tropicana Avenue for just over 7 miles to Boulder Hwy (old Nevada Hwy). Continue on Tropicana East past Boulder Hwy as Tropicana turns into Broadbent Blvd., 1 1/2 miles past Boulder Hwy to main trailhead and parking area. If you reach the Sam Boyd Silver Bowl, you've gone too far. There is no parking fee.
Degree of Difficulty: Easy
Distance/Duration: 2 miles, about 1 hour
Calico Hills in Red Rock Canyon
Calico Hills is a great trail to see the red rocks for which the canyon is named close up, since you can walk on the sandstone formations when they are dry. The trail runs along the Calico Rocks from the Calico Basin to the Sandstone Quarry. This is a popular rock climbing area as well, so you can watch some climbers as you take a water break!
Directions from the Strip: The trailhead can be found 18 miles West of Las Vegas Blvd. on Charleston Ave. (SR 159) to Red Rock Canyon entry (fee) station. Take the paved scenic drive and park at the lower Visitor Center lot.
Degree of Difficulty: Easy-Moderate
Distance/Duration: 2.2 miles round trip from the Visitor's Center to Calico I and back, about 1 hour
Upper West Bristlecone Trail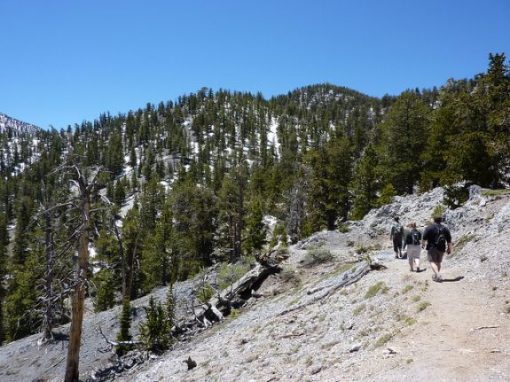 The hike starts in an area forested with aspen and white fir and goes up towards the upper slopes where you will find the bristle cone pines. The hike offers many spots along the trail to rest and check out the view, and be sure to look for wild horses grazing on the slopes in Lee Canyon during the late spring, summer, and fall. Pick up a trail map for a nominal fee (less than $1) and decide if you'd like to add parts of the Bonanza trail onto your scenic hike.
Directions from the Strip:  Take I-15 North from Las Vegas to 95 North towards Reno. Go West on SR 156 (Lee Canyon) 17 1/4 miles into Lee Canyon until the road deadends in the upper parking lot of Lee Canyon Ski Area. Do NOT park on the helipad for emergency helicopters. The trailhead for the upper or West Bristlecone trail is located in this parking lot.
Degree of Difficulty: Easy – Moderate, has been recommended for beginners
Distance/Duration: 4 miles out and back (6 miles round trip if you add the Lower East Bristlecone trail), about 2.5 hours
Mt. Charleston Peak
If you are looking for a strenuous, high-altitude day hike, then this is it.  Mt. Charleston is 8,259 feet in elevation, making it the highest peak in Southern Nevada, and the South Loop is a very popular route. The best time to hike Mt. Charleston is June – October, as those months are generally snow free, though you will want to check the weather forecast for high winds and potential summer thunderstorms.
The South Loop trail is a steep ascent to the peak, with a 4,000 feet elevation gain. After making it to the ridge, cruise through the meadows and into the forest. The last half mile push to the peak is tough, but you will be rewarded with a panoramic view of the Sierra Nevada mountains and the city.
Directions from the Strip:  Go North on I-15. Take I-15 two miles to US 95. Take US 95 North 14 miles to State Route 157. Go left on 157, drive 21 miles, and turn right into Cathedral Rock Picnic Area. The signed trailhead is located one-tenth of a mile past the fee booth on the right (west) side of the road. The entrance fee is $6 per car.
Degree Difficulty: Advanced
Distance/Duration: 17 miles round trip, 9 hours
St. Thomas, Lake Mead
Technically St. Thomas is about 76 miles outside of Las Vegas, so while it is a little over the 60 minute drive, this is the chance to hike Nevada's own Atlantis. St. Thomas was originally settled in 1865, and was abandoned when the Hoover Dam and Lake Mead was created, putting the town underwater. Due to multi-year droughts, the town has re-emerged after 65 years allowing hikers to walk among the ruins. Be sure to stay on the trail, as it can still be muddy and mucky.
Directions from the Strip:  Take I-15 North 48 miles to the Logandale-Overton exit, which is Nevada Route 169. Turn South and travel 29 miles to Valley of Fire Road. You will see the State Park entrance to your right, but do NOT turn towards Valley of Fire State Park. Instead, turn on the dirt road entering SR 169 on the opposite side of Valley of Fire. Follow the dirt road to it's end at St. Thomas Point.
Degree of Difficulty: Easy-Moderate
Distance/Duration: 3 miles, 1.5 hours
Weekend trips from Las Vegas
If you have a weekend or longer to explore the surrounding areas from Las Vegas, consider Death Valley (120-150 miles depending on what roads are open) or even the Grand Canyon (270 miles).
Safety
Climate:  Las Vegas is in the desert, so it is dry and usually sunny. The sun can be more intense than what you are used to, so be sure to  wear a hat and/or long sleeved shirt, and put on sunscreen. Bring more water than you think you might need, just to be on the safe side.
Footwear:  Most of the trails are well-maintained dirt, so you should be fine in sneakers or trail running shoes; however, there may be some steep, rockier sections and you may feel more comfortable in hiking shoes.
Wildlife:  You may encounter wildlife during your hiking adventures, and while most larger animals will be from a distance, it is possible to come across a rattlesnake on the trail. If you do meet a rattler, do not try to move him. Give him plenty of space or the right of way and then continue on.
Photo Credits:
Feature Photo: Sky Island on Flickr
Article Photo: Trail Sherpa on Flickr
Abbie lives in Denver, Colorado and is a freelance writer & Editor and teaches preschool Special Ed. Abbie's top three travel destinations are the Big Island of Hawaii, Madrid, and the Dominican Republic. Check out her website at abbiemood.com, or follower her on Twitter @AbbieMood.