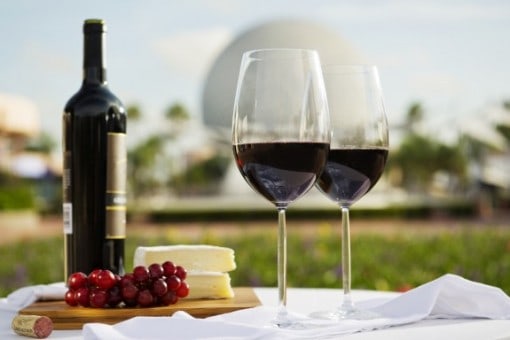 Food is a very important feature at Walt Disney World Resort.  Far from the traditional fried foods served at most theme parks, Disney restaurants pride themselves in offering a wide range of options.  So many options in fact, that after securing accommodations, dining reservations should be the next step in planning for a Disney World adventure.
Disney Resort dining options include family friendly or adult dining, counter service or table service, buffet or  menu selections, and is enough to make your head spin.  My advice is to always consider the group you are traveling with and the type of meals they enjoy. Personally, I like to mix it up with something from every category.
When planning, here are a few things to keep in mind:
Dining at a restaurant located inside a theme park will require an admission ticket to that theme park.
If you prefer a glass of wine with dinner, per Walt Disney's wishes, no alcohol is served within the Magic Kingdom, including the restaurants.
Reservations can be made up to 180 days prior to your visit and planning that far in advance is highly recommended for character meals, dinner shows and popular restaurants.
Most dining options are family friendly.  There are however, a few restaurants that cater to a more mature crowd.  The award-winning Victoria & Albert's offers a six-course meal at one of two seatings and has a strict policy of no diners under the age of 10.  Other romantic dining spots like Epcot's Bistro de Paris and the Contemporary Resort's rooftop California Grill are known as a popular location to "pop the question".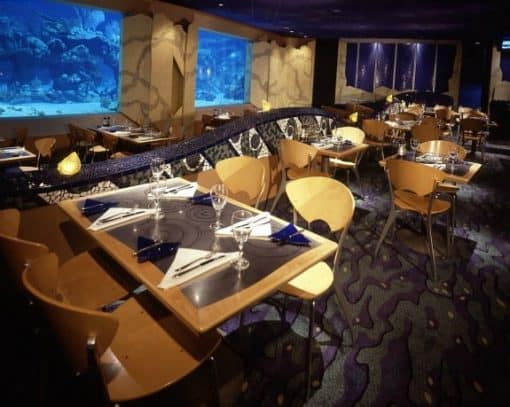 Family friendly restaurants include those located within the theme parks and at the Disney Resorts. Among my favorite theme park restaurants are Coral Reef Restaurant (The Seas with Nemo & Friends Pavilion, Epcot) offering seafood and an outstanding underwater view, and The Hollywood Brown Derby (Disney's Hollywood Studios) that, like its famous namesake, serves the signature Cobb Salad.  Guests can experience ethnic dishes using regional recipes at any of the World Showcase Pavilions within Epcot.
Perhaps one of the best theme park dining discoveries I have made is Tomorrowland Terrace Restaurant (Tomorrowland, Magic Kingdom).  This shaded counter service restaurant serves burgers at lunch and pasta dishes for dinner and offers a wonderful view of Cinderella's Castle.  It's a great spot to rest, refuel, and watch a show taking place on the Castle's front steps.
Disney Resort dining provides near endless options from casual to upscale and again depends upon the travelers palettes and mood.  When traveling with my children, I love dining at 'Ohana (Disney's Polynesian Resort) where "everyone is family".  The island food is served family-style with occasional entertainment that allows for kids to learn to hula, limbo, or participate in a coconut race.  When making your reservations here, ask for seating in the main dining room.  It offers an incredible view of Cinderella's Castle.
If you find yourself in a theme park at meal time without a dining reservation, the counter service restaurants are a good option.  Some of my favorites include Pecos Bill Tall Tale Inn & Cafe (Frontierland, Magic Kingdom) offering burgers and wraps, and Sunshine Seasons (Land Pavilion, Epcot) offering fresh ala carte selections including international dishes and made to order items.  With serving sizes very large, you might consider splitting a meal between two people as we have often done.
You can also select a dining location within the theme park and place your name on seating list.  Your wait might be several hours, so go enjoy the attractions within the park and return to the restaurant close to your designated time.  Remember, off peak dining times are always the best when exercising this option.  And remember to try to avoid getting too tired or too hungry for everyone's dining pleasure.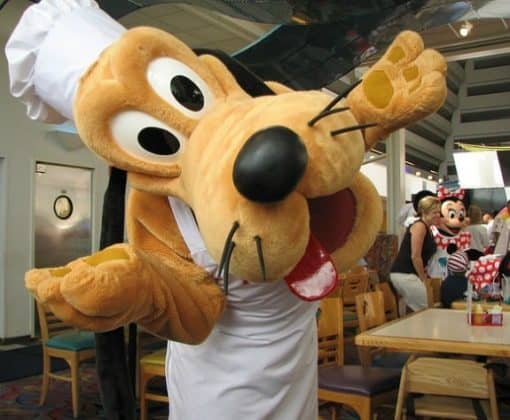 Character dining and dinner shows are a very popular option.  Offered at various locations, character meals provide guests an opportunity to visit with their favorite Disney characters  while dining. A word of caution – it is possible to overdo the character experiences.  A rookie mistake is wanting to see and do all, and to plan too many character meals.  Instead of excitement as the characters appear, it creates the opposite effect – more of a been there, done that, feel.
Again, I advise to look to your traveling companions when scheduling.  If you have princess fanatics in your midst, by all means Cinderella's Royal Table is a must.  A fairy-tale meal in Cinderella's Castle is even more special as popular Disney princesses stop by for a visit.   While there is something to be said for dining in Cinderella's Castle, I prefer the Princess meals at Akershus Royal Banquet Hall (Norway Pavilion, Epcot).  Chef Mickey's (Contemporary Resort) is our favorite for visiting with Mickey, Minnie and friends.
No one does dinner shows like Disney.  A South Pacific themed dinner experience awaits with Disney's Spirit of Aloha Show (Polynesian Resort) featuring live performances of hula and fire dancers in an open air theater.  While our children loved the Polynesian-style foods, there is also a limited children's menu available.
Family fun abounds at Mickey's Backyard BBQ and the Hoop-Dee-Doo Musical Revue both held at Fort Wilderness Resort.  Mickey's BBQ offers all you can eat picnic fare from hamburgers, hot dogs, corn-on-the-cob and watermelon.  Offering a similar menu, the Revue features fried chicken, ribs and baked beans among its offerings.  Down home live entertainment is offered at both with Mickey's BBQ playing to a slightly younger audience.
With a buffet of dining options available at Walt Disney World Resort, with a little planning,  guests can have a taste of every dining experience.
 Photo Credits: WDW News,  flickr: Ashley- Pluto
Having been transplanted numerous times, I have learned to explore the sites around our new found hometown, uncovering hidden gems and attractions. When vacation time rolls around, I enjoy traveling with my family and the occasional weekend escape with my husband, coming home to share our travel experiences with others. You can follow me on Twitter @JAIngersoll. My top three destinations are Walt Disney World Resort, the Midwest and any beach I can walk along.