Experience four seasons of fun in America's Historic Triangle, where a year-round attraction pass and vacation package allows visitors to take part in engaging living-history programs along with special events and exhibitions. It's a chance for a fresh perspective on the stories of the nation's beginnings – the 1607 founding at Jamestown of the first permanent English colony, Revolutionary times in Williamsburg, and the securing of independence at Yorktown in 1781.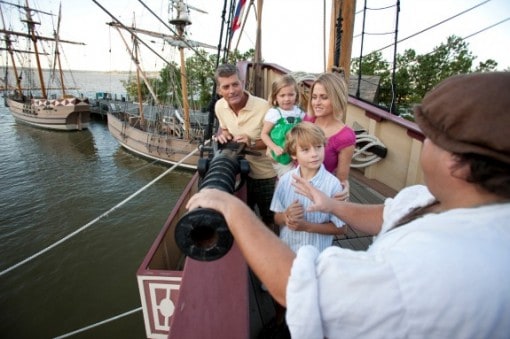 The America's Historic Triangle vacation package features unlimited admission to three premier living-history museums – Colonial Williamsburg, Jamestown Settlement and the Yorktown Victory Center – and two National Park sites – Historic Jamestowne and Yorktown Battlefield – and modern-day accommodations for up to seven days. Visitors can take a 23-mile journey along the scenic Colonial Parkway to reach all five historical attractions.
The America's Historic Triangle vacation package includes lodging at one of a variety of Williamsburg area accommodations and unlimited visits with free parking to all five attractions during the package stay for up to seven days. In 2013, packages start at $389 for two adults and two children, based on a double occupancy, with a minimum two-night stay. A separate America's Historic Triangle attraction admission ticket is available at $83.50 for adults (ages 16 and older) and $37.75 for children (ages 6-15).
Here's what you'll see and experience.
Historic Jamestowne, the site of America's first permanent English settlement, offers a wealth of family activities on the island.  Witness archaeology-in-action at the 1607 James Fort excavation, watch costumed glassblowers demonstrate one of America's first industries at the Glasshouse and visit the original 17th-century church tower.  Explore the Nathalie P. and Alan M. Voorhees Archaearium, an archaeology museum filled with unique artifacts from the Fort James site and tour the remains of New Towne, the historic town site dating from the 1620s. The Visitor Center offers exhibits, a multimedia presentation and a museum store.
Jamestown Settlement is a living-history museum of 17th-century Virginia. Expansive exhibition galleries and an introductory film, "1607: A Nation Takes Root," trace Jamestown's beginnings in England and the first century of the Virginia colony and describe the Powhatan Indian, English and west central African cultures that converged in 17th-century Virginia. Outdoors, historical interpreters depict 1600s life at re-creations of the colonists' fort, three 1607 ships and a Powhatan Indian village.
Guests to Colonial Williamsburg become part of the story as they explore family-friendly sights, sounds and tastes of the 18th-century capital of Virginia. In Colonial Williamsburg's Revolutionary City, reconstruction of the industrial site that helped forge the American Revolution is under way.  The highly acclaimed Revolutionary City program allows visitors to discover the birthplace of a nation where patriots ignited the cause for freedom and laid the groundwork for the creation of a new nation during this dramatic, outdoor street theater program. Guests also can enjoy historic trade demonstrations, dramatic vignettes, dine in an 18th-century taverns, and travel back in time in a carriage ride down Duke of Gloucester Street.
The Yorktown Victory Center chronicles America's struggle for independence from the beginnings of colonial unrest to the formation of a new nation.  A Declaration of Independence Gallery emphasizes the dramatic impact and relevance of this historic document and features a rare early broadside printing of the Declaration dating to July 1776, before a handwritten copy on parchment was signed by members of Congress. Exhibits also provide eyewitness accounts of the American Revolution and describe the convergence of forces on Yorktown in 1781 for the climactic military engagement of the Revolution. Outdoors, historical interpreters engage visitors in everyday life during the Revolutionary era. Visitors can learn about a soldier's life in a re-created Continental Army encampment and, on a re-created 1780s farm, help with chores such as weeding the garden and processing flax.
Photo credit:  via TravMedia
Mary Jo Manzanares is a founder and the editor-in-chief of The Traveler's Way, an online travel magazine proving informational and inspirational travel recommendations for curious Baby Boomer travelers. She has been a speaker at various industry events and has a personal travel blog at Traveling with MJ. When she's not traveling, Mary Jo likes lingering over a cup of coffee, wandering in a museum, sipping wine at a cafe, and sharing it all with friends and readers. Mary Jo's top travel destinations are Italy, Portugal, and the Caribbean.