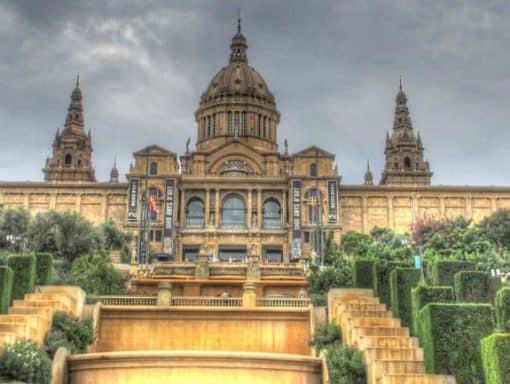 Housed within the Palau Nacional, a huge complex dating back to the 1920s, the National Museum of Art in Catalonia is known for its impressive collection of Romanesque church paintings along with Catalan art and design dating back to the late 19th century.
Organized by collections, you can wander the entire museum or pick a couple of your favorite styles. Collections include:
Romanesque Art – probably one of the most outstanding collections in the museum, in large part due to the collections of murals.
Gothic – grouped by theme, very dark and heavy.
Renaissance and Baroque Art Collection – the heart of Catalonia culture heritage.
Cambo Bequest – dedicated by politician and art patron, Francesc Cambo.
Thyssen Bornemisza Collection – predominantly religious themed paintings.
Modern Art Collection – from the early 19th century until WWII era.
Carmen Thyssen Bornemisza Collection – diversity in art from the mid-19th through the mid-20th century.
Drawings and Prints – drawings, engravings, and posters.
Numismatic Collection – coins and medallions.
Photo credit:  Courtesy of Mary Jo Manzanares