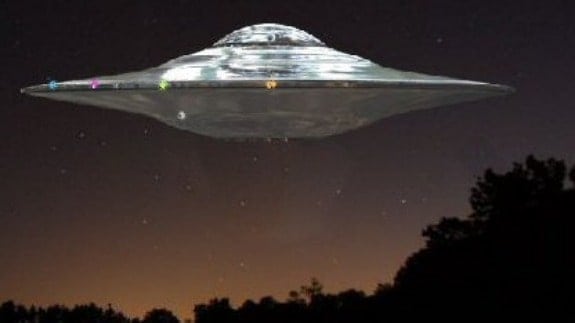 Dubbed the UFO Capital of the UK, some also claim that Bonnybridge in Scotland is the main UFO hotspot of the world. Since 1992, Bonnybridge has been home to a large number of UFO sightings and UFO believers call it "the Falkirk Triangle". This small town of just 6,000 people near Edinburgh has seen its fair share of Aliens – at least half the town residents report to have seen them at one time or another. For example the Slogett family report seeing blue lights in the sky as they walked home one evening and even saw a flying saucer the size of a house fly past their heads.
One of the most well witnessed sightings happened in the late 1980's when members of a fire crew were among the witnesses to see a hovering object that rushed towards startled onlookers before veering off at the last minute.
Five years later a film lasting almost twenty seconds was taken which shows a white light that was seen to keep pace with a moving car. Six people witnessed this encounter and the white light is seen to emit a smaller light from within.
Sightings didn't stop there however, in just two years in the early 1990's there were over six hundred UFO sightings reported by the residents of this relatively small area of Scotland. During a five year period in the mid-nineties a member of Falkirk Council wrote letters to the serving Prime Ministers of the UK – Tony Blair and John Major. After receiving what he considered a less than satisfactory response from the Ministry of Defence the councilor wrote again to Tony Blair making a promise that he would not give up on his search for answers and the truth.
Currently the area averages 300 UFO sightings every year and this backs up the claims that it is one of the hottest spots for UFOlogists in the UK and the world. Although Bonnybridge is a small area, there are plenty of places to stay in the surrounding areas and due to the number of sightings you should find it easy enough to find a local who has a story to tell.
Some enthusiasts claim that Bonnybridge has links to the Stone of Destiny which is purported to be the pillow of Jacob from where he had the vision of "Jacob's ladder" where the angels were ascending and descending from heaven. Many UFOlogists make links between aliens and the Stone of Destiny and state that Bonnybridge is further evidence of this.
Bonnybridge is equal distance from both Glasgow and Edinburgh airports – circa 30 miles from each – so is relatively easy to get to for visitors. TIME Magazine rated Bonnybridge one of the top UFO hotspots in the world along with Warminster in Wiltshire, Wycliffe Well in Australia, Chile's UFO trail, Mexico City and Stephenville Texas. Skeptics of Bonnybridge being a hub of Alien activity say that it is a grand scheme by Billy Buchanan to grow the economy of the town. Either way, why not visit Bonnybridge and see for yourself if the Falkirk Triangle really is hiding some spooky secrets in the skies.
Author Bio:  This guest post is from Sevy of One Small Town Girl. Fancy reading more about Aliens? Read her blog post about Alien activity in USA's Area 51.
Photo credit:  Interdimensional Guardians via flickr (CC)
The Travelers Way occasionally accepts guest posts from fellow travel bloggers, friends within the travel industry, and as advertorial content.