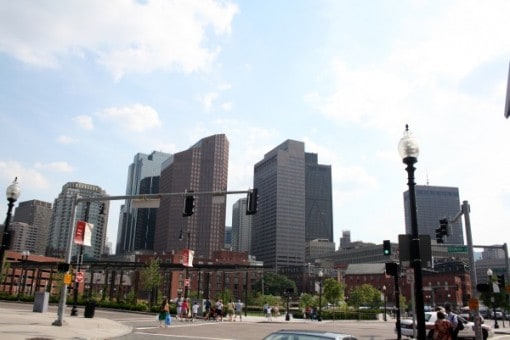 Boston's Big Dig is more than just a construction project, although one that may seem like it will never be completed.  The Big Dig is also the story of the transformation of a city, with a lot of politics and corruption thrown in for good measure.
Context Travel has launched a new walking tour of the Big Dig, led by architectural historians, that traces one of the largest urban engineering project ever undertaken.  The rightfully named Big Dig, has transformed downtown Boston from a rather unsavory area into an amazing city center.
The Big Dig Walk starts at Fanueil Hall, with a brief explanation on the architectural and urban beginnings of Boston.  Using archival maps, docents trace the development of the city, moving through downtown Boston and out into the green way where the expressway once stood.  Now you'll find a lovely linear park that meanders through the city, a pleasant change for the concrete world it used to me.  As you view windowless facades to old wharves, and eventually the exciting new landscape, you'll learn about the twenty-year process of the Big Dig and the engineering, architectural, and political struggles that went right along with it.
The tour is limited to 6 participants, and s offered as a group walk daily.  Private tours are available upon request.  Price is $65/person for group walks, and $300 per group for private walks.
If the Big Dig walking tour doesn't excite you, there's plenty to see in Boston on foot, whether you opt for an organized walking tour or just head off on your own.  If you have a favorite Boston walking spot, please let us and our readers know about it in the comments.
Photo credit: Jeramey Jannene via flickr
Mary Jo Manzanares is a founder and the editor-in-chief of The Traveler's Way, an online travel magazine proving informational and inspirational travel recommendations for curious Baby Boomer travelers. She has been a speaker at various industry events and has a personal travel blog at Traveling with MJ. When she's not traveling, Mary Jo likes lingering over a cup of coffee, wandering in a museum, sipping wine at a cafe, and sharing it all with friends and readers. Mary Jo's top travel destinations are Italy, Portugal, and the Caribbean.