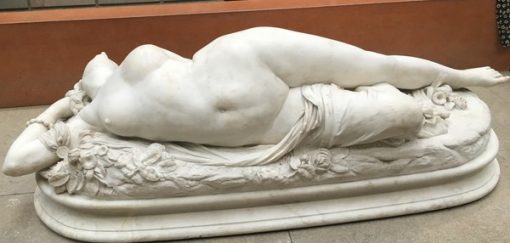 I am not typically a tour kind of traveler. Oh sure, when I'm in a new city I like taking a general city tour to get the lay of the land for later independent exploration, and I do enjoy a short themed day tour. But cramming myself on a bus with a bunch of other people for day after day of touring? No thanks. I know it's a great option for lots of people, but it seems like it would stifle my inner free spirit.
BUT – this four-day tour titled Shady Ladies of Paris caught my eye as something that I would love. The tour, organized by Shady Ladies Tour, focuses on [easyazon_link identifier="B01M15AAH9″ locale="US" tag="thetravelersway-20″]Parisian art[/easyazon_link], architecture, and culture as it celebrates the seductive women who rose to the top of French society, from royal mistresses like [easyazon_link identifier="0802140351″ locale="US" tag="thetravelersway-20″]Madame de Pompadour[/easyazon_link] and [easyazon_link identifier="B007WKZLOQ" locale="US" tag="thetravelersway-20″]Madame du Barry[/easyazon_link] to courtesans like the [easyazon_link identifier="1544122543″ locale="US" tag="thetravelersway-20″]Lady of the Camellias[/easyazon_link].  It takes travelers to sights and museums across [easyazon_link identifier="1631214470″ locale="US" tag="thetravelersway-20″]Paris[/easyazon_link] and the [easyazon_link identifier="1465427090″ locale="US" tag="thetravelersway-20″]Loire Valley[/easyazon_link] to reveal the lives of the many shady ladies of Paris. Guided by Professor Andrew Lear, world-renowned scholar of sexuality and art, Shady Ladies of Paris introduces tour-goers to the powerful women of France from the [easyazon_link identifier="1851097724″ locale="US" tag="thetravelersway-20″]Renaissance[/easyazon_link] through the [easyazon_link identifier="1442209275″ locale="US" tag="thetravelersway-20″]Belle Epoque[/easyazon_link].
A few highlights of the tour itinerary:
A Shady Ladies tour of the [easyazon_link identifier="1556700997″ locale="US" tag="thetravelersway-20″]Musée D'Orsay[/easyazon_link] (modeled on Professor Lear's well-known Shady Ladies tour of the [easyazon_link identifier="0847846598″ locale="US" tag="thetravelersway-20″]Metropolitan Museum of Art[/easyazon_link]) where you'll learn the stories behind artworks like Clesinger's "Woman Bitten by a Serpent" and Cézanne's "A Modern Olympia."
A visit to some of Paris' lesser-known treasures, such as Maxim's Art Nouveau Museum, which houses designer Pierre Cardin's collection of 19th century antiques, arranged as a courtesan's apartment.
An exclusive tour of the spectacular mansion of La Paiva, one of the most famous courtesans of Belle Epoque Paris. The house—now the only remaining private mansion on the Champs Elysées – is today one of Paris' most elegant private clubs.
An excursion to the beautiful Loire Valley to visit "the castle of the women," Chenonceaux, the best-preserved and one of the most interesting of the valley's castles.
The tour is offered July 20-24, 2017 and includes accommodations at the Hotel Edouard VII, all transportation inside France, the services of professional tour guides, all museum and attraction admission fees, all breakfasts, two lunches, and two dinners. The hotel and all the restaurants were chosen not only for their excellent reputation but also for their relevance to the shady ladies theme. The tour is priced at $2,450 per person based on double occupancy. Airfare to Paris, personal expenses, and gratuities are not included.
I think the tour would make a great girlfriend's getaway, but would also be a fun add-on to a longer stay in Paris or France. It's a little bit naughty, a little bit nice, but sounds like a lot of fun.
For Pinterest: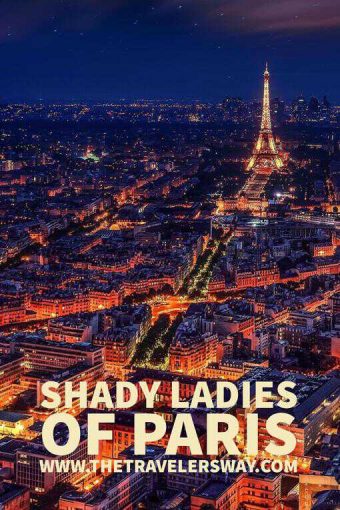 Disclosure:  This post contains affiliate links. Clicking through for additional information or to make a purchase may result in a small commission being paid. By doing so, you help support this site and its authors, and we thank you.
Mary Jo Manzanares is a founder and the editor-in-chief of The Traveler's Way, an online travel magazine proving informational and inspirational travel recommendations for curious Baby Boomer travelers. She has been a speaker at various industry events and has a personal travel blog at Traveling with MJ. When she's not traveling, Mary Jo likes lingering over a cup of coffee, wandering in a museum, sipping wine at a cafe, and sharing it all with friends and readers. Mary Jo's top travel destinations are Italy, Portugal, and the Caribbean.