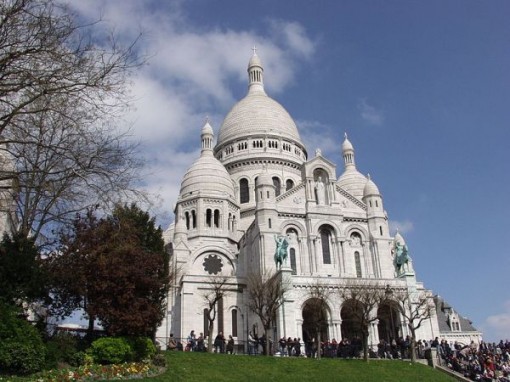 One of the most dramatic views of Paris is that from butte Montmartre at the Basilica of the Sacred Heart, better known as Sacre Coeur. Montmartre is a bit quieter and less crowded than other areas of the city, particularly on a weekday. Don't mistake the more relaxed atmosphere with a lack of energy—Montmartre has its own energy, more focused on the business of everyday living than catering to tourists. As you walk the streets you will pass card and dice games being played on stacks of empty crates in the middle of the street; when the occasional car or truck turns down the street, crates are quickly swept up and moved to the sidewalk. Neighbors visit with one another as tourists wander the streets, browsing an eclectic assortment of shops that line the streets – a mix of textile shops, stores full of trinkets and souvenirs, fabric shops, and cafes.
About the Basilica
423 feet above sea level, Sacre Coeur sits atop the hill (or butte) known as Montmartre, from which the surrounding 18th arrondissement takes its name. Montemarte means "mount of martyrs," called such because it is where Saint Denis, the first Bishop of Paris, was martyred. It was in this same location in 1534 that Saint Ignatius of Loyola and Saint François-Xavier founded the Society of Jesuits. Sacre Coeur is a significant location for many of the most famous names in historical Catholicism: Saint Germain, Saint Bernard, Saint Clotilde, Saint Jean d'Arc (Joan of Arc) and Saint Vincent de Paul. In 1871 building the basilica was proposed as an offering of penitence and reparation from France to the Prussians, after their 1870 defeat in the Franco-Prussian War. In 1875 the basilica's foundation was laid and construction continued on for 39 years, but before the building could be consecrated World War I broke out and lasted until 1918; Sacre Coeur was finally consecrated on October 16, 1919.
Did you Know?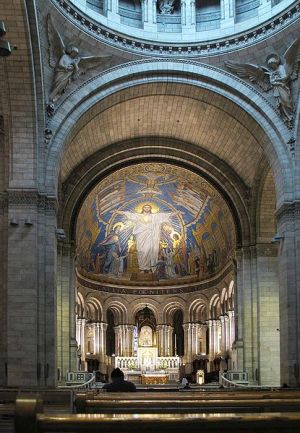 Sacre Coeur is significant in any number of ways: historical, religious, artistic, architectural and musical.
The basilica is built in a Romanesque-Byzantine style. This contrasts with the Gothic style of medieval churches, such as Notre Dame. Sacre Coeur is constructed of a type of limestone called Travertine.
The original architect for Sacre Coeur basilica was Paul Abadie. It took six successive architects to complete the building over the life of the project.
The interior dimensions of the basilica are 279 feet wide by 155 feet long. The basilica's Dome is 272 feet high, and the Cupola is 180 feet high and 52 feet wide.
Stained glass windows were installed between 1903-1920, but they were destroyed by bombing in 1944; the windows were restored in 1946.
The Sacré Coeur organ is by the famous 19th century organ builder Aristide Cavaillé-Coll.
From the dome visitors can see a panorama stretching for over 30 miles. Dome visitors are 656 feet above sea level; this is the highest point in Paris next to the Eiffel Tower.
The "Christ in Majesty" mosaic, located in the apse (the domed recess above the altar) was designed by Luc-Olivier Merson in 1922, and it is one of the largest in the world. "Christ in Majesty" depicts the Sacred Heart worshipped by the Virgin Mary, Jean d'Arc and St. Michael the Archangel. The mosaic itself is a bright spot of golden light that creates a dramatic counterpoint to the basilica's dark interior.
Celebrating Mass and Perpetual Adoration
Religious travelers flock to Sacre Coeur for the Perpetual Adoration of the Blessed Sacrament. The Blessed Sacrament consists of bread and water which have been consecrated (blessed) during Mass; these have been continuously on display in the basilica since 1885.
Visitors may also celebrate Daily Mass with the Sacrament of the Eucharist. Monday through Thursday masses are held 11:15 a.m., 6:30 p.m. and 10 p.m.; Vespers (spiritual singing) are at 6 p.m. On Fridays mass is at 3 p.m. and includes Adoration and Eucharistic procession. On Saturday Vespers are at 6 p.m. followed by Vigils, and a Sunday evening mass is celebrated at 10 p.m. On Sunday there is a full day of worship starting with Lauds at 8 a.m., Mass at 11 a.m., Vespers and Benediction at 4 p.m., another Mass at 6 p.m., Complines (peaceful meditation and contemplation) at 9:30 p.m. and a final Mass at 10 p.m.
The Sacrament of Reconciliation (confession) is also offered daily at Sacre Coeur. Visitors wishing to make a confession may do so from 9 a.m. to 12:45 p.m., 12:30 p.m. to 6 p.m., and from 8:30 p.m. to 10 p.m.
Visiting Sacre Coeur: Things to Know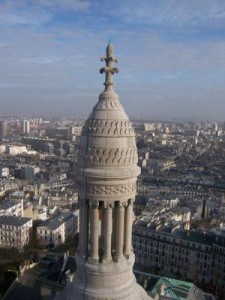 Visiting religious attractions in particular often means special rules. Keep the following in mind when visiting Sacre Coeur:
Visitors must be properly dressed. Men must remove their  hats when they enter the basilica, and this will be enforced. Women should dress modestly.
Absolutely no photography or video are allowed.
Turn your cell phone off, or put it on silent mode.
If you are using the Paris Metro you can access Montmartre and the basilica via stations Abessess (line 12) or Anvers (line 2).
Sacré Coeur is on a very steep hill. A cable car runs from the base of the church grounds to the top for those physically unable to make the climb. There is an additional fee. (Note: Paris Metro pass and ticket holders include the fare price.)
Buskers (street performers) crowd the walkways leading up the hill to the basilica. These performers are persistent and aggressive. Ignore them and refuse to answer questions or engage them in any way. I have a €10 string bracelet that proves I don't always listen to my own advice! Just keep walking, trust me.
Be mindful of pickpockets. Keep important personal documents and money zipped inside a coat pocket rather than an exterior or back pants pocket. Watch for groups of two or three who might work as a team: teams will have one or two of them working to distract you while another goes for your valuables.
Photo credits: Robert Breuer (basilica exterior); Matthew Clemente (mosaic); Cyberjunkie (dome).
Christina loves travel writing, and she has a particular interest in writing about adventure travel, food and drink. In addition to writing Christina works as a social media manager and consultant, helping people tell their stories online. In her spare time Christina enjoys reading, yoga, and spending time outdoors. Christina lives in Houston with her husband Josh and their dog, Sandy. You can follow her on Twitter @snowcones. Her top three travel spots are Alaska, Paris, and Western Canada.