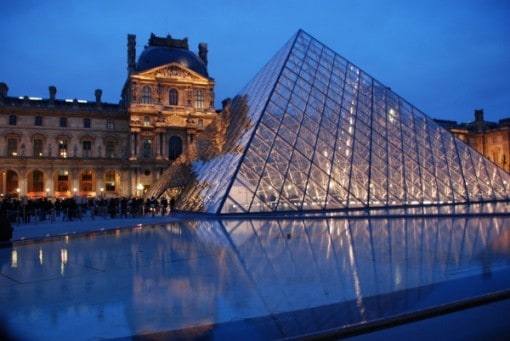 A trip to Paris, particularly for first-time visitors, must include a trip to the Louvre. Yes, the Louvre is enormous, and even if you put in a full day you won't be able to see everything, but it is The Louvre. Each step you take brings you past yet another spectacular masterpiece, and you will see paintings and sculptures and think, "I saw that in an art history textbook and now here it is!"
Before my first trip to Paris every person who had been before me offered me the same piece of advice: "The Louvre is a marathon, not a sprint. See what you can, but you can't see everything!" And of course, they were right, but that doesn't mean you shouldn't try! Whether you spend half a day at the Louvre or two days, I have a few suggestions that will make your tour of this most famous museum more pleasant. With over 35,000 works of art by artists like Michelangelo, Raphael, da Vinci and Delacroix, it's important to have a plan for seeing the museum.
When cold and wet weather hit Paris, going inside for entertainment is a real treat – museums are a great option on what to do on a winter afternoon in Paris.
The Louvre: A Short History
In 1190 Paris was the largest city in Europe. In that year, King Phillipe-Auguste (1180-1223) made the decision to protect the city with a fortress; this fortress eventually became known as "The Louvre." The Louvre, then, did not originate as a palace residence but as a city fortress. In the 14th century King Charles V was inspired to renovate The Louvre and turn it into a palace; it was not until the French Revolution that The Louvre became a permanent museum.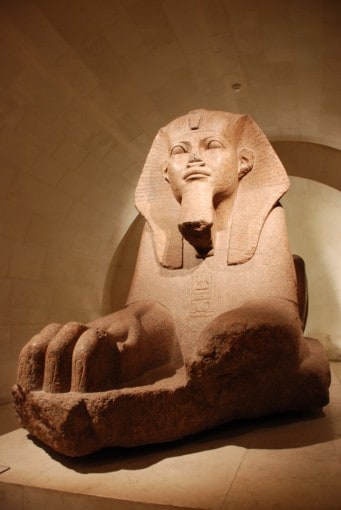 Tips and Suggestions for Visiting The Louvre
A little research and planning will go a long way in making your Louvre experience enjoyable. My friends were right – you can't do it all in one day. But what if you only have one day? I recommend visiting on a Wednesday or a Friday, when the museum has extended hours. A day ticket includes readmission, so you can leave and have lunch or a café au lait, or even go back to your hotel and take a nap. If you have more than one day free to visit the Louvre, breaking up your trip into two days might make for a more relaxing, leisurely pace.
Spend some time outside! The building itself is spectacular, and the exterior walls offer many photographic opportunities. The same goes for the gardens of the Carrousel and Tuileries, where you can rest and relax, write, sketch, or have a picnic.
The Louvre is absolutely huge, so wear comfortable shoes! And while we're on the subject of attire, consider bringing a sweater or wrap, especially if you are going to check your coat. I had a pashmina that came in very handy in some of the colder exhibit halls.
Finally, don't forget your camera! The Louvre allows non-flash photography, so don't leave the camera in your hotel room. Learn how to shoot with no flash, or check your point-and-shoot for a museum setting.
Location
The Louvre is located in Paris's 1st arrondissement, or district. The city itself is relatively small, and quite walkable, particularly when the weather is pleasant. If you are staying more than a 10 or 15 minute walk from the Louvre, however, do keep the train in mind; after a full day in the museum your legs will be tired and you may not be in the mood to walk. The Metro is easy to use, with color-coded and numbered lines – the maps are very easy to read. Two stops offer access to the Louvre: the Palais Royale-Musee du Louvre and the Louvre-Rivoli stations.
Tickets for the Metro can be purchased from electronic kiosks in each station that resemble ATM machines. You can purchase multiple tickets, you can purchase a weekly (6 day) pass.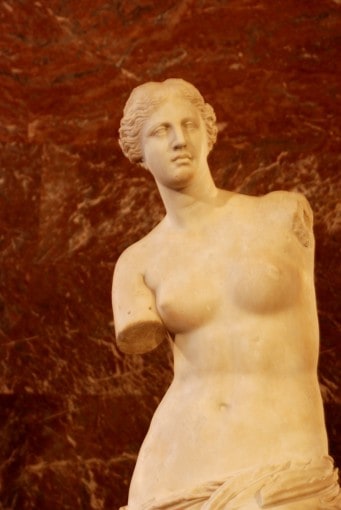 Logistics
Start by deciding what day you want to visit the museum. Note: The Louvre is closed on Tuesdays. The Louvre is open every other day of the week, and is closed on various holidays: Christmas Day (December 25), New Year's Day (January 1), and Labor Day (May 1). The museum closes at 5 p.m. on both Christmas Eve (December 24) and New Year's Eve (December 31).
Hours: Monday, Thursday, Saturday, Sunday: 9 a.m.-6 p.m.; Wednesday & Friday 9 a.m.-10 p.m.
Entrance Information:  There are several entrances, each with their own admission hours. You can access the Permanent Collection via: Pyramid and Galerie du Carrousel entrances (9 a.m. to 10 p.m.); Passage Richelieu entrance (9 a.m. to 6 p.m.); Porte des Lions entrance (9 a.m. to 5:30 p.m.), except Friday.
I also recommend you bookmark the Louvre Schedule of Room Closures and consult the page before you visit.  It can save you from being disappointed if your must-see exhibit is closed.
Admission
Enjoy free admission to The Louvre on the first Sunday of every month. Admission fees for the rest of the month are listed below:
Permanent Collection: Also valid for the Musée Eugene Delacroix. This price excludes temporary exhibits in the Hall Napoléon: Full day €9.5, Wednesday & Friday 6 p.m. – 9:45 p.m. €6.
Special Exhibits in Hall Napoléon: €11. The open/free admission on the first Sunday of the month does not include these special exhibits.
Combined Ticket (Permanent & Hall Napoléon): €14 allows you to visit the permanent collections and temporary exhibitions in both the Louvre and the Musée Eugène Delacroix. €11 on Wednesdays and Fridays from 6 p.m. to 9:45 p.m. for access to the permanent collections and temporary exhibitions in the Louvre.
You can purchase admission tickets for The Louvre online, as well as shop in their online gift store.
If you plan on visiting several museums, or if you want to visit the Louvre several times, Paris offers a Museum Pass with 2-day, 4-day and 6-day options; prices range from €32 to €64.
Photo credits:  From the personal collection of Christina Uticone and Joshua Payne.
Christina loves travel writing, and she has a particular interest in writing about adventure travel, food and drink. In addition to writing Christina works as a social media manager and consultant, helping people tell their stories online. In her spare time Christina enjoys reading, yoga, and spending time outdoors. Christina lives in Houston with her husband Josh and their dog, Sandy. You can follow her on Twitter @snowcones. Her top three travel spots are Alaska, Paris, and Western Canada.