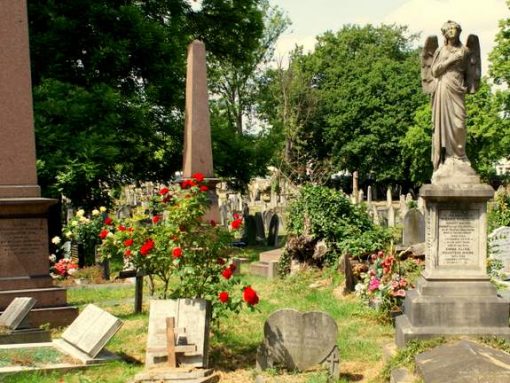 With over 65,000 graves spread across 72 acres (29 hectares) Kensal Green is one of London's most impressive cemeteries. This garden style cemetery once boasted its own conservatory, and even today includes a section where gardeners maintain a separate rose bush for each plot. Visitors can easily spend an afternoon wandering through its heavily wooded grounds, searching out photogenic monuments and graves of famous people.
Magnificent Seven
Founded in 1832, Kensal Green is the oldest of the "Magnificent Seven," a group of Victorian cemeteries located in London's outskirts. These were the first for-profit graveyards permitted in the city, and were encouraged because London's public cemeteries had run out of room.
Unlike the others, Kensal Green has remained under the same management since its inception, and this won't be changing any time soon. Cremations and funerals still occur here each day, and the city has decreed that even when they run out of plots, Kensal Green shall remain open to the public as a memorial park.
Catacomb Tours
At the center of the grounds, you will find the Anglican Chapel, beneath which lies one of the only catacombs in London. The catacombs are not open to the public, except on certain Sunday afternoons, when visitors can partake in a guided tour of the grounds and catacombs. These tours are led by volunteers from the Friends of Kensal Green, a non-profit group dedicated to the cemetery's preservation and history.
Tours of Kensal Green last roughly two hours, and in typical British style, end with tea and biscuits. Each tour guide has their own area of expertise, so no two presentations are the same. These tours start promptly, so if you plan on taking one, give yourself an extra 15 minutes to walk from the entrance to the Anglican Chapel, where the tours begin. To get the best look around the catacombs, bring your own flashlight (or torch, as the Brits say) because the passages are rather dimly lit. Also, please note that kids under 12 are not allowed in the catacombs.
With advance notice, the Friends of Kensal Green can arrange specialized tours for any day of the week, covering such topics as: Charles Dickens, WWI veterans, artists, circus people, 19th century authors, and more. Basically, if you have an area of interest let them know, and they will tailor a tour of the grounds for your group.
Whether or not you opt for a guided tour, wear a good pair of walking shoes to Kensal Green, and use caution when venturing off the road. The main paths are made of packed stone and gravel, and can be uneven in places.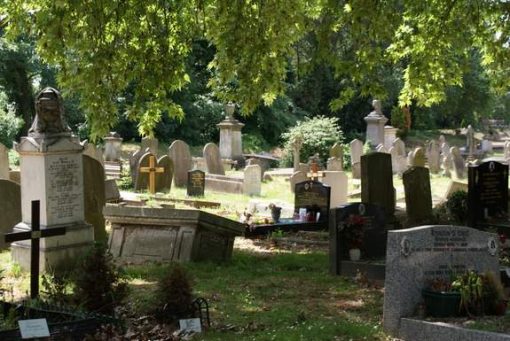 Famous Graves and Unique Monuments
There are over 500 members of British nobility, as well as 550 people from Britain's Dictionary of National Biography laid to rest in Kensal Green. Also, while their ashes were scattered elsewhere, both Freddy Mercury (singer for the band "Queen") and Ingmar Bergman were cremated here.
Some of the most famous people interred at Kensal Green include:
Charles Babbage (1791-1871) a mathemetician often referred to as the "father of modern computing."
William Makepeace Thackeray (1811-1863) an English novelist best known for penning Vanity Fair.
Marigold Frances Churchill (1818-1821) the daughter of Winston Churchill and his wife, Lady Clementine.
Harold Pinter (1930-2008) This Nobel Prize-winning author is known for his play, "The Birthday Party," and his screenplay for "The French Lieutenant's Woman," among many other works.
Some particularly interesting monuments to keep your eye out for include:
Louis de la Bourdonnais (1795-1840) This famous chess master's headstone is engraved with a depiction of a knight chess piece, appropriately enough
Henry Russel (1812-1900) This composer's monument includes a large stone chair where you can sit and contemplate, or perhaps, pose for a photo.
Anglicans versus Dissenters: Originally, Kensal Green had separate sections for those who followed the Church of England (Anglicans) and those who did not (Dissenters.) These days, architecture buffs can easily tell one from another, since Anglican monuments use Doric design, while Dissenters sport the Ionic style of neo-classical design.
Wildlife Viewing
Nature lovers will want to bring bird books and binoculars since Kensal Green is a peaceful retreat for many species of plants and animals. It's common to see (and hear) a wide variety of birds during your visit and perhaps even spy a fox.
Location: Kensal Green cemetery is easily reached by taking the London Underground. Simply take the Bakerloo Line to Kensal Green station. From there, it's a short walk to the gate. If you're staying at one the Mayfair hotels, your concierge will be able to help you with directions.
Summer Hours: April 1st – September 30th
Monday – Saturday: 9:00 a.m. – 6:00 p.m.
Sundays: 10:00 a.m. – 6:00 p.m.
British National Holidays: 10:00 a.m. – 1:00 p.m.
Winter Hours: October 1st – March 31st
Monday – Saturday: 9:00 a.m. – 5:00 p.m.
Sundays: 10:00 a.m. – 5:00 p.m.
British National Holidays: 10:00 a.m. – 1:00 p.m.
Admission: It's free to wander on your own. For tours, the suggested donation is £7 each, plus an additional £5 for the concessions afterwards.
Tour information: Tours of the cemetery are offered every Sunday from March to October, and the first and third Sundays of each month from November to February. Tours begin at the Anglican Chapel, and last from 2:00 – 4:00 p.m.
Photo credits: Courtesy of author

Tui Snider is passionate about exploring the world, and loves sharing what she finds at home and beyond in her travel writing and photos. You can find her online at Discovering-Dallas-Fort-Worth.com, mentalmosaic.com/blog and on Twitter @mentalmosaic. Her top three travel destinations are Italy, London and anywhere a cruise ship will take her.