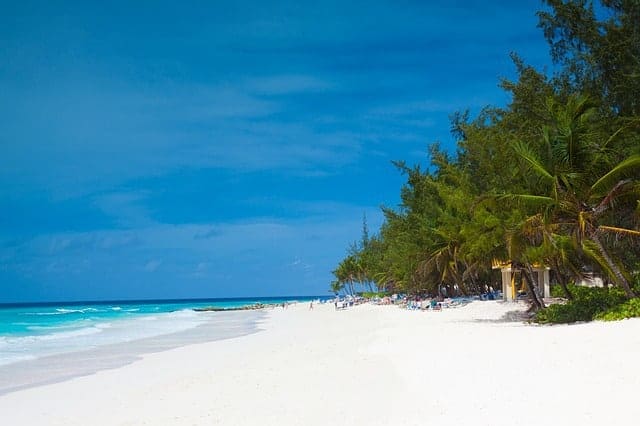 Deep in the [amazon_textlink asin='1101879998′ text='Caribbean' template='ProductLink' store='thetravelersway-20′ marketplace='US' link_id='62abc8ef-a912-11e7-9a33-33c93e938de0′], the island of [amazon_textlink asin='B01N9GDBC8′ text='Barbados' template='ProductLink' store='thetravelersway-20′ marketplace='US' link_id='6ec83738-a912-11e7-9eed-21fc2e192e7b'] makes a wonderful spot for your next beach vacation. Barbados is an independent nation, but since it functions as a constitutional monarchy recognizing Queen Elizabeth II as head of state, it's a quirky blend of casual island atmosphere tempered with a bit of good old British formality.
Here are 10 reasons to visit Barbados for your next beach vacation:
It's a small island, only about 14 by 21 miles, with over 70 miles of powdery, white sand beaches. You'll find plenty of great spots to pull up a lounge chair and spend some quality time whether you stick to your own beach or head out to explore.
Sun year round. Over 3,000 hours of sunshine a year. And that means year-round warm temperatures of about 80-85 degrees. What's not to like about that?!
Tax-free shopping in chic boutiques, modern department stores, and trendy shops means you can shop for some of those luxury items you're dreaming about.
Warm water. Perfect temperatures for enjoying water activities like swimming with the turtles, snorkeling, or a boat ride. Try a new watersport, or stick with your favorite, I'm betting you'll spend a lot of time in this water.
Delicious food. With strong influences from around the world, Barbados gives a special twist to Caribbean cuisine. Try the savory salt bread rolls, perfect for grabbing a sandwich on the go.
Great beverages. Barbados may not have invented rum, but one taste of the famous Mount Gay rum and you'll think that they did. You'll find lots of refreshing rum drinks offered around the island. Try a rum punch.
Favorable exchange rate. The practical side of me always looks for good value, and $1 US equals $2 BDS.
A moderately high standard of living. You'll find the expected modern amenities on the island, including wi-fi, modern hotels and resorts, shopping, dining, and more. It's comfortably different, yet comfortingly the same.,
English is the primary language. While I think navigating an unknown language and culture is a wonderful experience, it can be taxing. In Barbados, you'll find English spoken everywhere, with a charming British-island accent.
History and culture. Continuously under British rule until its independence in 1966, Barbados still has a strong British flavor to it. Besides, this is the only place outside of the U.S. that George Washington ever visited. If it's good enough for George, it's good enough for me!
If you want to visit Barbados and check out accommodations, you'll find great reviews here.
Why do you want to visit Barbados?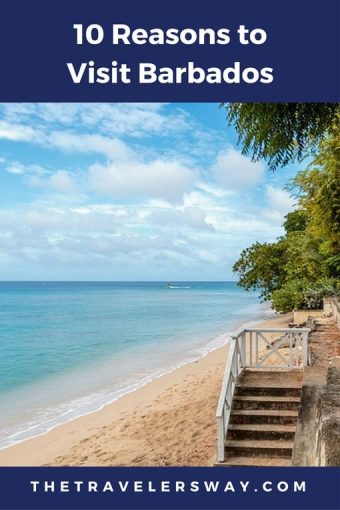 Disclosure:  This post contains affiliate links. If you click through for more information or to make a purchase, it may result in a small commission coming our way. This helps support this site and we thank you.
Anthony has found travel provides a healthy balance to his day job as a criminal defense attorney. Living on the periphery of blogging for years, he's now decided to flex his creative muscles with a little writing and photography of his own. Anthony's favorite travel destinations are the Caribbean, Italy, and Ireland.