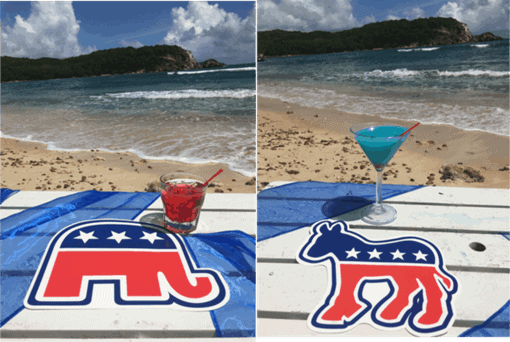 In just another week, this political madness will – hopefully – all be a not-so-fond memory. Till then, my hat is off to those businesses trying to put a positive political spin on our travel efforts.
Bolongo Bay Beach Resort in the U.S Virgin Islands is letting their constituents (also known as guests) vote with their taste buds. What's notable about these efforts – besides the extensive menu items – is that citizens of the U.S. Virgin Islands, a U.S. territory, don't have the right to vote in the Presidential election. Citizen vote for local government officials, and a representative to congress.
Available now through Election Day, this special menu lets guests rally for their favorite affiliation, the Cocktail Party. Bolongo Bay will host an Election Night Party on November 8, 2016, featuring all-American food, Presidente beer buckets, live music, and its widescreen televisions tuned in for results. Once the president-elect is announced, Bolongo Bay will continue to serve his or her "namesake" beverage through Inauguration Day, January 20, 2017
Take a look at this creative 2016 Presidential Campaign Cocktail Menu:
Trumpical Punch: This swirl of controversy mixes up USVI strawberry and raspberry rum, topped with a comb over of cranberry juice. Served on the rocks, it's going to be "huuuuge" and "make America great again."
Chillary: Coconut rum, blue curacao, splash of pineapple juice and coconut cream become "stronger together" when shaken. Unlike 33,000 emails, this is served uncharacteristically straight-up.
Rum for the Border: Can't handle the craziness? Start a new life with this mix of coconut, pineapple, citrus and banana rums and fruit punch for the win.
Screw'd Either Way: If the final two candidates lack "ap-peel" let this mix of orange vodka, orange juice and a splash of Sprite drown the sorrows. Served on the rocks…with a chaser of "hard place."
Server Dilemma: The secret is out…banana liquor, blackberry brandy and pineapple juice with a splash of grenadine. Served on the rocks, it can only be ordered through Iggies private email server.
Under Audit: The ingredients are under audit. Happens every year. Surely everyone understands. While this information is classified, Bolongo Bay is willing to release them, but only to guests who visit.
Family owned since 1974, Bolongo Bay Beach Resort on St. Thomas is a flip-flop casual, fun resort where everyone knows your name. With 64 true beachfront rooms and 10 value rooms for the more budget minded traveler, Bolongo is recognized as one of the 5 Best Resorts on St. Thomas by Caribbean Journal. Activities include complimentary non-motorized water sports, scuba diving, catamaran sails, two oceanfront restaurants and nightly entertainment at Iggies, one of the Caribbean's best beach bars.
Daily rates begin as low as $175/night for a Value Room and $210 for an Ocean View Room. All inclusive rates beging at $412 and $461. 25 respectively. Taxes, surcharges, and service charge are additional. Rates are based on double occupancy and a three night minimum stay.
Located in the U.S. Virgin Islands, American citizens do not need a passport to visit.
For reviews and booking information click here (affiliate link).
For Pinterest: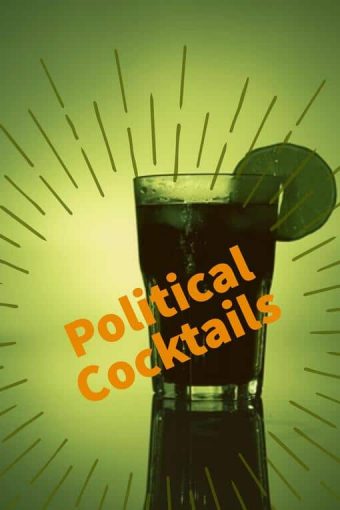 Mary Jo Manzanares is a founder and the editor-in-chief of The Traveler's Way, an online travel magazine proving informational and inspirational travel recommendations for curious Baby Boomer travelers. She has been a speaker at various industry events and has a personal travel blog at Traveling with MJ. When she's not traveling, Mary Jo likes lingering over a cup of coffee, wandering in a museum, sipping wine at a cafe, and sharing it all with friends and readers. Mary Jo's top travel destinations are Italy, Portugal, and the Caribbean.