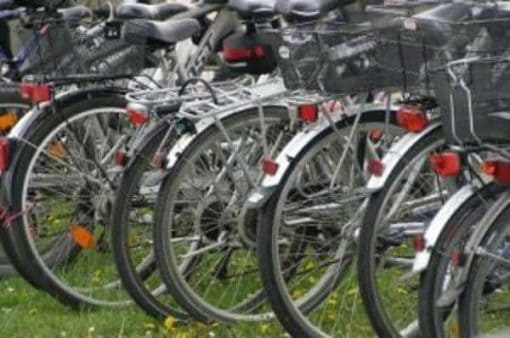 Exploring a city on a bike is a great way to cover some serious ground. Not all cities are very bike friendly, but one European city where you can safely pedal around is Dublin. Known for being a small, manageable city on foot, you can cover even more ground on two wheels. Besides quickly getting from one destination to the next, one of my favorite reasons for renting a bike during a trip to the Irish capital is to experience the beautiful scenery within Dublin that most visitors miss.
Renting a bike in Dublin is simple with a bike share program called Dublin Bikes. There are over 40 locations for bike rentals within the city center, and all you need is a major credit card to secure your rental. No reservations are required, and the rental itself is incredibly cheap (although if you don't return the bike to a designated stand, expect to be hit with the cost of the bike). With so many city center locations of Dublin Bikes (or called db for short) you can easily rent a bike near your hotel and be pedaling for a park or the coastline in no time.
Before you climb aboard the bike there are a few things to keep in mind. When it comes to any adventure activity, you want to make sure you have your insurance in order (you may want to check out InsureandGo). Also, Dublin Bikes only provides the bike – not any protective gear. If you're interested in a helmet or other protective equipment, check with your hotel for daily rentals. Also, you will want to familiarize yourself with the traffic patterns in Dublin. Remember, they drive on the opposite side of the road, so when crossing streets, you need to look in the direction that might be counter intuitive to you.
Once you have your bike rented, I have two top suggestions for destinations. On the north side of the River Liffey you will find the largest city park in Europe, Phoenix Park. Here wild deer roam freely and you can catch a glimpse as to why Ireland is nicknamed the Emerald Isle. There are acres and acres to explore here (1,750 in total to be exact) so you might want to bring along a picnic and consult a map before you begin your journey.
Many visitors to Dublin don't know that this is actually a coastal city. One of my favorite places in all of Dublin is called the Sandymount Strand. You can reach this stretch of beach with a quick 15-minute bike ride outside of city center, and then the expanse of Dublin Bay will be spread in front of you. There is a paved path that leads away from the beach at Sandymount Strand out towards a picturesque little lighthouse. There is almost no more serene destination in all of Dublin than this stretch of coastline.
Once you have two wheels at your disposal, you will get to see much more of Dublin than the average visitor.
The Details:
Dublin Bikes: A 3-day ticket can be purchased for two euros. The first half hour of the bike rental is free; after that you will pay a small hourly rental fee.
Phoenix Park: The main entrance to Phoenix Park is located on the north side of the River Liffey. Address: Parkgate Street, Dublin 7.
Sandymount Strand: Located on the south side of Dublin, approximately 15 minutes by bike outside of city center, is Sandymount Strand. Address: Strand Road, Sandymount, Dublin 4.
Photo Credit:  SXC
Note:  This post was sponsored by Insure and Go; the opinions expressed are those of the author.

Jessica Colley is a freelance travel and food writer based in New York City. She proudly called Dublin home from 2008 – 2010 and writes frequently about the city and Ireland. Three of Jessica's favorite travel destinations are Ireland, Italy, and Berlin. Find her online at www.thegreatamericantraveldream.com and on Twitter @jessicacolley.