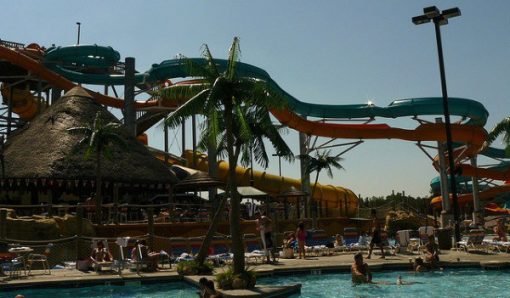 For generations, families have flocked to the Wisconsin Dells for family vacation fun, and I, too, have visited the Dells with my family – multiple times.  So why is this tiny town, less than 20 square miles, so popular and what keeps families coming back?  The answer is simply the wholesome family attractions and the largest concentration of indoor and outdoor water parks in the world!
For over 150 years vacationers have been drawn to this area to view the scenic rocky sandstone formations, steep-sided canyons and bluffs that line the Wisconsin River.  In the 1930's and 40's guests arrived by steamboat to view the beauty nature created millions of years before by the force of  melting glacial waters.  Then in 1946 a new attraction was introduced as a surplus of WWII amphibious vehicles, or DUCKS as they were called, were brought to the area to take tourists on a land/water tour of the formations.  Still a popular attraction today, guests can tour the river aboard the famous DUCKS, double-decked boats, canoe, kayak or thrilling Jet-boats. Our family enjoyed a tour aboard the Original Wisconsin Ducks, which includes a tour on land and brief history lesson of the Dells.  A zip down "Roller-Coaster Hill" ends with a plunge into the river for a leisurely, eight-mile cruise.  While the tour itself is a bit corny, the view is beautiful and the cruise is a relaxing change of pace from the bustling crowds in the city.
The Duck tours are not the only attraction to withstand the test of time, over 40 attractions have the honor of bearing the distinction of being a "Wisconsin Dells Classic".  Among those classics is the Tommy Bartlett Show celebrating its 60th year of providing tourists a water ski show on Lake Delton.  A 90-minute show featuring boating and water-skiing stunts, also includes some light-hearted comedy skits on land that goes way beyond corny.  For me, this show was a bit pricey for the entertainment value, however, it is a one of a kind classic that we have laughed about ever since.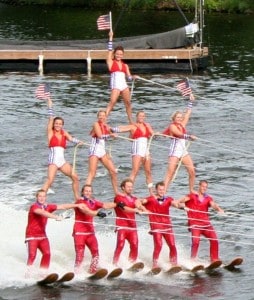 While we were viewing the show, I noticed a small gathering of pontoon boats anchored in the vicinity.  A little investigation revealed that pontoon boats as well as other water craft are available for rent.  For close to the same amount we paid for tickets to the water-ski show, our family of four could have rented a pontoon boat for an hour.  If you are traveling with multiple family members this could be an option and definitely an alternative to the "been there, done that" of this classic attraction.
Other classic attractions that I would happily visit time and time again include the Wisconsin Deer Park and Timbavati Wildlife Park at Storybook Gardens.   Storybook Gardens was constructed in the 1950's and is one of the original family attractions calling generation after generation to stroll through the wooden structures depicting scenes from nursery rhymes and fairy tales.
With the wooden scenes beginning to show their age, owners of the Gardens introduced Timbavati Wildlife Park to the property allowing guests to interact with a variety of animals, including camel rides, petting kangaroos, even feeding giraffes.  For the ultimate animal feeding adventure, look no further than the Wisconsin Deer Park.  Family owned and operated for over 50 years, this 40 acre park is home to several varieties of  deer who anxiously greet guests as you meander the paved and wooded trails.  Guests enter the Park by way of the gift shop, where you can purchase a packet of food to hand feed the deer.  Take my advice and purchase a packet for each member of your group, as well as a few extras and by all means, have your cameras ready.  Entering the park through huge gates, that reminded me of a something out of Jurassic Park, you are greeted instantly by the residents, looking for a handout.  While these animals are tame, I would advise holding young, smaller guests in your arms until you are slightly beyond the entrance, as the "welcoming party" can be a bit intimidating.
The number one reason families keep returning to the Wisconsin Dells is the abundance of water parks, over 20 to be exact.  From the largest overall, the 70-acre Noah's Ark Water Park, to the Wilderness Hotel and Golf Resort with its combined indoor and outdoor water areas equaling six football fields, it is no wonder the Wisconsin Dells is considered the water park capital of the world.
Our family has stayed at several properties including the Kalahari Resort Convention Center and Wilderness Hotel and Golf Resort.  The larger properties provide endless water entertainment, on-site restaurants and other activities, but also come with a higher price tag.  Before making your reservations, ask yourself how much time your family will be spending in the water parks themselves.  When our oldest daughter was a toddler and happy with a simple swimming pool, our vacation was based at a less expensive hotel. If you'll be visiting the water parks, however, park admission can add up quickly and the convenience factor of being close to your room can make the inclusive resorts well worth the stay.
For the adult members of your party that have had all the family fun you can bear, I'd suggest that you visit another Dells classic, Monk's Bar and Grill in downtown.  Established in 1947, Monk's serves a modest menu of burgers, chips and chili and its signature beverage, The Purple Monkey.  Through the years the bar has grown to welcome families and has become a shrine to the Wisconsin Badgers and Green Bay Packers.   If a cold beer sounds good, you can try Dell's Brewery, the only microbrewery in the area.  They offer 10 made on premise brews. For the minor's in your party,  Dell's is attached to Moosejaw Pizza.  Be warned –  there is an arcade area – so bring plenty of change.
Traditionally known as a Memorial Day to Labor Day vacation destination, the Dells  invention of the indoor water park in 1994, made the Wisconsin Dells a year-round source of fun. Listed as one of the 1,000 Places to See Before You Die and #1 on TripAdvisor's list of U.S. Family Vacation Destinations, the Wisconsin Dells is a great place to take the entire family.
Photo Credit  From flickr, Tommy Bartlett,  Kalahari Resort
Having been transplanted numerous times, I have learned to explore the sites around our new found hometown, uncovering hidden gems and attractions. When vacation time rolls around, I enjoy traveling with my family and the occasional weekend escape with my husband, coming home to share our travel experiences with others. You can follow me on Twitter @JAIngersoll. My top three destinations are Walt Disney World Resort, the Midwest and any beach I can walk along.