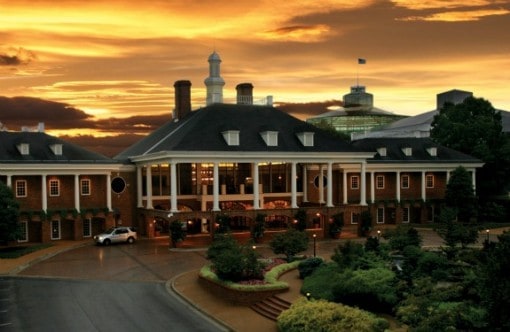 Nashville, Tennessee is undeniably the the heart and soul of country music. With many artists living, working and recording in this town, country music fans flock to Music City as it is nicknamed.  An easy drive and convenient one-tank trip from numerous cities within the Midwest, Nashville makes a great weekend destination.
My family and I set out to enjoy a weekend in Nashville, recently.  Our plan was to check into our hotel, The Gaylord Opryland Resort and head out to explore the downtown, just 15 minutes away, searching for country  music connections.  Walking into the lobby of this massive convention hotel it appears dark with its low-ceilings, but it is perhaps the sharp contrast of the bright, 15-story, sky-lit atrium just beyond that makes it feel this way.
The hotel has nine acres of indoor botanical gardens, three atriums complete with cascading waterfalls and a 1/4 mile indoor river.  Kept at a comfortable 72 degrees year round, I felt I had been transported to an island escape.  With map in hand, we headed toward our room. Two words bear repeating at this time — massive and map!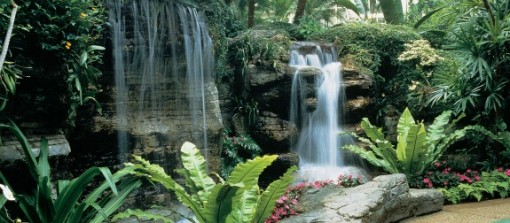 Originally built in 1977, the Opryland Resort was part of a large entertainment complex that included a theme park and a new theater that was  home of the Grand Ole Opry.  Since then there have been many changes including several additions to the hotel property and the ultimate closing of the theme park.
With numerous loops and turns, connecting each section of the hotel as it has expanded,  it is quite easy to become disoriented.  Even with the map, those of us who are, shall I say, directionally challenged, will get turned around quite easily.  On one occasion, seeking assistance from a gardener, I was amazed that he stopped his current task to walk me to my destination, helpfully pointing out that the color of the carpet in each hotel section matched the color-coded map.
Our two room suite faced the Delta Atrium and offered views of the indoor river and on-going flatboat tours.  Despite this activity, it remained quiet and relaxing.  The living room walls were decorated with caricatures of Country Music icons and a display of guitars and banjos ready for strumming.  With two couches, and a room length bar and small kitchenette, I was sorry we didn't have friends in town to entertain.
Among the features at the at Gaylord Opyrland Resort are three pools, the Delta Riverboat tours, nightly Delta Fountain Shows, shopping at several on-site boutiques providing a variety of merchandise and nearly 20 dining and lounge options providing something for everyone.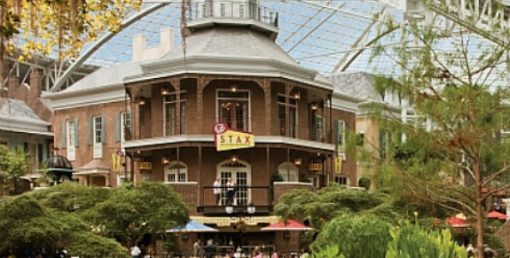 Quick service eateries like Paisano's Pizzaria & Vino for individual slices and Italian specialties or Stax where diners can create their own made to order chicken, beef or turkey burgers provide not only convenient dining, but with tables lining the Atrium are a great spot to catch the light, water and musical Delta Fountain show four times nightly.
Southern style food and live entertainment is offered at Jack Daniel's.  The  Cascades American Cafe', tucked in the Cascades Atrium, offers tropical views and delicious seafood and generous specialty cocktails.   Couples looking for a romantic dinner will enjoy Old Hickory Steakhouse – I recommend the cheese sampler selected specifically for you by the attentive wait staff.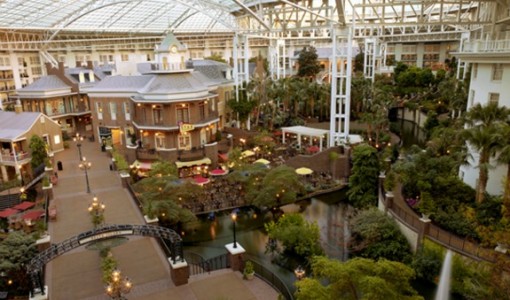 A favorite feature of the resort for me was the Delta Riverboat tour.  Hotel guests as well as the general public can purchase tickets to board the flatboats for the tour.  Traveling the scenic river that winds through the 4.5 acre Delta Atrium, a guide shared information about the plants and occasional passing fish.  I particularly enjoyed hearing the incredible story of liters of water from rivers around the world that were sent to be poured into this man-made waterway.  Relating the history of the resort, our guide revealed details of the various additions to the hotel,  former celebrity guests including  several US Presidents, and the most recent six month closure and renovations following the historic Nashville flood in May 2010.
Guests staying at Gaylord Opryland may want to take advantage of the close proximity of Opry Mills, a shopping mall located on the grounds of the former theme park as well as the General Jackson Showboat offering daily cruises and live entertainment.  A resort shuttle service transports guests to the Grand Ole Opry (where daily tours and a live weekend radio program is produced), the Ryman Auditorium (the historic and original home of the Opry for 30 years), and the Wildhorse Saloon that, despite its name, welcomes families with award-winning food and entertainment.
With so much to see and do in the Nashville area, our family can't wait to return.  We think you'll find plenty to discover in Nashville as well.
Photo selections: courtesy Gaylord Opryland
Note:  The author was given a complimentary stay for the purpose of a review; all opinions expressed are strictly her own.
NOTE:  It was recently announced that Gaylord Entertainment Co. plans to sell the four Gaylord hotels to  Marriott International.  At this time, the names of the properties will remain the same, however, plans for any additional changes have not been released.
Having been transplanted numerous times, I have learned to explore the sites around our new found hometown, uncovering hidden gems and attractions. When vacation time rolls around, I enjoy traveling with my family and the occasional weekend escape with my husband, coming home to share our travel experiences with others. You can follow me on Twitter @JAIngersoll. My top three destinations are Walt Disney World Resort, the Midwest and any beach I can walk along.