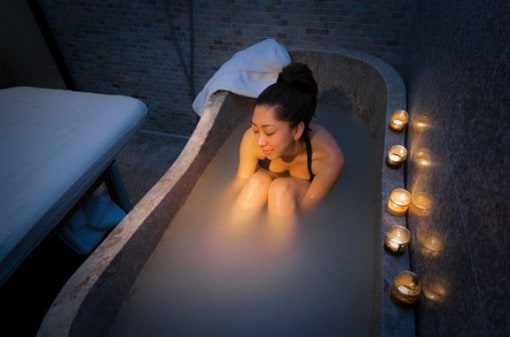 The only thing a mainstream spa and a Korean spa have in common are lockers and towels, the rest is vastly different in approach, amenities, and culture. Los Angeles, due to a bustling Koreatown in the Mid-Wilshire area, has dozens of Korean spas to choose from, most open 24 hours. I actually prefer a Korean spa to a five-star hotel spa because of the fascinating Korean society immersion, scrubs that make your skin feel like a newborn's, and the accepted and encouraged fact of spending up to 5-8 hours eating, bonding with women friends, and rejuvenating. And if you're on a budget, a Korean Spa is your new best friend.
I've tried most of the Korean spas in Los Angeles after living here for a decade. Here are my three favorite Korean spas in Los Angeles based on cleanliness, amenities, and overall vibe including quality of food and helpfulness of staff:
Natura Spa – Located in a mall in the heart of Koreatown, Natura is the most modern of the three. This is a good choice if you're a newbie as it feels most like a Western spa. It also has the best relaxation rooms: a yellow clay room made of imported Korean clay, a jade stone room and a salt room. When you need a snack, try their yuzu smoothie. Admission, scrub and massage = $80.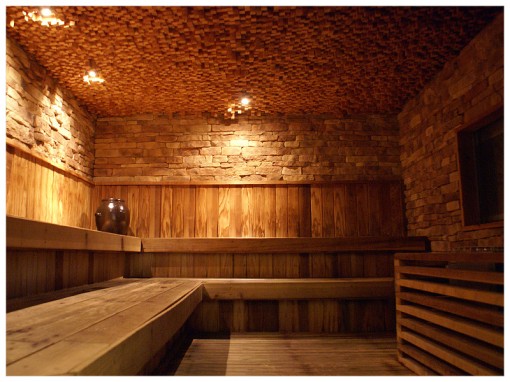 Grand Spa Los Angeles – This is the favorite among my Korean girlfriends for it's no-nonsense authenticity and incredible Korean food. On any give day, expect to see many Korean women partaking in the age-old cleansing rituals. Make sure to take advantage of their large napping room, complete with blankets and heated floors. I go for the basic scrub + mineral oil massage for $70, but they do have more elaborate massages like Green Tea, Aroma and Marine Algae.
Olympic Spa – This spa will always have a special place in my heart as it was my first time at a Korean spa. The hot mugwort tea pool, jade laden steam room, and oriental clay dry sauna are also memorable. Like any other spa, silence is savored. At Olympic Spa, silence is policed, so just know that or you will get "shushed" if are a chatty Cathy. They offer an extensive Eastern spa treatment menu, from reflexology to shiatsu massage. The combo scrub + massage is $130.
Things to Know Before You Go to a Korean Spa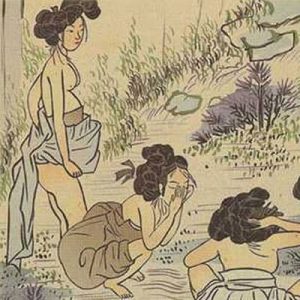 Nudity is the Norm – Be forewarned, if you have issues with same-sex nudity, this may not be the spa for you. Nevertheless, I have taken many girlfriends to a Korean spa for their first time who were very shy and uncomfortable parading around in the buff, who after a half an hour, got used to it and actually enjoyed it. Living in Los Angeles, living with overwhelming body consciousness is de reguir as traffic. For this fact, I find Korean spas liberating: no one cares what you look like, be it fit or flabby. Besides, you do get a robe, but don't expect to use it much.
If You Think You're Lost, You're Probably in the Right Place – Unlike hotel spas with floral landscaping and valet parking, most Korean spas are similar to locating a rave in the obscurity department. Korean spas are found in bright malls or office buildings, sometimes not even a placard outside with only the street number as your guide.
Bring Toiletries – Korean spas have the basics like combs and soap, but don't expect designer hand lotions and organic toothpaste, (although one spa provide toothbrushes). I recommend bringing a loofah or purchase a Korean style hand-mitt for a whopping $2, essential oils/deep conditioner for the steam rooms, and any other TLC beauty treatment you might want.
Time Stops in Korean Spas – If you're trying to squeeze in a treatment in your already jammed-packed day, don't, or go at 12 am when your to-do list is done and you can leave the cares of the day behind. Plan to be there at minimum three hours, but five is ideal, to enjoy the different element-themed rooms, soaking pools, massage chairs, napping and authentic Korean drinks and meals.
Scrub Worth its Salt – You must do the scrub with the works when you go, including the cucumber facial, hair washing and massage. The scrub treatment includes lying naked on a table in a public space for a very intimate encounter by a heavy-handed, middle-aged Korean ajuma (masseuse) dressed in a utilitarian black bra and panties. The scrub part is not meant to be relaxing but very effective in achieving silky smooth skin. I'm telling you this so you manage your expectations. When you get rubbed a little too hard or in a delicate place, or the water washing off the dead skin shocks you awake, or the noise from all the other women getting their scrubs in the same room disturbs you, you'll know it's all a part of the exotic Korean spa experience.
Spa-ing By the Seat of Your Pants – If you live life on the fly rather than by the book, Korean spas are for you. If the mood strikes you for a massage at 3 am, no problem. An appointment for a treatment is not necessary although recommended, especially if you are coming in a group and want treatments at the same time.
Admission Fee – A visit to the spa for a Korean is weekly ritual for health and communing with girlfriends and family, so all Korean spas have small entrance fees around $20 or less. Many of them waive the admission fee if you have a treatment. Even with the fee, a treatment and lunch, you're Korean spa visit will end up being a third of the cost of a traditional spa. Gratuity is the same as a mainstream spa = 15 – 20% on the total amount of the treatment.
With all this said, if you are still not convinced a full-on Korean spa is for you, Tikkun Spa in Santa Monica is a wonderful hybrid of Eastern treatments in a Western style spa setting.
Photos are used with permission by Tikkun, Natura and Olympic spa, listed in the way they appear.
Lanee Lee is a Los Angeles based writer who uses her craft to pursue her passions – travel, artisanal food/spirits and maximizing quality of life. Lanee has traveled extensively – always in search of those golden moments of bliss. When she's not gallivanting the globe, she enjoys learning cooking tips from her French boyfriend and emulating Grace Kelly style. You can follow her latest adventures: www.laneelee.com, @wanderlushdiary on twitter.