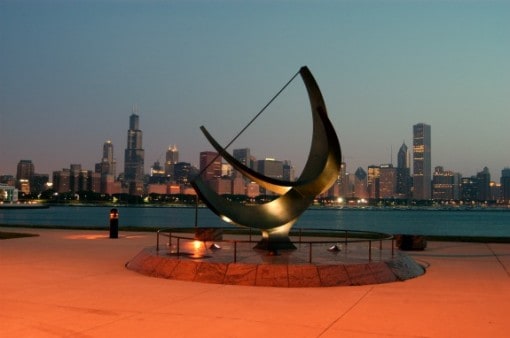 For as long as I can remember, I've been fascinated by space travel, our solar system and the ongoing public debate over whether or not our human race is actually alone in the universe. While that question, in particular, wasn't necessarily answered during my visit to Chicago's Adler Planetarium, I did get a new-found appreciation for those who study what we often refer to as The Final Frontier.
The Adler Planetarium, which borders Lake Michigan, is part of an area commonly referred to as Chicago's Museum Campus.  It's also home to the Shedd Aquarium, the Field Museum of Natural History, and Solider Field (home of the NFL's Chicago Bears).  Just south of Monroe Harbor and the Navy Pier, Adler Planetarium is easy to spot, thanks to the facility's copper dome.
Recognized as America's first planetarium, Adler was opened May 12, 1930 by Chicago business leader Max Adler, a senior officer and early stockholder in Sears, Roebuck and Company.  It opened on his 64th birthday.  Today, the museum features three full-size theaters, extensive space science exhibitions, and an impressive antique astronomical instrument collection.
Out and About
Another easy-to-spot landmark, which towers over Solidarity Drive in front of the museum's main entrance, is an 8 1/2 foot tall bronze statue of astronomical revolutionary Nicolaus Copernicus.
In that same area, you'll find a 13-foot working bronze sundial entitled "Man Enters the Cosmos."  It's a modern take on an ancient timekeeping device, consisting of two perpendicular semi-circles and a thin, vertical rod, known as a gnomon, which casts a shadow on the marked semicircle.   If you discover you forgotten your watch, don't worry, the sundial actually keeps time!
To the side of the main building is the Doane Observatory, providing a variety of scheduled outer-space viewing activities.  Though none were taking place while I was in town,  the most popular events include eclipses, planetary alignments, comet watches, and Adler After Dark, a program that allows for nightime star gazing.
Inside the Doors and Over the Rainbow
Doors usually don't impress me but Adler's bronze and nickel bronze front doors, which are set with beveled glass, are both impressive and they serve a purpose. When sunlight from the West shines through the glass, the refracted light creates a rainbow effect in the ticketing lobby.  It all depends on time of day, amount of sunlight, and a variety of other things, but when it happens, it's stunning.
The Clark Family Welcome Gallery, which offers interactive floor-to-ceiling-sized games and activities that are projected onto various walls, is next to the Rainbow Lobby and serves as a peaceful waiting area for those wanting to see a show in the Grainger Sky Theater.
Show tickets, which may be purchased independently or added onto general-admission packages, are available and I recommend sampling at least one.  The Grainger Sky Theater is particularly impressive, projecting the largest single seamless digital image in the world with an ultra-high definition screen resolution of more than 8k x 8k pixels, far surpassing today's cinematic standard of 2k x 4k pixels. The theater uses special floor-lighting effects and screen images that extend beyond the traditional 180-degree dome, presenting a space-simulation environment surpassed only by actual space travel.  Or so we're old.
Show Me the Shows
Speaking of shows, there are several to chose from.
In Welcome to the Universe (Grainger Sky Theater), you'll travel a billion light-years through space while orbiting the Moon, zooming into a canyon on Mars, and soaring through the cosmic web where a million galaxies shower down on them. This presentation allows for a close-up look at how climate change is affecting our planet. Up-to-the-minute scientific data about everything from earthquakes to tsunamis can be examined as those events occur and can actually become part of the show, which is updated weekly as the newest data becomes available. Welcome to the Universe runs through May 3, 2013. Show time is 25 minutes.
If you elect to see The Searcher, which is also in the Grainger Sky Theater, you'll join a being from another galaxy as he goes on an adventure through space and time while searching for his lost civilization. The science fiction adventure is based on real science and features stunning visualizations of the formation of our universe, the collision of two galaxies, a spectacular supernova explosion, and a massive black hole. Show time is 25 minutes.
Space Junk 3D takes a look at things that go up, or "out" into outer space and don't necessarily come back down to Earth. Fifty years after launching our dreams into space we're left with a troubling legacy – a growing field of debris that threatens the safety of the orbital space that surrounds the Earth. (Universe Theater – 23 minutes).
Undiscovered Worlds: The Search Beyond Our Sun. This is a relatively new show at Adler that explores the timeless question:  "Do other planets like Earth exist?" (Definiti Space Theater – 25 minutes).
If you've ever wanted to take a long, hard look directly at the sun without burning the retinas in your eyes and potentially damaging your vision, you might want to experience 3D Sun, a show that allows for an up-close and dazzling look in high-definition 3D (Universe Theater – 23 minutes).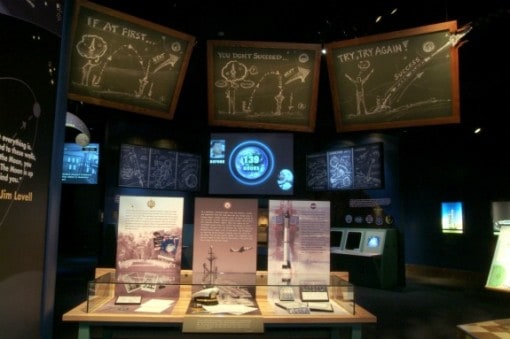 Reach Out and Touch Exhibits
On the opposite side of the Rainbow Lobby, is an area known as Shoot for the Moon, a permanent exhibition that highlights stories of space exploration and America's bold plans to return to the moon. "A Journey with Jim Lovell," which is the first gallery in this area, tells the story of Astronaut Jim Lovelll's life and career using artifacts from his personal collection. The fully-restored Gemini 12 spacecraft, flown by Captain Lovell and Buzz Aldrin in 1966, is the centerpiece.
The second gallery, "Mission: Moon," focuses on the historic accomplishments of the Apollo space missions. There are interactive areas nearby including the Moon Wall, where visitors can explore our moon's surface on an ultra-high-resolution display.  There's also a station called Touch Down, where piloting skills are tested as visitors attempt their own lunar descent and landing.
Recently opened Planet Explorers is on the museum's upper level, and is oriented for kids ages 3 to 8.
One of my favorite areas at the Adler Planetarium is Our Solar System, which is located next to Planet Explorers.  During my time there, I was able to operate a mechanical rover vehicle while pretending to examine the surface of Mars and shot projectiles onto a soft surface to gain appreciation for the size of craters they can they leave behind.
In the Exhibition Tour area, you can feel a piece of an actual meteorite that crashed into the Earth and created a huge crater in Arizona.  And just a few steps down on the facility's mid level, is an area called Cyberspace where computer-based interactive exhibitions can be found.
A visitor favorites is the 140-feet long Galaxy Wall, which is comprised of more than 400,000 individual space-related images. The photographs were taken by the Spitzer Space Telescope, which orbits the Earth and surveys the skies. The Galaxy Wall is a mosaic that provides a glimpse of our continually evolving galaxy, from the gas and dust that may one day form stars to the supernova explosions and nebulae that signal their deaths.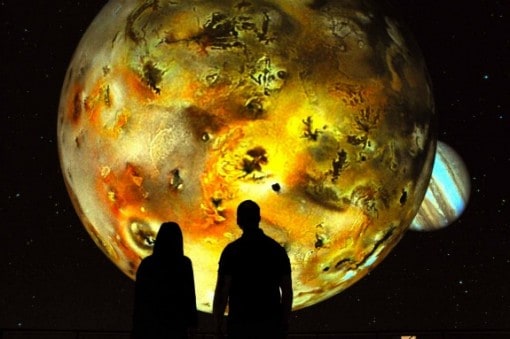 Just the Facts
The planetarium is built on what once was an artificial island on Lake Michigan. Northerly Island was the first of what was to be a series of artificial islands stretching south. The permanent land link was constructed soon after the planetarium was built.  Since the planetarium is surrounded by Lake Michigan, the area experiences a lot of wind and relatively cool temperatures, even during the summer.
Each of the corners of the landmark 1930s building is decorated by a bronze plaque representing a sign of the zodiac.
The historic Adler building was designed by architect Ernest Grunsfeld whose grandson John Grunsfeld, Chicago native and Adler Astro Science Workshop alumnus, is now a NASA astronaut.
In 1933, light from the star Arcturus was converted into electrical signals, sent to the Adler and used to turn on the lights for opening night at the Chicago World's Fair.
The Adler houses the world's oldest known window sundial (dated 1529). Some of the oldest artifacts in the collection date back to 12th century Persia.
Location:  Located on the Museum Campus, 1300 South Lake Shore Drive, Chicago.
Hours:  Weekdays 9:30 a.m. to 4 p.m., weekends until 4:30 pm.
Admission:  General admission is $12 for adults, $10 for seniors (65+), and $8 for children (ages 3-11). Chicago residents receive a $2 discount on Adult and Senior admission or admission packages, and a $3 discount on Child admission and admission packages with proof of residency.
Parking:  Parking is available at the pay-and-display kiosks on Solidarity Drive, in the parking lot adjacent to the planetarium, or in the parking garage at Soldier Field.
Public Transportation:  From downtown Chicago and Michigan Ave., CTA bus #146 drops passengers off directly in front of the Adler Planetarium.
Photo Credit: Courtesy of Shedd Aquarium
Indianapolis-based Greg Seiter is a 22-year freelance veteran who specializes in family travel. While embracing a background in athletics, the travel enthusiast has written for the Associated Press and various NCAA Championships publications in addition to AAA and Resort Condominiums International. Greg's top three travel destinations are Orlando, Fla., Pigeon Forge, Tenn. and Myrtle Beach, S.C.