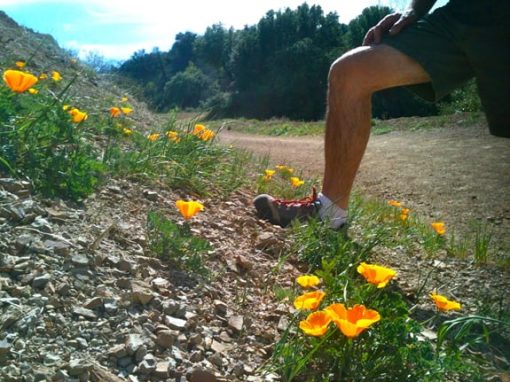 Hiking may not be the first thing on your list of things to do in Los Angeles, but it should be. With the diversity of terrain, wildflowers, trees and vistas combined with nearly perfect weather year round, Los Angeles is a hiker's haven with hundreds of trails to discover throughout the county.  From celebrity-trodden to less-plotted, here are five of my favorite hikes in Los Angeles:
Runyon Canyon Loop – When you need a break from concrete and city lights but still want Hollywood glam, Runyon Canyon is where to go. It offers stunning views of the LA Basin, Sunset Strip and Hollywood sign as well as great celebrity sighting opportunities, especially if you know the celebrity's pet. The Runyon Canyon Loop is dog-friendly trail (off-leash is allowed) with more people watching than serenity. It's so popular, the canyon has its own fan club website.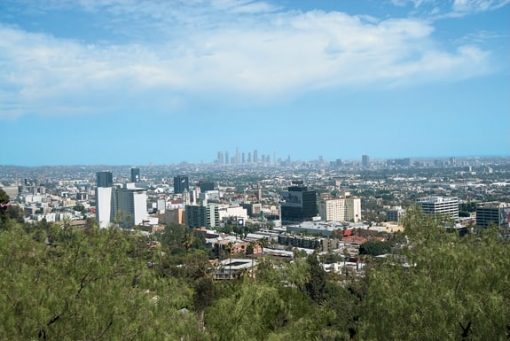 Distance: 3 Miles round trip
Getting There: From Hollywood Boulevard, head north on Fuller Avenue. Park at the end of Fuller and enter the well-marked park. Take the trail to the right and complete the loop counterclockwise.
Topanga State Park Trek – If you like a little less foot traffic on your trail but still like company, the Los Liones hike is a moderately challenging, switchback trail. Take a rest at the bench before heading to the Parker Mesa Overlook.  With a 1,300 foot elevation gain, the sweeping Santa Monica Bay views make all the huff and puff worth it.
Distance: 7 miles round trip
Getting There: The hike begins in Pacific Palisades at the end of Los Liones Drive, just north of Sunset Boulevard. If you're coming from Santa Monica on PCH HWY 1, take a right at Topanga Canyon Boulevard and follow the road until it dead ends in the Topanga State Park. Make sure to pay for parking, leaving the receipt in visible place on your dashboard. From there, follow the trail up to East Topanga Fire Road and follow that to the turnoff for the Parker Mesa Overlook.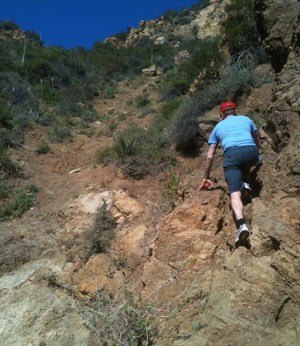 Escondido Falls – Waterfalls aren't common in Los Angeles, especially big ones, which makes the Escondido Canyon/Falls hike in the Santa Monica Mountains a special destination. It's only a mile trek to the 50-foot high Escondido waterfall flowing over vividly verdant moss. If you hike mid-week, expect to see children on field trips picnicking at the waterfall.
For the real thrill, scramble up the rocks to the highest tiered waterfall of 150 feet. This part is difficult and a wee bit dangerous because of the incline and uneven, uncharted trail. If you don't like heights or moderate rock climbing, just enjoy the first waterfall and head back to the car for a rewarding lunch at Geoffrey's.

Distance: 4.2 miles round-trip
Getting There: Head northwest on the PCH (Pacific Coast Highway) from Santa Monica for about 17 miles. Just past Latigo Canyon Road, you'll see the turnoff for East Winding Way where you can park in the well-marked lot. If you can't find parking in the dirt lot, park on PCH. Follow the paved road toward the mountains.  Don't be tempted to take the first dirt trail to the left, that's not the trail. It's a little less than a mile to the end of East Winding Way and you'll feel like you've missed it because you walk past million dollar mansions for so long, but keep going. You'll see the entrance of Escondido Canyon Park clearly marked with a large sign at the end of the pavement.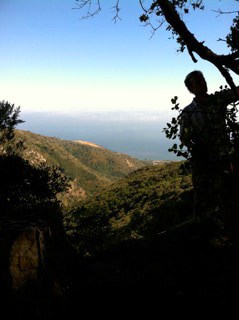 Nicholas Flat Trail – The wildflowers, vistas, discreet Nicholas Pond with little to no other hikes to share this with are my favorite aspects of this trail. If you want a workout to reach Nicholas Pond, start the Nicholas Flat Trail at the Leo Carrillo State Park and walk a steady incline for about an hour and a half. When you hit grassy meadows after gaining 1,800 feet in elevation, veer right until you reach a cattail dotted pond for an incredibly romantic (or peaceful) picnic.
Distance: 8 miles round trip.
Getting There:  From Santa Monica, it's about 30 miles north on Pacific Coast Highway. The trail is just before the ranger station entrance. If you'd like to walk about ten minutes instead of a hundred minutes, the closer entrance to Nicholas Pond is at the end of Decker School Road.
Inspiration Point/Backbone Trail – Explore what was once the private ranch of Hollywood's highest paid and most popular actor of the 1930's: Will Rogers. After a mile on the trail, take the Inspiration Point Trail to soak in LA's city meets ocean vistas. Follow Backbone Trail to the junction with Rustic Canyon and follow it back to Will Rogers Park.  This is an easy trail for the whole family. The massive lawn in front of the house is ideal for sunbathing or picnicking. Tours of Rogers' ranch house are available Thursdays and Fridays, 11 am – 3pm, and Saturday/Sunday, 10 am – 4pm, at the top of every hour.
Distance: About 6 miles round-trip

Getting There: Head to Will Rogers State Park in Pacific Palisades. The main road to the park is just off Sunset Boulevard about a half mile east of Chautauqua Boulevard. You can park the car near the visitor's center. The hike begins just behind the main ranch house at the park, next to the sign for Inspiration Point Trail.
Los Angeles Hiking Resources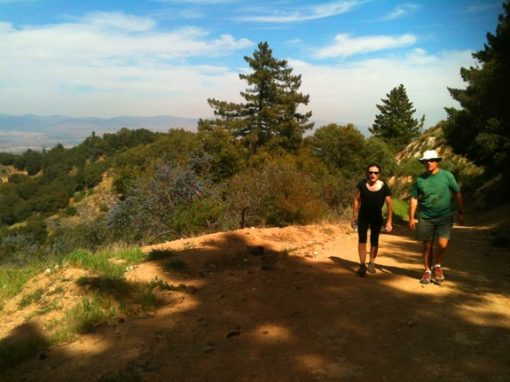 Los Angeles: Must-Do Hikes for Everyone by Jerry Schad
Day Hikes Around Los Angeles by Robert Stone
EveryTrail App – Download reviews, maps, GPS tracking and even audio guides to your smartphone before you go on your next hike in Los Angeles.
ModernHiker.com – An expert hiker's reviews of nearly all of Southern California's hikes.
Photos by author, except for view from Runyon Canyon by Travis Conklin, Courtesy of LA CVB and Nicholas Flat Trail photo by Claude Hall.
Lanee Lee is a Los Angeles based writer who uses her craft to pursue her passions – travel, artisanal food/spirits and maximizing quality of life. Lanee has traveled extensively – always in search of those golden moments of bliss. When she's not gallivanting the globe, she enjoys learning cooking tips from her French boyfriend and emulating Grace Kelly style. You can follow her latest adventures: www.laneelee.com, @wanderlushdiary on twitter.