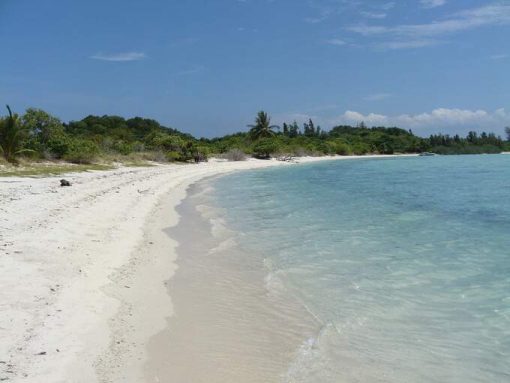 Koh Samui is one of Thailand's largest and most popular islands, attracting visitors to the island for decades – and for good reason. It enjoys a beautiful climate, white sandy beaches backed by coconut palms, colorful long-tailed boats, towering cliffs covered in lush vegetation, amazing nightlife, delicious street food, freshly caught seafood, and many activities and tours to enjoy.
If you plan to travel to [amazon_textlink asin='1547227478′ text='Koh Samui' template='ProductLink' store='thetravelersway-20′ marketplace='US' link_id='9a4eabab-b436-11e7-830d-6d61a1e33f6e'], here is our getaway guide to island life.
How to get to Koh Samui
Getting to Koh Samui is relatively easy. There are more than 21 direct flights from the capital of [amazon_textlink asin='1465410430′ text='Bangkok' template='ProductLink' store='thetravelersway-20′ marketplace='US' link_id='a6e10df0-b436-11e7-95a3-2b5edc298a4c'] to Koh Samui every day, leaving from the early morning to late at night. The flight takes just over an hour. If you are in Chiang Mai, there are a couple of direct flights from [amazon_textlink asin='1740590643′ text='Chiang Mai' template='ProductLink' store='thetravelersway-20′ marketplace='US' link_id='b81b4cd2-b436-11e7-bec6-75ba0916c1de'] to Koh Samui, the flight takes just under 2 hours. Bank on each of the flights costing around $50 for a one-way ticket, but there are some particularly good value flights at different times of the year.
Alternatively, you can take a flight to Surat Thani (located on the mainland). From here you can take one of the daily high season ferries which take around 3 hours to reach the island. The costs of the combination of bus and ferry tickets are usually the same or even more than the direct flights from the capital – so it should really be a last resort.
There are also several international flights that fly directly into Koh Samui should you wish to bypass visiting Bangkok and maximize your time on the island.
Best time to go to Koh Samui
The best time to visit Koh Samui (and the rest of Thailand) is between November and April when the skies are clear and dry. The most comfortable time is December and January when the temperature is at its coolest, though it is still very hot.
Towards the end of the dry season in April, the monsoon starts and the temperatures soar, becoming much more humid. The monsoon season sees rain most afternoons' and many of the hotels and tour operators close down. If you visit around this time, swimming and snorkeling become more dangerous in the choppy seas, but you do benefit from emptier beaches and lower-priced accommodations. And, the overcast clouds and rain can make for some stunning photographs.
Where to stay on Koh Samui
You'll find plenty of accommodations available ranging from hostels and beach bungalows to guest houses and luxury 5-star resorts. Everything depends on your tastes and budget.
Some hostels to look out for include the At Hostel Samui, Chill Inn Beach Cafe Hostel, Ananas Samui Hostel, Hunters Hostel, and the Dream Cat-Cher Hostel. These five budget options are all close to the beach, have mixed and female only dormitory beds in air-conditioned rooms, and excellent entertainment options. Most can also organize tours throughout the high season as well. Prices start from around $8 per night for a bed.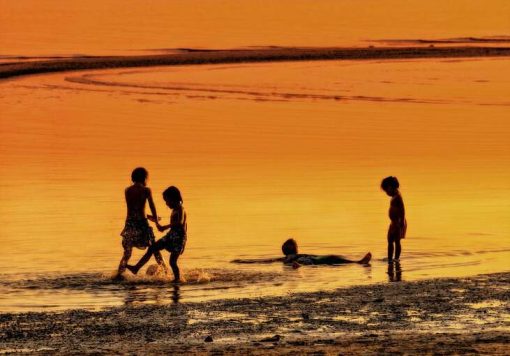 There are numerous mid-range options available for those looking for a little more privacy or for families or groups traveling together. The Hammock Samui Beach Resort, Nora Chaweng Hotel, Lazy Days Samui Beach Resort, the Fair House Beach Resort, and Floral Hotel Pool Villas have spacious air-conditioned rooms with private bathrooms, outdoor pools, and in-house restaurants serving up Thai and international dishes. Most can provide tour tickets throughout the high season. Prices for mid-range accommodation start around $80 per night for a double room.
For serious luxury, there is a range of 5-star resorts. We recommend the Four Seasons Koh Samui, The Tongsai Bay, Anantara Bophut, Sala Samui Resort, and Sensimar Resort. All of these beautiful resorts have incredible service, huge double and triple rooms with private bathrooms, balconies or terraces, in-house restaurants and bars, spa facilities with Thai massages and hot tubs, gyms, and more. You'll need deep pockets with prices starting from around $300 per night for a double room.
You can read more about accommodations on Koh Samui here.
Food on Koh Samui
Thailand is food obsessed, unsurprising when you think of how good their food is. Like the rest of the country, there is some incredible food options on Koh Samui, from restaurants to street food vendors offering a vast array of dishes, but there are a few things to look out for. Dishes from street food vendors typically cost around $2 and more expensive seafood dishes in restaurants are priced around $7.
Here are some favorites:
Koh mok gai (often called yellow chicken and rice) is a Muslim dish that has crept in from nearby Malaysia. The dish encompasses rice cooked with onions and turmeric (which give it the yellow color), and grilled chicken cooked in curry powder and cumin. It's typically served with a tasty clear broth and plenty of crispy, deep fried garlic.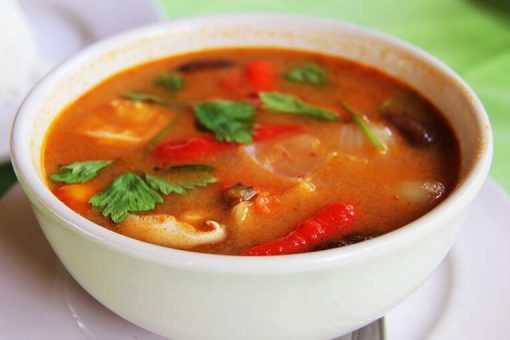 Kanom jeen, (which means Chinese rice noodles) are boiled and then topped with yellow or green curry soup, fresh vegetables, pickles, and boiled eggs. Though it is not native to Koh Samui, it is particularly prevalent and good here. There are other variations like nam ngiew, which is rice noodles covered in a rich tomato based spicy broth usually made from pork.
Gai satay or grilled chicken with peanut sauce is also not native to Thailand and actually, comes from Indonesia. However, it's very good on Koh Samui. Chicken or pork are marinated in coconut milk and turmeric and grilled on a barbecue and then served with a peanut sauce made from peanuts, chili, and coconut milk and ajat cucumber relish. It's a popular street food snack.
Pad Thai is a classic and is popular with visitors. The fresh shrimp available on Koh Samui is the best option (chicken and tofu are also available). Noodles are stir-fried along with fish sauce, chilies, tamarind juice, lime, and sprouts as well as the shrimp. It's usually purchased on the street and is cheap and cheerful. Bet on it being around $2 a plate.
Som tum (papaya salad) originates from Isaan in the northeast of Thailand. Little crabs are crushed in a large pestle and mortar along with green beans, tomatoes, peanuts, chili, garlic, fish sauce, and of course green papaya. Best served with sticky rice and gai yang (barbecued chicken) or fried fish.
Unsurprisingly, in the restaurants of Koh Samui, seafood is prevalent. Stir-fried crab, fried fish, squid, prawns, and shellfish in chilies are delicious and well worth looking out for.
Tours on Koh Samui
Most visitors come to Koh Samui to let their hair down, sunbath on the gorgeous white sandy beaches, and swim in the crystal clear sea. For those who can drag themselves away from the beach (it's more difficult than it sounds), there is a plenty of things to do and see. Activity providers offer exhilarating experiences from zip-lining to bungee jumping, while boat companies offer snorkeling excursions around the island. And don't forget the many cultural and historic sites.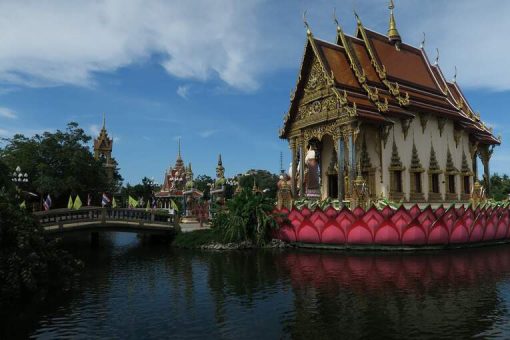 For the adventurous, the jungle interior lends itself perfectly for ziplining and lets guests whiz through the treetop canopies spotting wildlife as they go. Tours leave daily throughout the high season. If you are feeling brave, head down to Chaweng Beach to throw yourself off a 50-meter high platform on a bungee jump. You can have the option to dunk yourself into the water below or do a dry jump. Beginner and expert climbers can scale the rock faces and learn this challenging sport.
Thai cuisine is complex, but there is no better way to learn than at a Thai cooking school. There are several to choose from, but just make sure you pick a school which offers regional Southern Thai cuisine and includes a tour of the local fresh markets.
There is plenty to do on the water. Many of the local rental shops hire out sea kayaks and jet skis. Glide across the ocean quickly or gently. Either way, you can take in the beautiful island scenery. You can even try the challenging flyboarding where you can hover around in the sky using water propulsion. Anglers can charter small fishing boats to help out and hook in a big catch including snapper, mackerel, shark, grouper, sailfish, trevally, and barracuda.
Like every island in Thailand, there are some fantastic snorkeling and diving opportunities. Either hire some rental gear or head out on one of the many daily excursions.
For something a little different, grab tickets to see one of the weekly Muay Thai boxing bouts which pit Thai and international fighters against each other in the ring. This national sport is popular, so be sure to book up tickets early which usually cost around $8 – a great way to spend an evening.
Author Bio:  This is a guest post from Ankit Jaini. From an Investment Banker to an Entrepreneur, Ankit's journey has led him to do what he really loves – working outdoors! Adventures inspire him and he goes out of the way to get back to nature. He shares his experiences and adventure travelogues on blog.alienadv.com. He is an amateur paragliding pilot, loves surfing, and swears by his scuba signals. Follow his journey on Twitter, Facebook,  and Instagram.
This post may contain affiliate links. If you click through for more information or to make a purchase, it may result in a small commission coming our way. This helps support this site and we thank you.
The Travelers Way occasionally accepts guest posts from fellow travel bloggers, friends within the travel industry, and as advertorial content.